Best Caribbean French islands to visit
The Caribbean is an American region with stunningly beautiful islands, unique cultures, and landscapes. With so many options, finding the best to visit can be challenging. One way to determine is to consider the languages spoken on the island, as each island has its language. One of the most popular languages spoken in the Caribbean is French, making these Caribbean islands that speak French some of the best French islands in the Caribbean for tourists.
Which Caribbean islands are French-speaking?
If you're looking for what Caribbean islands speak French and the best French islands to visit in the Caribbean, we've got covered. From the lush beauty of Martinique to the stunning beaches of Guadeloupe, here is the list of French islands in the Caribbean you must visit.
Martinique
Martinique is a stunning island between Dominica and Saint Lucia in the Lesser Antilles. The volcanic island is home to a beautiful landscape filled with white sand beaches, lush rainforests, mangroves, and crystal-clear waters. This Caribbean French island is one of the best Caribbean French islands.
But Martinique is more than just its breathtaking beaches; it offers a rich cultural experience with plenty of French flairs. The small but vibrant island is full of attractions, from towering waterfalls and lush rainforest hikes to beautiful botanical gardens.
The capital city, Fort-de-France, is a bustling hub of commerce and culture and is home to countless restaurants, bars, cafes, and shops. The city also has an impressive selection of museums, churches, and art galleries, making it perfect for anyone who loves exploring historical sites.
For those looking for a truly unique and authentic experience, the island offers a variety of activities, from visiting local rum distilleries to exploring the tranquil 19th-century old town of Le Carbet. In addition, Martinique boasts some of the best nightlife in the Caribbean with its many vibrant bars, clubs, and casinos.
Martinique is also known for its excellent culinary experiences. From its traditional French cuisine to its local Creole dishes, it is the perfect place to sample the flavors of the Caribbean. And with its many markets and roadside stands, it is the perfect destination to pick up fresh fruit and vegetables, seafood, and other local specialties.
Whatever you're looking for, Martinique will surely provide an unforgettable experience. With its stunning beaches and natural beauty, as well as its vibrant culture and lively nightlife, this Caribbean French island is the perfect place for a relaxing vacation or a thrilling adventure.
Saint-Martin
Saint-Martin, located in the Caribbean Sea, is one of the region's top Caribbean French speaking islands. This beautiful island exudes charm and provides a unique experience for those looking for both relaxation and excitement and boasting a mix of both French and Dutch cultures.
Begin your adventure with a relaxing day at Orient Bay Beach. Soak up some sun and take breathtaking views of the azure waters and lush greenery. Or, if you're feeling adventurous, take a sunset sail to the secluded Tintamarre Island. This gorgeous nature preserve is home to native iguanas and is the perfect spot for snorkeling and swimming in the Caribbean Sea.
Head over to Saint Martin, the main city of the island and the Dutch side, for an exciting experience. Here, you can check out the lively Maho Beach, where planes take off and land just a few meters away. You can also explore the colorful boutiques and shops selling handmade goods, take a bite at one of the many delicious restaurants, or head to Simpson Bay Lagoon for a fun night out.
No matter what your interests are, Saint-Martin has something for everyone. With its picturesque beaches, lively nightlife, and unique blend of French and Dutch culture, Saint-Martin is an unforgettable destination for anyone looking for the perfect balance between relaxation and adventure.
Guadeloupe
Guadeloupe is one of the most famous French speaking Caribbean islands and the best French Caribbean territory. The island is located in the Lesser Antilles, in the eastern Caribbean Sea, making it the perfect destination for a tropical getaway. The island comprises two main islands, Basse-Terre and Grande-Terre, with its capital city, Pointe-à-Pitre, located on Grande- Terre.
Guadeloupe is famous for its natural beauty and its volcanic landscape. It is home to breathtaking beaches with sugar-white and volcanic-black sand and stunning waterfalls, lush rainforests, and mountains. The island also has a rich cultural heritage, from its French colonial past to Creole language, music, cuisine, and art.
Guadeloupe offers a wide range of activities for visitors, from watersports such as swimming, scuba diving, snorkeling, and fishing, to leisurely activities like cycling, hiking, and bird watching. There are also several cultural attractions to explore, including Château Dubuc with its tropical garden, the Jardin Botanique des Trésors with its exotic flora and fauna, the Musée de la Pêche, which showcases the traditional Guadeloupean fishing industry, and the many 19th century forts which reflect the country's long and turbulent history.
Guadeloupe also has something for foodies, with its diverse cuisine influenced by its French and Creole heritage. The island is well known for its seafood dishes, including grilled kingfish, lobster, grilled shrimp, and local delicacies like the Colombo chicken or lamb stew. Guadeloupe is also home to various flavorful spices, from allspice to turmeric.
Guadeloupe is the perfect destination for a relaxing holiday, where you can enjoy its beautiful beaches, stunning landscapes, delicious food, and rich cultural heritage. Guadeloupe is an ideal destination for a relaxing yet exciting vacation with its easy access to neighboring islands and excellent infrastructure. So if you're looking for the perfect place to spend your next holiday, look no further than Guadeloupe, the best French Caribbean territory.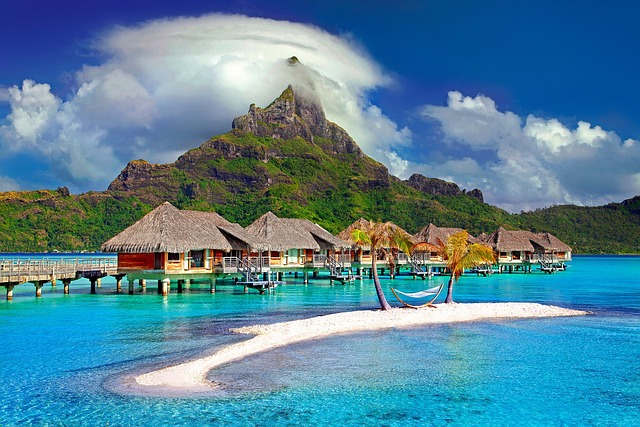 Saint Barthelemy (St. Barts)
Saint Barthelemy (St. Barts) is among the most beautiful French speaking islands in the Caribbean. Located in the southeastern corner of the Caribbean Sea, it is part of the Leeward Islands chain and is a special territorial collectivity of France. The island is famous for its stunning scenery, pristine beaches, and laid-back charm. It is an ideal place to escape and enjoy the peace and tranquillity of its secluded beach coves and crystal-clear waters.
The island of Saint Barthelemy comprises eight small villages, which feature a variety of restaurants, bars, and shops. Stroll along the cobblestone streets of Gustavia, the main town, and explore its many winding alleyways. Enjoy a day at the beach and escape the hustle and bustle of daily life on one of the island's many beaches, such as Saline Beach or Flamands Beach. Or take a tour of the capital and visit Fort Gustav, the oldest building on the island.
The French influence dominates this island, with many locals speaking French, English, and Creole. This influence is also evident in the food and wine, featuring classic French cuisine and local specialties. Sample the seafood dishes like rougaille, or indulge in a sweet treat like guava tarts. And remember to wash it all down with a traditional rum punch.
When you're not lounging on the beach or indulging in some delicious local cuisine, St. Barts has plenty more on offer. Take a hike in the lush tropical forests and enjoy breathtaking views from the mountain peaks. Or hop on a boat and explore the neighboring islands of Anguilla and St. Martin. Or, for the more adventurous, go diving and snorkeling in the coral reefs and explore the vibrant marine life.
No matter your tastes and interests, St. Barts will have something that appeals to everyone. Its stunning scenery, diverse culture, and various activities make it one of the best French speaking Caribbean islands. So if you're looking for an escape to paradise, St. Barts should be your destination.
Les Saintes
Les Saintes is a secluded and stunning archipelago of small islands located off the coast of Guadeloupe in the Caribbean. This Caribbean paradise is the perfect place to escape from everyday busy life. The clear turquoise waters of Les Saintes provide the perfect backdrop for activities such as snorkeling, scuba diving, kayaking, and fishing.
The island also has plenty of unique shopping opportunities for souvenirs and other goods. There are many restaurants and bars to explore, so you can sample the local cuisine or enjoy a few drinks in the evening. Les Saintes is the perfect destination for an exciting trip or a romantic getaway.
The island is known for its stunning beauty, from its lush forests and majestic volcanic terrain to its pristine beaches with golden sand and tranquil bays. Les Saintes also offers some of the best outdoor activities in the Caribbean, perfect for those looking for an adrenaline rush. Les Saintes will surely provide an unforgettable experience with its many exciting attractions and activities.
French Guiana
French Guiana is located on the northern coast of South America and is one of the most popular French-speaking Caribbean islands. This French overseas department is home to abundant natural wonders, from the world's largest rainforest reserve to golden beaches along its coastline. You can enjoy a range of attractions, from museums and historical sites to adventure parks and more. French Guiana is an excellent option if you're looking for cultural immersion in a tropical location due to its unique culture and history.
The vast rainforest reserve in French Guiana, known as the Guiana Amazonian Park, is one of the largest protected areas in the world. This protected area is home to various plants and animals, many unique to French Guiana. Some of the animals that can be in the park include jaguars, ocelots, sloths, spider monkeys, and toucans. The tropical climate of French Guiana provides the perfect conditions for lush vegetation, including palm trees, mahogany trees, and bromeliads. It is also home to a variety of colorful flowers and orchids.
French Guiana's coastline offers you endless opportunities for relaxation and exploration. Several picturesque beaches line the shore, some of which are secluded and ideal for a peaceful day of sunbathing. Other famous beaches offer amenities like restaurants, bars, and water sports. There are even lagoons and coral reefs perfect for swimming and snorkeling.
In addition to its natural beauty, French Guiana is also culturally rich. The country's colorful capital, Cayenne, has various museums, monuments, and other attractions. History buffs can visit the Musée des cultures de Guyane, which showcases artifacts from the region's many ethnicities. The nearby Fort Ceperou, built by the Dutch in 1643, is also worth a visit. For those looking for an adrenaline rush, plenty of adventure parks offer zip lines, rappelling, and mountain biking.
As one of the best Caribbean French speaking countries, French Guiana is the perfect place for a vacation full of culture, nature, and adventure. Whether looking for a peaceful beach getaway or an exciting cultural experience, French Guiana has something for everyone.
Haiti
Located west of Hispaniola, Haiti is one of the most vibrant, diverse, and attractive places in the Caribbean. The country is home to the best French-speaking Caribbean islands, providing a unique and captivating mix of culture, cuisine, language, and lifestyle that attracts visitors worldwide.
Haiti boasts one of the most beautiful coastlines in the Caribbean, with spectacular beaches and breathtaking landscapes. Island life in Haiti is about adventure, exploration, and relaxation, with plenty of sightseeing, hiking, swimming, and snorkeling opportunities. You can explore historical sites, including Citadel and Sans Souci Palace, watch wildlife in La Hotte National Park, or relax on the beaches of Labadie. Haiti also has some of the best French Caribbean territories.
When it comes to food and drinks, Haitians are known for their creative flavors and eclectic cuisine. Spicy, flavorful dishes such as BouyiKabrit (stewed goat) and Colombo de Poulet (spiced chicken curry) will tantalize the taste buds. For a more relaxed dining experience, you can indulge in some hearty Creole dishes such as Bouillon de Poisson (fish stew) and Poulet Frit (fried chicken). The many French-influenced cafes and patisseries also serve delicious pastries, coffees, and exotic teas that are sure to please the palate.
Apart from being one of the best French Caribbean islands you must visit, Haiti also makes for a great cultural adventure. With a rich history and vibrant culture, you can enjoy various activities, from exploring streets lined with brightly colored buildings to attending religious ceremonies, listening to traditional music, and watching street performances.
Shopping enthusiasts will no doubt find several interesting souvenirs, while art and architecture lovers will be able to admire the many public squares, murals, and galleries across the country.
Whether you're looking for an exciting adventure, a relaxing beach holiday, or a unique cultural experience, Haiti will surely have something special amidst its stunning beaches, vibrant culture, captivating scenery, and excellent cuisine. Haiti is one of the top French speaking islands in the Caribbean and a must-visit destination for any traveler.
Final Words on Caribbean French Islands
The French Caribbean islands are an excellent destination with a blend of French culture and stunning scenery. Whether you're looking for a beach holiday, an adventure-filled holiday, or just a relaxing escape to enjoy tropical weather and beautiful landscapes, these must visit French Caribbean islands have something to offer everyone. So start planning your dream Caribbean getaway today and check our other travel guides for more help.