Best Places to Visit in Alaska
Have you had a trip to Alaska on your travel bucket list? If not, we're assured that you'll want to move it to the top of your must-do list right soon. One of the most unforgettable vacations you'll ever take will be to Alaska places to visit.
There are several things to do in Alaska that allow you to enjoy the beautiful natural scenery, learn about Alaskan tribes' native heritage, and participate in thrilling outdoor experiences. Alaska is a destination that you should not overlook.
There are many exciting holiday locations in Alaska, whether you're taking a cruise or flying there. Throughout the state, there are several fantastic tourist attractions.
Because of its immensity, seeing everything at once might be challenging. Make a list of the top items you wish to see on your trip before you go. Let's take a look at some of the popular tourist spots in Alaska to include in your travel plans. Here are some of the top things to do and best places to visit in Alaska: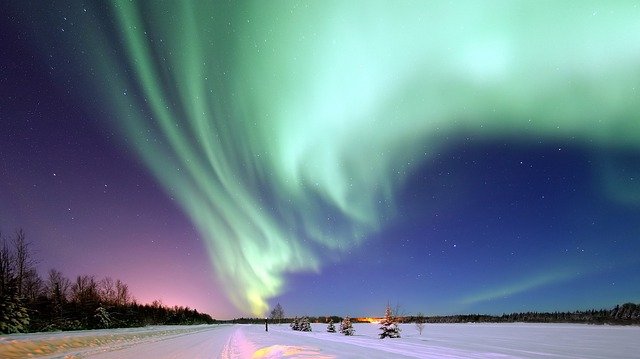 View the Northern Lights: The Northern Lights, also known as the Aurora Borealis, are only seen in a few areas across the world. From late August to early April, the Northern Lights may be seen. The circumstances must be ideal for spotting the lights. You'll need to avoid light pollution and aim for a clear, dark sky, which is why the ideal time to see them is during the winter.The majority of people go to Fairbanks or Denali to see them, but you never know when or where you'll see them.
Denali National Park: Denali National Park is the best tourist attractions in Alaska, and it is home to Denali, North America's highest mountain. Only one road passes through the park, providing one of the finest opportunities to observe moose, caribou, Dall sheep, wolves, and grizzly bears! Personal cars are only allowed on the road up to mile 15 for the majority of the year, but the park holds a road lottery every year that allows winners to travel the whole Denali Park Road.
White Pass & Yukon Route Railroad: A train trip on the White Pass & Yukon Route Railroad is one of the best things to do in Alaska. It not only passes through beautiful natural beauty such as gorges, glaciers, waterfalls, mountains, and woods, but it also has historical value as a piece of infrastructure from the Klondike Gold Rush era. This railroad, which opened in 1898, was intended to transport gold miners from Alaska to Canada. Its twisting tracks, which are built straight into the slope, reach heights of almost 3,000 feet.
Juneau Whale Watch: Juneau is one of the best places to visit Alaska, yet the greatest spots to visit aren't the downtown pubs and clubs. The wild and harsh landscapes of the outer ocean, where you may go on a Juneau Whale Watch, deserve this respect. The trips last 3–5 hours and include stepping onto a ship and sailing out so far out on the water that you can't see the city.
When whales are sighted, the skipper generally turns off the motor so that the animals get inquisitive and swim up to the starboard side. You may either enjoy the experience on deck or in the warmth of a heated cabin.
You haven't lived when you've seen a humpback gently emerge from the deep depths to meet you. It's one of the most fantastic things you can do in Alaska, so schedule a tour with Juneau Whale Watch and prepare to have a blast.
Glacier Bay National Park: Seeing big ice slabs drifting by you while sailing through Glacier Bay National Park is a strange experience. With nearly a half-million tourists seeking outdoor adventure, it is one of the best places to see in Alaska.
Glacier Bay National Park is a huge expanse of wilderness. The famed Johns Hopkins Glacier, one of the numerous glaciers still flowing, is located in the glacier-covered terrain. Glacier Park and Brady Icefield are two more natural wonders. A cruise ship trip is the most popular method to see the national park. As you travel into the chilly harbor, you'll be treated to breathtaking vistas of glaciers on each side of the ship. Binoculars are essential for spotting wildlife along the shore, such as seals, bears, and mountain goats. Whales will even show up alongside the ship. Hiking, camping, fishing, and kayaking are among the top activities in Glacier Bay National Park. Only specific areas of the preserve are open to hunting.
Kenai Fjords National Park: The Kenai Fjords National Park, located on the Kenai Peninsula, is home to Alaska's biggest ice fields. Explore the surrounding glaciers, animals, and more on an exciting walk through one of Alaska's top tourist destinations.
The national park is only accessible by one road and it is one of the top places to visit in Alaska. It's easiest to get there by boat or on foot. Aerial excursions are also available from local firms. The Harding Icefield is the national park's centerpiece. Hiking the Harding Icefield Trail (HIT) provides an unforgettable experience. Although the trek is not easy, the vistas make it worthwhile.
Exploring the national park on a day boat is a popular option. The excursions take you on a sail through the bay to observe the scenery and animals. One of the most popular ways to see humpback whales and killer whales is to go whale-watching. Bears, moose, seals, and otters are among the park's other inhabitants. Other well-known tourist attractions in Alaska include climbing Exit Glacier and taking a ferry to Fox Island.
Visit the nearest budtender: In 2014, Alaska became the first state to legalize recreational marijuana. You may buy marijuana in over 70 retail marijuana businesses across Alaska if you are over 21 and have a valid ID. Alaska was the first and only state to allow cannabis cafés, which could be on the rise shortly. Keep an eye out for areas that don't allow marijuana, such as national parks, hotel rooms, and certain private properties. Also, never drive when inebriated.
Alaska Wildlife Conservation Center: The Alaska Wildlife Conservation Center is a non-profit organization committed to the preservation of Alaska's wildlife. This is the spot to visit if you just have one day in Alaska to observe animals. In Portage Valley, less than an hour south of Anchorage, the facility is located. You can see bears, wolves, coyotes, lynx, foxes, elk, moose, wood bison, reindeer, porcupine, and other animals.
Chugach State Park: Any season is suitable for a trip to Chugach State Park. Plan a journey to the park on your next vacation to Alaska, whether you want to view the stunning winter scenery or the brilliant flora in the spring.
Chugach State Park is one of Alaska's biggest, with over 500,000 acres. Because of its proximity to Anchorage, it is one of the top places to visit in Alaska. The Park is recognized for its beautiful scenery, and there are several hiking trails to explore the area.
Over 50 routes wind their way across the terrain of the state park, covering hundreds of kilometers. The Chugach Mountains and the Chugach National Forest are two natural highlights in the area. Hiking and bike paths are available, some of which are multi-day trips.
Flattop Mountain is a popular trek for those looking for a panoramic perspective of the park. Whitewater rafting, fishing, and kayaking are all available at Eklutna Lake. A beautiful drive is also an option.
Kennicott Ghost Town: There is at least one location in Alaska where you won't have to deal with tourist hordes. It's Kennicott Ghost Town, and people who used to live and work there have long since left. People came to the neighboring copper mines in quest of money and fortune during the town's peak in the early 1900s.
Around the mines arose a busy village with stores, saloons, schools, post offices, and even brothels. The mines eventually dried up, and the miners moved on. Kennicott Ghost Town is now a remnant of life around the turn of the century.
Visitors are allowed to tour it at their leisure or speak with the few remaining people in the surrounding districts but don't anticipate any fireworks. It's a serene, peaceful, and slightly eerie setting that makes it one of Alaska's most unforgettable attractions.
Anchorage Museum at Rasmuson Center: Anchorage is one of the most popular travel destinations in Alaska for learning about history, art, and culture. The Anchorage Museum at RasmusonCenter is one of the greatest venues to learn all there is to know about Alaska. The huge museum features Alaskan art, history, science, and geology.
Since its inception in 1968, the museum has featured some of the greatest exhibitions in Alaska. There are both permanent and temporary exhibits. Other exhibitions emphasize native cultures and display historical relics, clothes, and more. Visit the art galleries to see artwork created by local Alaskan artists.
It's easy to lose track of time when perusing the museum's exhibits. It's a family-friendly destination with interactive exhibits for children. There are also many dinosaurs and other prehistoric animal bones and fossils on exhibit. This museum is a vital complement to visiting the region itself, including geological displays as well as exhibits describing the landscape's contemporary flora and wildlife. The structure also has a planetarium and a scientific center in addition to the exhibitions. It's a location where you may learn while having fun.
Alaska SeaLifeCenter: If you're lucky, you'll see sea creatures in the wild, but you can also ensure that you'll see your favorite marine species by visiting the Alaska SeaLifeCenter. One of the most popular things to do in Alaska visits the aquarium to learn about the local marine life.
The Alaska SeaLife Center is the greatest aquarium in Alaska for seeing the state's varied marine life. It also serves as a rehabilitation center for marine mammals and performs research to help preserve the creatures' natural environment. Seals, octopuses, sea lions, otters, and crabs are among the aquarium's inhabitants. Live creatures swim in the tanks, and you may learn about them by viewing exhibition exhibits.
A touch tank where you may pet sea stars and sea urchins are also available at the aquarium. Visit the aviary to learn more about the Alaskan marine birds. The experience is self-guided, and you'll undoubtedly gain a lot of knowledge. It's a great spot for people of all ages to come.
Sitka National Historic Park: Sitka National Historical Park was founded in 1972 and is Alaska's first park. It's also the smallest, but you can be sure there will be enough to see and do during your stay.
The park's stunning scenery and historical attractions are enough to draw over 100,000 visitors each year. Visit the park's visitor center before you start exploring. You'll watch a brief video on the park's history as well as Tlingit paintings and other items on display. The culture center, which includes active craftsmen, is a great place to learn more about Tlingit culture.
There are tour operators available, or you may explore Sitka National Historic Park on your own to view the major sights. The location of the Battle of 1804 between the Russians and the Tlingit has been one of the highlights. It's an open area with information on the fight and a plaque indicating the Tlingit Fort's location
Hike the Totem Trail to observe 20 totem poles that were originally displayed during the World Fair and have been moved to symbolize aboriginal culture.
Jewell Gardens: The Jewell Gardens in Skagway have a year-round summer, even when the rest of the world is cold and distant. Their attractiveness is enhanced by the fact that, despite the hardness of their surroundings, they are bright, joyful, and full of life. Their location, as well as their architecture, hold the key to their success.
They employ various glass elements to trap heat and moisture because they are located in the foothills of the Alps. Visitors may visit the gardens and participate in glassblowing demos, among other activities. Every day, tea ceremonies are held, and luncheons are served with fresh foods right from the source.
Consider a trip to the Jewell Gardens if you're looking for somewhere to visit in Alaska that isn't always blanketed in snow. In the Land of the Midnight Sun, they certainly live up to their reputation as a dazzling jewel.
These are just a few of the top tourist attractions of Alaska. Put some of these places on your bucket list, whether you're backpacking, traveling, spending the weekend, or simply traveling for fun. Alaska is a fantastic state that you should not miss. Connect with nature and native cultures by immersing yourself in the unspoiled countryside.
What's next waiting for you?
You'll never run out of top places to visit and things to do in Alaska because it's a year-round vacation. You'll be astonished at how pleasant the weather may be in the summer as well as how much fun you can have outside even in the cold. Now you know where to go and what to do in Alaska, you can plan your travel with utmost enthusiasm. Check out our other travel guides to explore best places to visit near Alaska.