Best Selfie Poses Without Feeling Awkward
There is nothing like a perfect selfie. Any selfie that you feel great about is just fine. It is just that it takes some practice and skill to pose for a selfie. And you don't have to feel awkward about it, as everyone has their very own appeal and charm that reflects in their selfies. After all, selfies are all portraying yourself, the way you are. Isn't it? So here are some best selfie poses for those who are a bit worried about being seen as awkward in their selfie. We have gathered the list of most creative selfie poses for men and women to make look nice in your photographs:
Pose with a neutral background
Image Credit: Photo by Reafon Gates from Pexels
If you want to take the selfie that's all about you, and nothing else than that, then why not remove all that background? Even beautiful backgrounds can snatch all the spotlight that's only meant to be on you. So choose a plain background, perhaps a wall. That way, there are only the patterns and textures that are visible, and what you get is a plain background that lets you remain in the spotlight. Shoot yourself with the Portrait mode so that you blur out the background even more. No wonder, it is one of the best selfie poses you can try alone.
Move!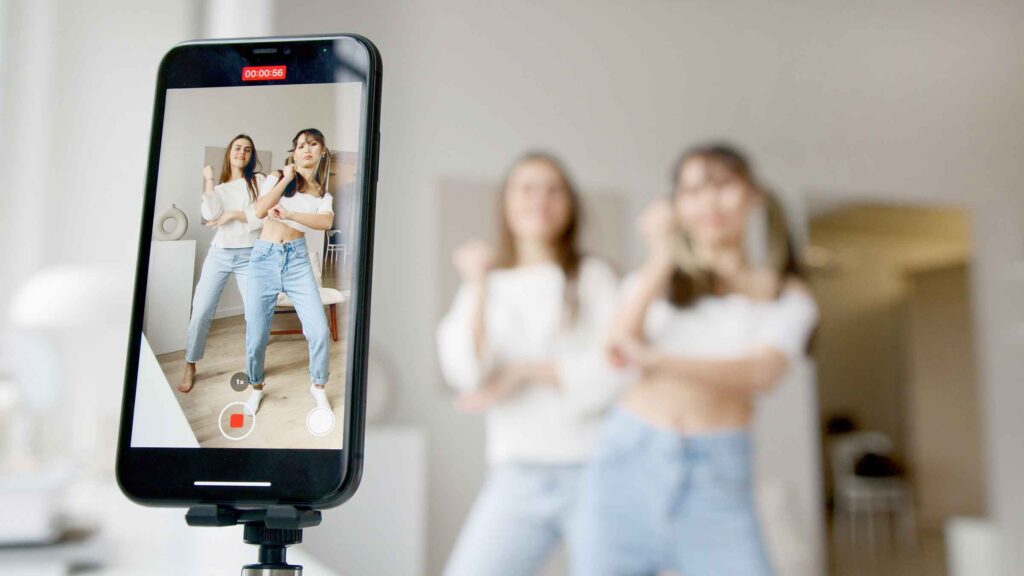 Image Credit: Photo by Artem Podrez from Pexels
Selfies can be so much vivid if you add some movement to your pose. It helps too, as you are in the middle of an action, and it could be anything that you feel comfortable with, a dance move, jumping, skipping on your rope, running on the beach. Movement gives you freedom and removes the stillness that is generally associated with selfies. The movement also adds more dramatic visuals to your shot and it appeals to viewers with what you are doing, rather than concentrate on your facial expressions.
Selfie Pose with a background
Image Credit: Photo by Daria Mamont on Unsplash
Selfies do not necessarily have to be just your face. You can pose with a nice scenic background. Choose the timer on your smartphone, and strike a pose in such a way that you also include a natural background in the shot. It could be that beach or the colors of the garden or mountains in the backdrop. Adding a background makes you a part of a wider depth of view.
Use your hands
Image Credit: Photo by Marc Kleen on Unsplash
Be more creative with your hands, especially with selfies!! When you pose with your hands, you add an action to the shot and make it more expressive and visually appealing. Try running your hands through your hair, or even a 'namaste' will do. But surely you could do with more expressive gestures like waving your hand, or you can punch the air, and make that 'V' sign with your hands. The more common ones also like tucking your hands in your trouser pockets or putting your fingers on the lips.
Use props
Image Credit: Photo by Anastasia Shuraeva from Pexels
Hold that glass of wine when posing for your selfies, and it changes the entire shot. You remain in focus, but also try to say something about the shot. Adding props adds more visual elements to your selfie shots. You could pose wearing a pair of sunglasses, or with an umbrella over your head, wear a hat, or sipping coffee. Be creative with it, and add variations (wearing the hat at an angle). Using props could make a huge difference between a regular selfie and a visually rich selfie, making it one of the best selfie poses you must try.
Change angles
Image Credit: Image by Napaporn Sripirom from Pixabay
Making your head tilt and posing for a selfie adds that extra punch to the shot. Staring at the smartphone camera while posing for a selfie is the old-fashioned way of posing. You can make it more visually arresting by changing the angles of your face. You could gaze on the horizon while taking a selfie, or take a sideways shot of your face. You could add a perspective to your shot by placing the smartphone on the ground or taking an overhead shot. Without any doubt, it is listed amongst one of the top and most popular selfie poses without feeling awkward.
Smile differently
Image Credit: Photo by Denis Tuksar on Unsplash
A smile is the best expression in a selfie. But you can smile without feeling awkward in so many other ways. You can add that crazy smile, that weird smile, that evil smile. It's all a question of changing the way you smile in front of your smartphone when taking a selfie shot. You can laugh out loud, or just giggle shyly, and it adds more variety to your entire shot, making it so much interesting. You are just showing a different shade of yourself to the viewer and you do have to feel awkward when posing.
Add some character
Image Credit: Photo by Andrea Piacquadio from Pexels
A selfie is all about adding character to your shot. Use human expressions in your selfie pose and show a variety of facial expressions to make that selfie stand out. Show sadness, or a macho gaze. You can show that angry look or that expression of wonder. You could show an expression of boredom, and wink at the camera to show a nasty look. It is one of the best selfie poses for women. Create that character that you always wished to be in your head, and show it off in your selfie shot.
Pose with pets
Image Credit: Photo by Kelly Lacy from Pexels
Pets always add that extra bit of subject matter to your selfie shots. Take a selfie while hugging them, or holding them in the air. You could use a Timer function in your smartphone for capturing that perfect moment with your pooch, and place it on a tripod for stability so that your hands are free to hold your pet. Pets are moving subjects so you have to be extra patient while taking a selfie with them. Even more difficult is to make them look at the smartphone. But it is worth a shot.
Pose with friends
Image Credit: Photo by RODNAE Productions from Pexels
Include your friends in the selfie. Spread out enough so that all are included in the shot. You can take a manual shot or use the Automatic Timer so that you also can quickly position yourself among your friends before that shutter button captures the selfie shot. Posing with one or two friends is easier still, and you can capture a selfie shot with stylish selfie poses or unusual camera angles. So is the case with group shots. You have to mount your smartphone in a selfie stick or a tripod for group shots.
Underwater Selfies
Image Credit: Photo by John Cahil Rom from Pexels
Take a selfie with you having underwater fun. So what if your face is shielded by that snorkeling gear. You could still pose for a selfie underwater and in that case, check whether your smartphone camera is water-resistant. GoPro is a good option. Include a little underwater world in your selfie shot, and you can also include your friends. Perhaps a fish may also like to join in the selfie fun!!! Underwater selfie shots are more engaging, as they show a different world rather than your face.
Feet Selfies
Image Credit: Photo by Jeremy Bishop on Unsplash
Selfies are not strictly about your face but can include any body part, your feet as well. Perhaps you like to show off the new boots or sandals that you just brought! Feet selfies are best for hiking and trekking trips. You can sit on a rock, include your feet in the foreground, and add a rocky mountain or that serene mountain valley in the background. Selfies with your feet are more trending images on Instagram. You could add more contrast with patterns of tile flooring, or green grass, or sands. Be creative!!
Selfies of favorite activity
Image Credit: Image by Kelsey Vere from Pixabay
Show what you like doing the most in your selfie shot. It could be you posing on your mountain bike, or trekking up a lonely road, or baking a cake, or showing your best dance moves. Posing your natural shots is immensely satisfying, not only for you, but it says a lot about you to the viewers too. There is nothing artificial in those types of selfie shots, and everything is as natural as it can be.
Sit down and pose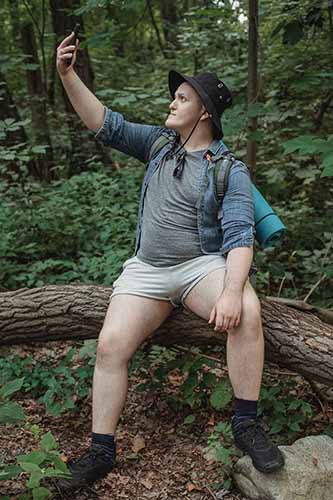 Image Credit: Photo by Kamaji Ogino from Pexels
Who says that you can pose only in a standing position? A selfie can be more vivid and expressive even if you don't pose!!! You can try sitting on different objects like a chair, or a rock, or railings. It could be the long winding stairs at your hotel, or just stony steps leading to the church. Include an interesting background, so it makes more sense of where you are sitting, and what is the surrounding like.
Interact with your surroundings
Image Credit: Photo by Yan Krukov from Pexels
Make your selfie more engaging by interacting with your surroundings, e.g. splash around the water, or drink from that fountain. That way, even if you are not posing, you are showing more visuals in the selfie shot. Your surrounding will speak for themselves and with you in the picture, the selfie shot will be far more expressive than just a normal pose. You do not have to strike a pose too, as you are spicing up your shot with more interactions and making it even more engaging.
Be naughty
Image Credit: Photo by Anna Shvets from Pexels
You don't have to strike the same pose, again and again, the moment you pose in front of your smartphone. Step out of your confines and be naughty as possible. No one's going to scold you, for sure. Pout those lips, or stick your tongue out, or cross your eyes, to give that naughty look. You will earn more social media following, and it works great for showing off your lighter side you.
Pose while you are lying down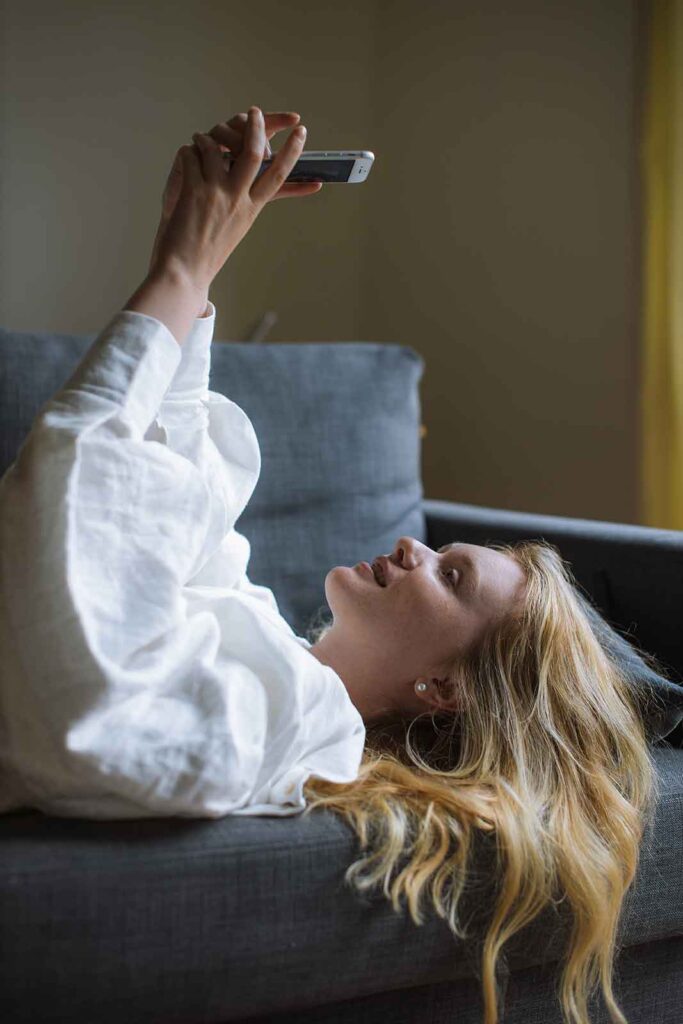 Image Credit: Photo by Anastasia Shuraeva from Pexels
Lie down on the bed, read a book, and take a shot from above. It is the most relaxing way of posing for a selfie. Girls and teenagers love posing like this. It shows a gentler side of you and is the best way of taking a selfie. Add some everyday objects besides you, like a book, or desk. Social media loves such selfies and don't feel awkward about it, for you have no idea how your friends will love your pose.
Peek at the camera
Image Credit: Photo by cottonbro from Pexels
Put the camera on the ground, and peek at the camera as if you are staring at something unusual, and it will create the best selfie shot. The peeking action can be made more dramatic with some curious facial expressions, and you can include your friends in the shot. Use the self-timer function in your smartphone camera. It creates a unique angle of that shot and looks great on social media.
Half face selfie
Image Credit: Photo by Maksim Goncharenok from Pexels
Again, this kind of selfie is pretty popular with girls. Half face brings more focus into your shot, and it also makes a pretty cute DP in your Facebook profile. You can use a leaf or a book, or let your hair down and cover half of your face with that curly hair of yours. You can use autofocus in your camera to focus on your eyes, and use burst mode to shoot several images and choose the best ones.
Reflection Selfies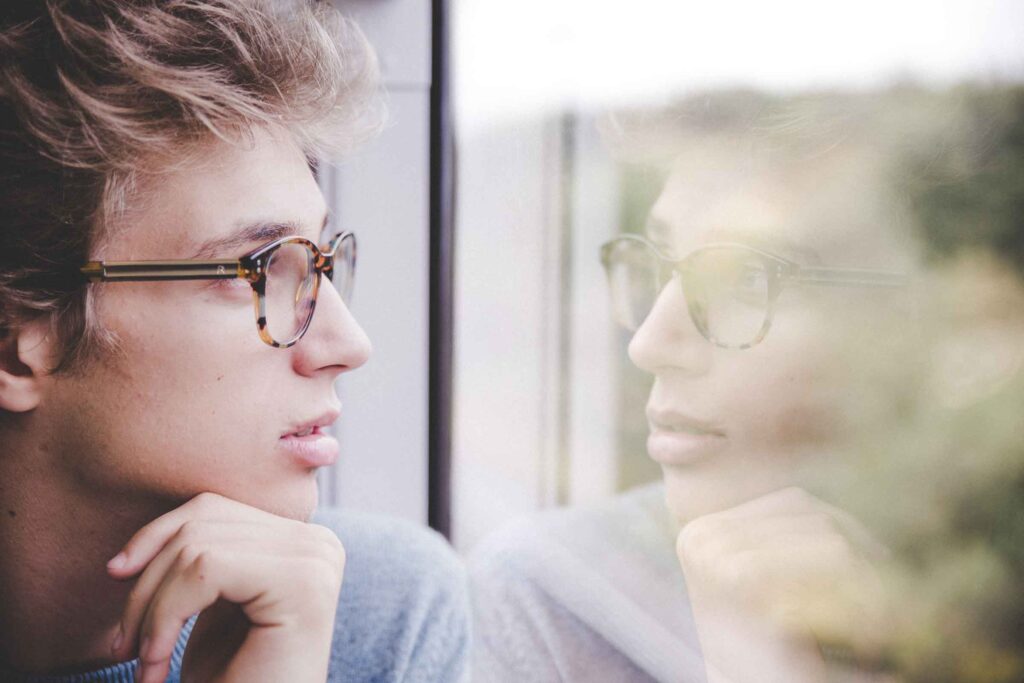 Image Credit: Photo by Laurenz Kleinheider on Unsplash
Love your reflection in your bathroom mirror? It makes for a great selfie moment, mind you!! You could also take a selfie of your reflection in the rearview mirror, or in that puddle of water will do. But what about lakes and ponds? Well, they are best if they are still water. Your reflection matters as well as you, and shooting your own reflection is also an inventive technique of taking selfies. You can rotate your photos to make them more creative, horizontally or vertically.
Piggyback Selfie
Image Credit: Photo by Woody Kelly on Unsplash
You will have to take the help of the timer function of your smartphone to take this kind of selfie. Piggyback selfie is fun, and something out of the ordinary selfie pose, but it might take some patience. Taking a ride on someone's back might seem fun, but when taking selfies, take a tripod so that you and your ride are comfortable with each other. The output might seem even funnier, but hey, what the heck!!! It makes a great Instagram profile, and who knows you might earn a thousand likes for that blooper.
The rule of thirds selfie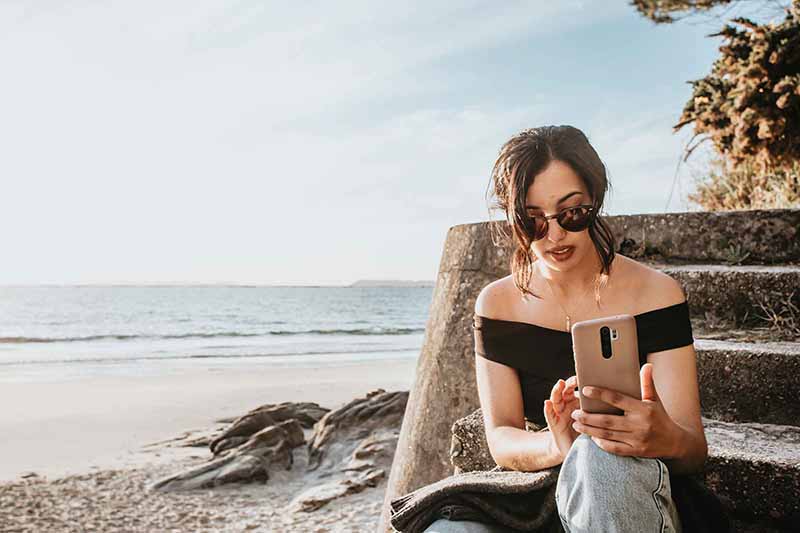 Image Credit: Photo by Ave Calvar on Unsplash
You could add more impact to your selfie with a basic composition technique called the rule of thirds. In this, you allow yourself to be at the extreme right or extreme left of the frame, and allow more space for other subjects such as landscapes, monuments or leave them blank. This is a more creative selfie style that you can shoot and it shows your more creative side. You are in the frame, but don't use the entire frame, making the shot more spacious and such that the viewer can focus on the subtler aspects of your photo.
Looking-over-the-shoulder selfie
Image Credit: Photo by Khoa Võ from Pexels
Look over your shoulder, and take this one of the best selfie poses, and it makes you feel even prettier. It is perfect for girls and boys, and in fact, for every age. The slant gaze will be one memorable look that you can give while posing for a selfie. It is more common in parties, weddings, birthday celebrations, and social gatherings.
What's next waiting for you?
Whether you are looking for unique selfie poses for girls or boys, the above list of the most creative selfie poses ideas you can definitely share with your friends. These are some of the most popular selfie poses worth trying. Let us know your favorite selfie poses and we will share your picture here. If you are looking for more such amazing selfie ideas then check out our other travel blogs.