Best Places To Stay in Houston
If you are looking to find the best places to stay in Houston Texas, then there are innumerable places that you will discover in the thriving neighborhoods in Houston. The city is huge and it takes almost an entire week to visit every major attraction in Houston. The city is famous for its space exploration, museums, art galleries, amusement parks and so many other attractions thrown in. You can easily find a decent enough place to live here that will suit all budgets. Houston is safe for families and also boasts a vibrant nightlife. Some of the most popular and safe places to stay in Houston are given below.
Downtown: best place for museums, sightseeing, and choice of accommodation
Galleria: best for malls, shopping, and business districts
Museum District: best for families, cultural attractions, and children's parks
Northwest Houston: best for budget accommodation
Energy Corridor: best for outdoor activities and business
Westchase: best for business purposes and the Japanese market
Near George Bush Intercontinental Airport
NASA Johnson Space Center and Clear Lake City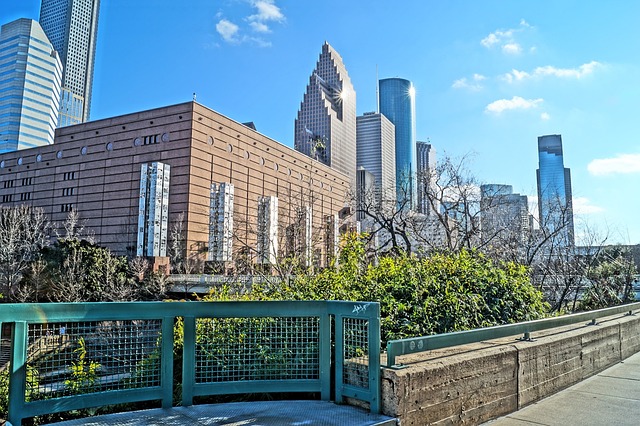 Downtown
The Downtown area of Houston is without any doubt, one of the best places to stay in Houston Texas. It is also one of the unique places to stay in Houston with family for vacation. The location of the Downtown area is possibly the biggest advantage here. Most buildings and attractions are connected to the local transport system which consists of metro lines and pedestrian tunnels. The Downtown area is best for business purposes also as major corporate offices and businesses are concentrated here. Even first-time visitors who do not have a car can comfortably travel in the Downtown area.
There are big malls such as Discovery Green and Houston Centre. The Downtown Tunnel System, Skywalk System, and Pedestrian Tunnel provide ample transport facilities. There are ample green spaces here like Sam Houston Park, Discovery Green, Market Square Park Sesquicentennial Park, and others. These are also good outdoor activities. You will find bars, shops, restaurants, and cafes, which offer almost every kind of cuisine. Lovers of art will find magnificent places such as Avenida Houston and Art Blocks on Main Street.
The downtown area is where you will find classy hotels with spas, bars, and in-house restaurants, to budget options like B&Bs, guest houses, and apartments. You can visit Alley Theatre, Houston Grand Opera, and Wortham Theater and catch a theatre drama or a musical. If you are traveling for business, then there is the George R. Brown Convention Center or the Downtown Civic Center. The downtown area has many transport facilities like Amtrak station, Greyhound bus terminal, and METRORail system.
Best Places to stay in Downtown Houston
Luxury: JW Marriott Houston Downtown, Hotel Alessandria, Four Seasons, The Lancaster Hotel
Mid-range: Cambria Hotel Houston Downtown Convention Center
Budget: Hampton Inn Houston Downtown
Galleria-Uptown
Those who want to live in the best places to live in Houston Texas will find the Galleria area to their liking and taste. The Galleria – Uptown area is more for the extravagant people who live in luxury. You will find one of the largest business districts here with more than 2000 companies. You will love the luxuries and comforts that the luxury hotels offer here. For those who want business mingled with pleasure, the Uptown area is one of the most romantic places to live in Houston Texas for honeymoon.
There are fine dining restaurants, shopping malls, and luxury hotels, in this area of Houston. The Galleria area is where you will find the largest malls in the entire Texas state and that is none other than the Galleria Mall. You will find branded goods at high-end departmental stores, coupled with food stores and food courts. Uptown Park is a great experience in open-air shopping and so is Highland Village. You will also find small parks where you can sit for some time in greenery and peace. Memorial Park is one of the largest urban parks in Texas and it is quite close to the Galleria-Uptown area.
The accommodation you will find here is one of the budget places to stay in Houston on weekends. From budget hostels and guest houses to luxury hotels and B&Bs, you will find one that will suit your kind of budget. The Galleria area of Houston is a very safe place and is also one of the best places to stay in Houston for families.
Top places to stay in Galleria-Uptown
Luxury: The Post Oak Hotel, Staybridge Suites Galleria Area, Omni
Mid-range: La Quinta Galleria Area, Royal Sonesta Houston Galleria
Budget: Courtyard by Marriott Houston Galleria, Drury Inn & Suites Near the Galleria
Museum District
You will love the Museum District in Houston to be the best places to stay in Houston for families. This Museum District is essentially a cultural area with many attractions such as museums, cultural centers, kids' parks, theaters, gardens, and neighborhoods. There are almost 20 museums here such as the Museum of Fine Arts, Children's Museum, Health Museum, Holocaust Museum, and National Museum of Funeral History among the major ones. Kids and adults will have all-around fun at places like Hermann Park, Houston Zoo, Peggy Park, Japanese Garden, and Houston Museum of Natural Science among others.
Montrose is close to Museum District and it is among the top 10 places to stay in Houston for young adults and singles. Montrose has a thriving nightlife and is perfect for those who enjoy drinking and dancing in bars and nightclubs. Museum District has many hospitals and public health organizations. It has a whopping 21 hospitals which include medical research organizations, specialty institutions, pharmacy schools, and the world's largest cancer hospital. Museum District is also best for those who want to catch live sports action in venues such as NRG Stadium.
You will find many 3-star and 4-star hotels in the Museum District. There are other accommodation options too like hostels and those around the Texas Medical Center. No wonder it is one of the most famous places to stay in Houston for nightlife.
Best places to stay at Museum District
Luxury: Hilton Garden Inn Medical Center, Houston Towers Inn
Mid-range: Courtyard by Marriott Houston Medical Center/NRG Park
Budget: Wanderstay Hostel
Northwest Houston
Northwest Houston is primarily a residential area with many neighborhoods and businesses. The most famous aspect of this area of Houston is its large population of Korean American residents and Hispanic population. Thus, you will find Korean restaurants, Korean bookstores, and supermarkets such as Super H Mart supermarket. If you go to the Hispanic side of the area, you will find a different culture. La Michoacana Meat Market is a popular attraction here. You will also find bargain shopping areas such as 'thrift store nirvana', and outdoor recreation areas.
Northwest Houston is best for those people who like to explore a different culture when they visit Houston. It can be one of the best places to stay in Houston for singles who want budget accommodation in Houston. There are many outdoor recreation areas like Terry Hershey Park, and Carts Circuit. You will find budget accommodation here in B&Bs, apartments, and motels.
Most Popular places to live in Northwest Houston
Luxury: Sonesta Simply Suites Houston City Centre, Sheraton Houston
Mid-range: Motel-6, Moonlight Inn & Suites
Budget: Stop Inn Stay
Energy Corridor
This area in Houston is where the major oil and petroleum companies are situated. That is why this area is called Energy Corridor. This area is also the place where car producers have their businesses. This area is famous for its outdoor recreation activities and parks. The Energy Corridor area is among the best places to stay in Houston Texas.
There are great outdoor parks that are best for hiking, cycling, and wildlife spotting. George Bush Park, Terry Hershey Park, Bear Creek Pioneers Park, and Ray Miller Neighbourhood park are among the best outdoor spaces in this area. There are cycling trails, hiking zones, a shooting range, baseball fields, soccer fields, picnic pavilions, playgrounds, ponds, and tennis courts which are best for outdoor play. Energy Corridor is best for those who love being in nature and want some exercising and outdoor recreation and to lead a sporting lifestyle.
Highly Recommended places to stay in Energy Corridor
Luxury: Hilton Garden, Hyatt Regency
Mid-range: Days Inn & Suites, Red Roof Plus
Budget: La Quinta Inn & Suites, HomeTowne Studios
Near George Bush Intercontinental Airport
Situated very far from the main metropolitan district of Houston, George Bush Intercontinental Airport is not particularly a tourist area. It is cut off from the main areas in Houston and is located to the far north of the city. It is situated along with Kingwood and Lake Houston. This is a distinct advantage as you will not find too many people thronging the area. Ideally, this is the best places to live in Houston Texas, and best for those who love being in seclusion and close to the airport. If you have a layover or do not want to venture away from the airport in case you are catching a flight, then this might be one of the cool places to stay in Houston Texas.
Kingwood is like a natural landscape with villages, pine forests, and natural greenery. It is best for hiking, fishing, camping, biking, boating, and other such natural activities. If you have a car with you, this is a great area to explore.
You will get many accommodation options here for your stay in Houston. There are all kinds of hotels ranging from luxury to economical and budget ones. You are sure to find a hotel, motel, or guest house that suits your budget. There are high-end hotels too, and cheap motels also.
Best places to stay near George Bush Intercontinental Airport
Luxury: Hyatt Regency, Houston CityPlace Marriott
Mid-range: Ramada by Wyndham, Homewood Suites by Hilton
Budget: Red Roof Inn Houston, Airway Inn Houston, Super 8 by Wyndham
NASA Johnson Space Center and Clear Lake City
If you are visiting Houston with family and prefer a stay that caters to kids and family, then go for a hotel near NASA Johnson Space Center in Houston. This might be one of the best places to stay in Houston with family. You can take kids along the NASA Tram Tour which is immensely popular with kids. You can visit the NASA Johnson Space Center and experience what it is like to go on a space mission aboard a spaceship. The places you can visit here are Space Vehicle Mockup Facility, George W.S. Abbey Rocket Park, Apollo 13 bronze statue, and Apollo Mission Control Center.
You can visit other places in the Bay Area, where the NASA Johnson Space Center is situated. These include places like Kemah, Nassau Bay, Seabrook, and League City. You will find plenty of food options at Kemah waterfront promenade such as restaurants, shops, and festivals that are a year-round feature of this place.
You can also go for birding trips in the great outdoors and one such trip is the Great Texas Coastal Birding Trail. The trail is the ideal chance to be amid natural environs and soak in the natural beauty of the place. It has many activities like bicycle trails and hiking routes. Clear Creek Nature Center, Nassau Peninsula conservation, and Armand Bayou Nature Center – Bay Area Houston are great places for educating your kids about natural sciences and conservation.
Best places to stay at NASA Johnson Space Center and Clear Lake City
Luxury: Four Seasons Hotel Houston, Hilton Americas-Houston
Mid-range: Super 8 by Wyndham, Days Inn & Suites
Budget: Travelodge by Wyndham, Motel 6
Westchase
Westchase is one of the best areas in Houston if you want are visiting Houston for business purposes. This is a reason why Westchase is a business district as there are more than 1500 businesses that are concentrated here. Besides this, there are several diplomatic missions and consulates which are situated here. These consulates include those of Costa Rica, Mexico, The Philippines, Saudi Arabia, and Indonesia among many others. Most of the business here is related to oil and petroleum, cars, and automobiles.
The Brays Bayou is a river that flows in Westchase and is perfect for a slow leisurely walk. Westchase has a Japanese market called Nippan Daido and it is also one of the largest markets in Westchase. It is perfect for those who love Japanese vegetables, fruits, home décor items, Japanese crafts, and other home items. You will see many Japanese tourists shopping in this market and it is a great cultural experience to visit this one-of-a-kind market if you are visiting this side of Houston.
You will find many budget hotels and exclusive luxury hotels, along with cheaper B&Bs, motels, guest houses, and hostels. The most famous among them are Marriott and Hilton which are very high-end hotels that cater to high-profile personalities and celebrities.
Best places to stay in Westchase
Luxury: The Westin Houston, Hyatt Regency, Hotel ZaZa
Mid-range: Romana Hotel, Baymont by Wyndham
Budget: Motel 6, Quality Inn & Suites
Final Words on Best Places To Stay in Houston:
Houston is a great city that has all kinds of accommodations to suit all budgets. There are so many famous places to stay in Houston with family. All the areas and districts have something unique to that place. It also makes them one of the best places from a tourism point of view. You can stay in any place mentioned here and find the best transport for your travel needs. Houston is a huge city with an incredible experience to take back home. This is only possible with the range of tourist places, accommodation options, and transportation options that you get in Houston.
Now you know, where to stay in Houston Texas, if you are looking for information on how to travel from Houston to Austin and the best places to visit in Houston then don't forget to check our travel guides.