Top 5 Festivals in Brazil That You Need to Know
Everybody in Brazil loves to party down and what better show of this than in the world-famous Rio carnival. Practically everybody from young to OAPs can be found jumping up and down to all the celebrations with wholehearted enthusiasm. So which festivals and carnivals are the best to go to? If you're looking for the answer, you're in luck. There are several great festivals throughout Brazil. Each one has their own special something and we're going to take you through them. Whether those are film festivals in Brazil or extraordinary carnivals of Brazil, you will experience ultimate joy during your tour.
Here in this guide we take you through the top 5 best festivals of Brazil and reveal some great information about them: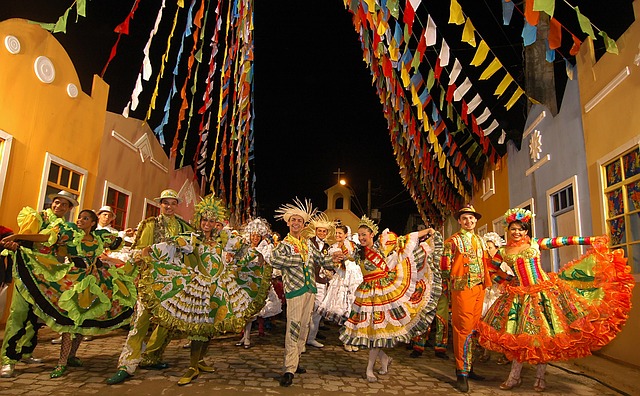 1. Rio Carnival
Let's kick things off with a bang. This is without a doubt the largest fest in Brazil, known for being a whole week of non-stop partying. Days prior to the carnival are also jam-packed with fun – fandom parades and street parties. If you're wondering when is a carnival in Brazil, in 2020 it's on the 21st-26th of February. There are also parties after the carnival has officially ended! You'll find each bloc with their own theme songs. Everybody flocks from around the world to witness extravagant Rio carnival costumes plus flamboyant dance moves of the parades. Brazil is one for partying and Rio carnival is a testament to that party spirit.
2. Festa Junina
Every June this festival is celebrated throughout the entire nation in memory of St. John, which gives it a common name of Festa de São João. Unlike Rio, people wear typical clothes and celebrate in large tents called Arraial. Typically people like to wear checkered shirts with straw hats. Children often paint freckles on their faces. Delightful! In larger cities, this tent is often a building that has been decorated with balloons, colored flags, checkered table linen plus much more. One can witness traditional dancing which is a lot like square dancing. Everybody is waving in harmony wearing their Brazilian carnival costumes. The wine is always flowing too!
3. Parintins Brazil Carnival Folklore Festival
Every year in Parintins, a quirky folklore Brazil festival is celebrated. The whole thing lasts for 3 days in June and mainly celebrates Amazonian folklore legends of oxen resurrection. One can witness the main attraction of the festivals of Brazil which is a competition between the two teams, Caprichoso + Garantido, which works together to illustrate an incredible folklore story. Lively parades, dancing, and singing are performed to resurrect this cultural folklore delight.
4. Oktoberfest
This festival has its roots from Germany and has been an integral part of the Carnivals of Brazil. Once a year, Blumenau adopts this festival and it is actually one of the most popular of all beer festivals in Brazil. One can find locals donning traditional carnival costumes with heaps of enthusiasm as they dance and feast on German delicacies. A cool thing to look out for is their beauty pageant which aims to find Oktoberfest's queen + runner up. Two are crowned in an elaborate ceremony which has everyone smiling with support. Another festival of its kind, however, is more related to music festivals in Brazil called Lightning in a Bottle. It is held 2 days after the completion of the Oktoberfest.
5. Cachaca Festival
Down in Paraty, south of Rio, this wonderful Carnival in Brazil is held on an annual basis over the course of a weekend in August. It's essentially a dedication to national liquor created with sugar cane, Cachaca. It's got quite a kick (unlicensed versions sure can strip paint off of walls!) and when carefully distilled it has a pleasant taste. At this brazil carnival festival, expect to be dancing the samba plus sampling local delicacies from food trucks. This fest is a great way of getting to know quaint Paraty whilst also having a lot of fun.
Plenty To Love
Carnivals in Brazil are really some fantastic and best places to be. Whether dancing, trying out food or just relaxing, whatever you do, boredom will not be on the cards. Brazillian carnival definition is all about spirit and love that you can witness in festivals of Brazil. Wherever you end up going to Brazil, this website and others just can't put into words how much fun there is to be had. Make sure to visit one of these 5 fantastic Brazil carnivals – not to be regretted! 
Have you been to Brazil or any carnivals in South America? Any top tips and advice to share? We'd love to hear – please send us your comments below.