Best Places to Visit in Brazil
Brazil is home to some of the greatest attractions and sightseeing destinations in South America. It is a country where you can come across several historical monuments as well as national parks within a very short distance. From scintillating blue oceans, thick forests to welcoming beaches, Brazil has a lot to boasts about. The vast landscape of the country features several mesmerizing destinations. Here we have listed some of the top things to do and best places to visit in Brazil that separates it from several other countries. Check this Brazil travel guide: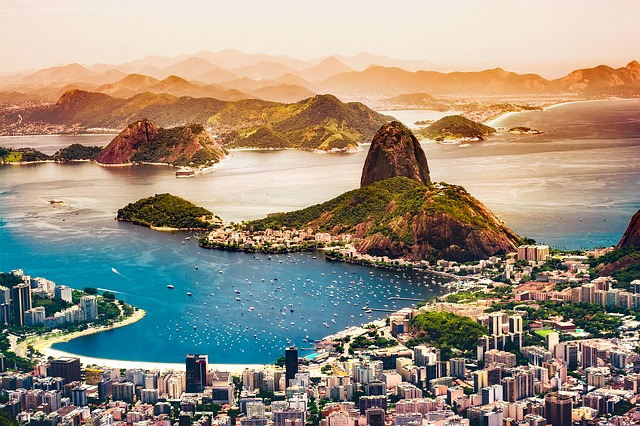 This is one of the popular tourist attractions in Brazil that you should not miss out on. It is on the Northeast Side of Brazil in the Ceara state. This lovely place is nestled between the national park and the Atlantic Ocean which given an amazing view. It is also called Jijoca which is a small town at the seaside that boasts lovely scenery and has quite a lot of demand amongst the tourists too. The place is known for lovely beaches and is all surrounded by lagoons and dunes.
If you are a sports lover well then swimming, hiking, water sports are quite popular here to enjoy. You can also explore the horseback rifting or dune biggies which can make your stay an exciting one. Just the way scenarios here are splendid, the activities are fun to do too. Make sure you visit points like Arched rock that is known as the standout symbol. To reach Jericoacoara can be quite a challenge but definitely, all the efforts are worth it once you get to see the sumptuous scenery. The place along with great food and loving people also offers lively nightlife to enjoy.
Chapada dos Veadeiros National Park
Another trending places to visit in Brazil that have been talk of the town is Chapada dos Veadeiros National Park. You can witness here some stunning waterfalls and amazing landscapes that are quite old. Besides the tropical ecosystem here is well maintained and is said to be one of the biodiverse yet the oldest one in the world. It is certainly an eye treating experience for you to explore. It covers a huge section of the Brazil center. Besides, there are some micro-regions around this area that you might like to explore.
The main attraction of Chapada dos Veadeiros is the National Park that is based on the same name itself. It is located at the plateau of an ancient rainforest-covered area. Besides there are some crumbling canyons and cliffs you need to be careful of but certainly, it is all fascinated area. This place offers the best hiking sport where often visitors travel around. There are also some other highlights like Moon Valley, swimming and bathing in a waterfall, and exploring small cities like Alta Paraiso and Sao Jorge that are quite close to the main site.
This is one of the popular tourist attractions of Brazil you should not give it a miss. This place is located amongst the Minas Gerais mountains and is one of the beautiful locations. It is one well-managed and highly preserved colonial town that is in Brazil. It was also said to be one of the main areas for the wealth, Brazilian gold rush, and riches that shall be pouring in the streets. The town was also known to have been holding prestige and power like no area around.
Along with the well preserved down, there are series of hills you might want to explore. Some streets are wind cobbled while the old buildings give the past vision. You must make a short trip to the churches that were built in the 18th century as well. Even if this is a small city but there are so many museums here which can be interesting for the visitors to explore. There are so many who focuses on visiting the place to explore the artwork presented by Aleijandinho and Ouro Preto's mining past
Bonito is on the Southwest side of Mato Grosso Do Sou and listed amongst one of the best places to see in Brazil. This is a small city and a perfect place to explore the Pantanal region which is quite a beauty. While you may not see many things around but there is no doubt that it has been known to be the trending ecotourism place in Brazil. This place is all surrounded by natural wonders and has some magnificent rivers, sparkling waterfalls, and caves filled with a lake where you can enjoy snorkeling and swimming too. The hikers shall also have a retreating experience in the lust rainforest which is quite known.
With so many colorful flora and fauna and great tourist spots with fun activities to enjoy, this is one of the known places to visit in Brazil where you can come across the largest flooded caves.
One of the largest cities in Brazil that you should not give it a miss is Sao Paulo. This place is quite populated too. It is on the southeast side of Brazil and is known for the gastronomy, skyscrapers, and even the robust culture scene. This place has also been home to different ethnic groups that visit here from across the world. You can even find the huge Japanese community present here too.
The city is divided into two districts. The older district and the newer one. Paulista Avenue is known to the largest and the busiest strip that has been brimming the business. Besides, there are art galleries, restaurants, and even coffee shops here which are quite popular. Also, this city is called the concrete jungle, but it is also home to many public parks and quite a portion of it is covered with Atlantic rainforest.
Fortaleza is known for its happening culture, lovely beaches, and great shopping spots. This place is a highly popular tourist spot. It is also the capital of state Ceara country which is located on the northeastern coast. In Brazil, Fortaleza is the first largest city that has the Forro music running popularly. It has a perfect blend of modern and colonial architecture. The place has got many things to offer. You can enjoy the food at some marvelous restaurants while street performers.
This is one of the best places to visit in Brazil which is known for lovely beaches and culture which is quite enticing. Here you can enjoy several fun things to do in Brazil such as sunbathing, swimming, surfing, and fishing. Along with beaches, don't forget to visit the rolling dunes, shopping for local handicrafts in the city market, and a trip to idyllic fishing villages at the Ceará coast. It is also popular for forró music and many people often make a visit to Praça José de Alencar where street performers have their shows too.
Get to see the untouched scenery of Brazil by making a stopover at Fernando de Noronha. Unspoiled coastline and beaches here offer you a lot of opportunities to relax and enjoy seafood. Moreover, you can experience the typical wildlife of Brazil here along with an exposure to get intimate with dolphins, turtles and fish.
It is a perfect mingle of lush forests, pristine shores and a buzzing metropolis. No wonder, it has become such a preferred holiday destination and visited by thousands of people every year. If you want to experience some local music and dance shows then you will get plenty of opportunities here. Adventure tourists also choose this place as a hiking destination where they enjoy beautiful scenes of sunset after a thrilling hiking activity.
In spite of illegal mining and deforestation, this place has maintained its charm and became home to a wide range of flora and fauna. It is one of the most incredible ecosystems that attract several nature lovers to stay in the vicinity. Moreover, you can spot forest monkeys, river dolphins, tree frogs and several other unique animal species here.
If you are a true adventure lover then throw yourself in the lap of the largest wetland of Brazil. It is situated at the heart of the country and home to the spectacular landscape which you may have not discovered before. Moreover, here you can explore several natural habitats and hundreds of rare bird species that create weird patterns when moving in groups.
If you are a fan of visiting some of the spectacular beaches in the world then you will love visiting Recife. In fact, after enjoying the wonderful scenery and water-sports activities here, you will rate it extremely high on the list. Besides, the beach features luxurious restaurants, clubs, bars and pubs where you can enjoy the dazzling nightlife of Brazil.
It is a perfect holiday destination for tourists who want to explore more about the architecture of Brazil. Being a UNESCO heritage site, it is exemplary for a blend of urban development without affecting green spaces. Further, you will get a glimpse of several complexes and hi-tech structures which are difficult to spot anywhere else in South America.
What's next waiting for you?
After going through all the top places to visit in Brazil, you may have got a lot of inspiration to add Brazil to your next itinerary. Get extremely close to nature while in the lap of delightful beaches, tropical islands, green rainforests and lush gardens in such a heavenly country in South America. Now you know what to do in Brazil, don't forget to check our South America travel guide to know about popular places to visit near Brazil.