Best Places To Visit in Andaman & Nicobar Islands
If you ever dream of spending quality time with your family and friends along some beautiful beaches and picturesque locations, Andaman and Nicobar might be the right destination for you. The scenic nature and warmth of the place will make you fall in love with it instantly. The Indian archipelago consists of 572 islands, out of which only 37 are inhabited. The lively coral reefs and the charming islands make for an ideal holiday destination that you must visit as soon as possible. Andaman & Nicobar Islands places to visit are all about fancy beaches, blue skies, tranquil environment and mouth-watering cuisine.
If you ever come to India, don't forget to visit these islands that will add real spice to your tour. Every element of these islands will offer you an exotic experience that any nature lover is searching for. Here we have listed some of the top things to do and best places to visit in Andaman and Nicobar islands if you are planning a tour here.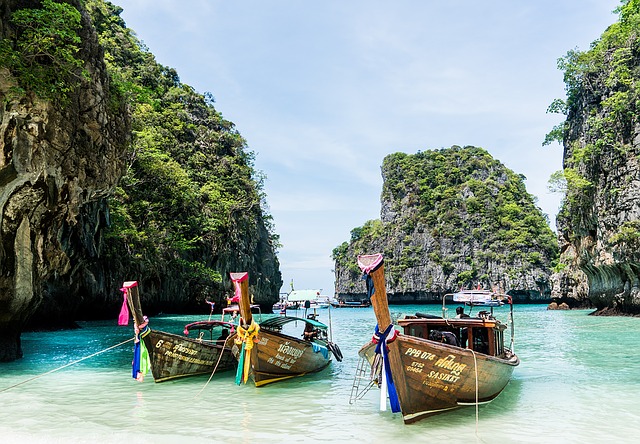 Port Blair, which is the capital of the Andaman and Nicobar islands, is home to many splendid beaches, such as Corbyn's Cove, Wandoor Beach, and Munda Pahad Beach. Chidiya Tapu Beach is a popular destination for bird watching. You can taste some exquisite seafood you can ever find in the country. You can also find many water sport activities to enjoy, such as swimming, diving, snorkeling, and parasailing. Samudrika marine museum, Cellular Jail, Mahatma Gandhi national park, Marina Park, Chatham sawmill, and Japanese World War II bunkers are some of the popular locations you need to visit in the city.
The cellular jail, which is also known as Kalapani, is a famous location in the city of Port Blair, which serves as a national memorial at present. Many noted Indian freedom fighters were imprisoned here and tortured during the struggle for Independence. A visit to the place will increase your respect towards the freedom fighters who sacrificed their lives for the nation. Do not forget to take a look at this national monument.
At the time of the British Rule, Andaman Island was considered as a most terrible jail location. Today, it has become a famous heritage spot that reminds you of India's independence struggle along with the sacrifice of freedom fighters. Here you can get an opportunity to view several sound and light shows that will make you acquainted with the history of this destination. The jail remains open from 9 AM to 5 PM on all days except Monday and public holidays.
A trip to Andaman cannot be complete without visiting Havelock Island. The Havelock Island was named after a British general Sir Havelock Henry. It is now officially known as Swaraj island as a tribute to the great Indian freedom fighter Subhash Chandra Bose. Radhanagar Beach, which is also known as beach no.7 offers some of the top things to do in the Andaman and Nicobar islands. Time magazine rated it as Asia's best beach and the 7th best beach in the world in 2004. You can locate the Elephant Beach along the northwest coastline of the island, which is a popular destination for water sports, such as snorkeling and scuba diving. You can also enjoy elephant rides. The enthralling coral reefs of the island are home to several marine creatures that you have rarely seen.  It is one of the best tourist places in the Andaman and Nicobar Islands that you must add in your itinerary.
Neil Island is a quaint place endowed with mesmerizing coral reefs. It is a part of Ritchie's archipelago and is situated between Havelock Island and Rose Island. The island is known as the vegetable bowl of Andaman. The enriched soil in the region is suitable for paddy cultivation and growing a variety of fruits and vegetables. The Laxmanpur Beach, Bharatpur Beach, and Sitapur Beach are the prominent beaches of the island. The beaches have been named after characters from the Indian mythological epic Ramayana. The island is less populated and visited compared to Havelock Island, but it is famous for its tranquility. If you are seeking solitude for some time, there is no better option than Neil Island.
The Great Nicobar Island is the largest of all Nicobar Islands. You can visit the Great Nicobar biosphere reserve, which is home to several species of animals that can be found only on this island, which include the Nicobar Megapode, long-tailed Macaque, Nicobar tree shrew, giant robber crab, etc. The Galathea national park is another popular tourist destination of the island. You can find Giant leatherback sea turtles, Malayan box turtles, and saltwater crocodiles here.
Ross Island is one of the top Andaman and Nicobar tourist places which is popular for its old ruins that lend a unique quality to the place. Indian Penal colony, Japanese bunkers, old British constructions, etc are some locations worth visiting. The Man caves and sanctuary protecting deer and peacocks are other major attractions of the place. If you want to experience what old times feel like, you should check out this place.
Rangat, which is located on the middle Andaman Island, is a splendid location for nature lovers. The diverse flora and fauna of the place will make you fall in love with it. The Cuthbert bay beach is a popular destination here. It is also famous as a breeding ground for turtles. You can find a variety of turtles on the beach. Some of them include Olive ridley turtles, leatherback turtles, green sea turtles, etc. The sight of many baby turtles going towards the water after hatching will please your eyes. The beautiful waterfalls of the Panchavati Hills are another attraction of the place. Long Island is the right destination to spend some time in isolation. The scenic views and beautiful beaches of top tourist places of Andaman and Nicobar will provide great relaxation for you. Dhani Nallah Mangrove Nature Walkway and Amkunj Beach are other locations worth visiting.
The island is one of the most ideal tourist spots in the Andaman and Nicobar islands if you are looking for something unique. The island is home to the well known Jarwa tribe. You can visit the limestone caves and take a look at the unique shapes formed due to erosion. Please be cautious of the sea crocodiles near the water.
Viper Island is one of the best places to visit in the Andaman and Nicobar islands mainly popular for its tranquility. You can take a look at the old jail ruins used for the imprisonment of Indian independent activists before the construction of Cellular Jail and also get a good view of the 7 point harbor while traveling to the island.
Diglipur is said to be the largest town of the North Andaman Island. You can take a trek through the saddle peak national park and check out saddle peak which is the highest point on North Andaman. Turtle spotting and sightseeing are other interesting activities you can do in the town.
Enthralling water sports, scenic landscape, and attractive coral reefs make the North Bay Island a popular destination for tourists. The island is popular for underwater sports. Take the glass bottom tour and explore the marine life and coral reefs underwater. Sea walking is another activity you can enjoy on this land. You can go to the sea walking platoon near the island and enjoy the view of several varieties of fishes and reefs.
MOUNT HARRIET NATIONAL PARK
The Mount Harriet National park is a popular tourist destination of the island you must visit. The Mount Harriet Peak, located in the park is the third highest mountain peak in the Andaman archipelago. Elephant safari through the park is an added attraction to the place. The park is also a popular destination for people who love trekking. The trekking trail from Madhuban stretches 16kms and the sight of several different animals and trees will turn your trek into a memorable experience. You can also view Kalapathar located near the park. Many Indian prisoners have shoved down the ravines and killed during the British struggle. The destination is also home to a tribal community leading a primitive way of life. You will be delighted watching the colorful butterflies and a wide variety of birds such as the Andaman woodpecker, cuckoo dove, Wood pigeon, and white-headed starling found in the region.
If you love doing trekking then it is worth keeping this destination on your priority. It is recommended to cover the stretch of 16km from Mount Harriet to Madhuban on your feet to enjoy incredible flora and fauna on island. Besides, you can also try elephant safari here that is one of the memorable experiences you will not forget in entire lifetime.
National park is a key attraction of this beach that attracts tourists from different countries in the world. If you want to explore coral life that includes red corals, sponge corals and several tropical species then Wandoor beach is a place to be. Moreover, snorkeling is another unique experience you can try here that will take you closer to unique marine life.
If you want to know everything about the ancient culture and history of Andaman then simply take a museum tour on the island. The Anthropological museum here will give you deep insight into the lives of local while Sanudrika Naval Marine Museum will offer you a perfect synopsis of amazing marine life on the Andaman and Nicobar islands.
Rajiv Gandhi Water Sports Complex:
If you are a true watersports lover then you will keep this destination on your priority. Whether it is speed boat riding, paragliding, banana ride, jet skiing, parasailing or any other activity, you will get an amazing exposure to try everything here. You can consider enrolling for an entire package or opt for specific rides during your stay here. No wonder it is listed amongst one of the best places to visit in the Andaman and Nicobar islands to enjoy some thrilling activities.
Get extremely close to nature while been at Chidiya Tapu that will offer you peaceful surroundings to sit and relax. It is an ideal destination for bird watching where you can spot several unique species of birds including emerald doves, sea eagles, parakeets and much more. It is highly recommended to visit this place during summer as whether is extremely clear and you can get the best out of your time.
What's next waiting for you?
The top things to do and best places to visit in the Andaman and Nicobar islands mentioned above are known for their sudden change in weather so it is recommended to plan tour after doing prior planning and research. This pleasing place has definitely a lot to offer tourists and no wonder it has become one of the most preferred travel destinations in Asia.
About Author:
Ananth Raag: I am a young and passionate writer. I am pursuing my B.Tech in agricultural engineering. I am an avid reader and a nature lover. I am also a music lover. I am born and brought up in Andhra Pradesh which is a south Indian state. I am fond of beaches and hill stations.