Best Places To Visit in Costa Rica
Costa Rica gives you a perfect opportunity to enjoy beach life, cloud forests, adventure parks, wildlife, volcanoes, and a lot of mountains at a single location. The country has got plenty to keep you excited while exploring its natural gems. With so many options to discover out of diverse Costa Rica places to visit, it is always recommended to have your itinerary ready in advance.
The only trip you would regret is the one you won't make and this is true if you would not add this wonderful country in Central America called a Costa Rica in you to visit list. The name meaning 'Rich coast' is literally true as the country is famous for its rich biodiversity and natural beauty and of course beaches! Home to four UNESCO world heritage sites, it is one of the 23 countries in the world which does not have a standing army, totally true to its virtue of beauty and peace, isn't it? This fantabulous place is home to more than 5% of the world's biodiversity and I guess this enough to explain how exotically beautiful and calm this holiday destination is, best enough to give you a break from the monotony of life and relax on the lap of Mother Nature.
Can be termed as the world's largest natural playground and having a huge density of flora and fauna this country has an abundance of experience to offer ranging from hiking through the mountainous and volcanic terrains, surfing through the waves in the endless beaches, having a calm and tranquil walk through the forest trails to be able to watch limitless wildlife. Hotspots for tourists and retirees due to its cheap cost of living and naturalness, people here have "Pura Vida" as their philosophy as well as their way of greeting which means "pure life" and when in this country it is indeed having an experience worth pure life!
According to their philosophy, Costa Ricans take full opportunity to live their lives which also explains them ranking number one in happy planet index and our blog here has very well taken care of the fact that when you visit this awe-worthy country you get the best and live your time and life to the fullest, so here presenting some of the best places to visit in Costa Rica so that it's a Pura Vida trip for you!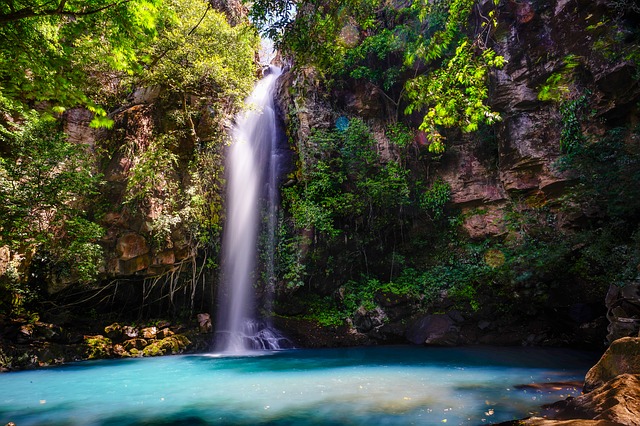 Manuel Antonio National Park:
It is one of the premier tourist attractions in Costa Rica offering a view and experience surrounded by wildlife and paradisiacal beaches one can witness the magic of beaches and greenery mixing to create a vibe that is unmatchable. With entry to this exotic place is allowed from 7 am to 4 pm and Mondays being rest day this park has an end number of attractions to offer which includes a waterfall, mangroves and beaches. The park has a rich flora and fauna with approximately 353 species of birds, 109 species of mammals, varied plants and marine fauna registered is an open box of natural surprises.
Surrounded by fertile land this volcano is an ever active, awe-striking wonder which one must not miss visiting. As fiery it may seem it does showcase a fiery natural beauty filled with rich biodiversity. The park is rugged and varied and what attracts the most is the presence of well-marked trails that follow old lava flows. If you plan hiking you are sure to spot sloths, howler monkeys, ant eaters and even white-faced capuchins. You might spot the top of the volcano filled with clouds but it is actually smoke which comes out of it 24X7.
A part of the Arenal Volcano this river waterfall is located in the biological reserve area with 210 acres of transition premontane tropical wet rainforests. To witness this splendid sight one has to walk through approximately 530 steps through the forest which has adequate resting points and hydration stops. The journey itself is a wonderful delight with no compromise to your comfort, where can one get such a deal? Take a dip into the crystalline water and store as much as memories possible!
A tiny surfer village that is popular amongst nature lovers and also listed in the best places to visit in Costa Rica. What can be more satisfying than relaxing on the plenty of gorgeous beaches this place offers? A swim in those beaches is almost a guarantee to washing off all the stress you have carried all along! You can also surf as well as satisfy your wishes of how to learn surfing and floating about those impressively splendid waves brings in an unquestioned satisfaction. One can indulge in the natural beauty of this place and also spot few exotic wildlife around the rolling hills, also, that's not it, the place also has adventure sports like rafting, repelling, zip-lining and kayaking.
Monteverde and Cloud forests:
A biological reserve that consists of over 10,500 hectares of cloud forest and 6 ecological zones and extremely rich in biodiversity is a treat to all nature enthusiasts. Surrounded with a large presence of flora and fauna one should surely take a walk through the lush cloud forest which is a combination of trails and hanging bridges. It is recommended to take a guide along if you want to see as much as eye-catching exotic animals and get updated to some information as well.
Tortuguero National Park:
An attraction to all wildlife enthusiasts across the globe has a dense jungle and winding canals to see and explore. Having a network of canals, rivers, lagoons and beaches interlinked it is one of the rainiest parts of Costa Rica and the best way to explore this exotic place and its wildlife is through a trip in a boat or canoe and trust us, nothing can be as relaxing and joy-filled as that! Also, you should not miss the turtle tour as well, it is one of the most happening and famous part tourist attractions of Costa Rica.
The National Theatre in San Jose:
Located in the heart of San Jose, this is one of the most popular tourist places in Costa Rica which remains in the capital city of the country. Famous for its historicity and exquisite interiors is considered as the cultural asset of the country and there remains no question why it should not be. This impressive old opera house has a surprisingly European look that provides guided tours who alternate being past personalities to explain how things were, a much fun learning experience indeed. It also houses a little café that offers lovely food and artworks that you can visit after a tiring yet thrilling exploration of the past. No wonder, the museum is listed amongst one of the top things to do in Costa Rica San Jose.
One of the most famous and active volcanoes in the world Irazu provides a fascinating and exciting sight to behold when visiting it. You can enjoy hiking the short walk to the volcano edge, a great place to explore the breathtaking Costa Rican natural beauty. Don't forget to see the crater lake which is another interesting and beautiful place. Though you might not be able to indulge in the wilderness to a great extent as the volcanic activities do not allow much wildlife to exist as well as flora.
Costa Rica tourist attractions not only recognized for their natural beauty but also known for a much loved and appreciated culture. The museum in San Jose is dedicated to preserving the archaeological heritage of the region and also features the largest collection of pre-Columbian jade artifacts in the world. If you love history and architecture then this is a must-visit for you as you can indulge in the rich cultural and historical past of the country to the fullest. There are nearly 7000 awe-striking pieces for you to take delight in and a café as well as providing delicious food. If you are looking for top things to do in Costa Rica San Jose then you will experience many of those during your itinerary.
National Museum of Costa Rica:
Located in the capital city it sits directly across the country's legislative assembly. The museum was originally used as a military barrack and the visitors can still find bullet holes, lots of them, in the walls. While touring the grand museum and the pride of the nation which boasts of the rich culture tourists will find a variety of displays representing the country's history and culture from the pre-Columbian era to the present. One can see various artifacts that reflect the ancient cultures and lifestyles as well as jade sculptures, and other materials of personal use like pots, earrings, etc. This would take you to an experience of the past and wonder of the various possibilities of how lifestyle was then. In the end, you get treated to the spectacular city view of San Jose from the museum courtyard, a treat to you as well as camera lenses.
Here you can spot natural and hot springs where pools are situated within rainforest reserve thereby offering you an ideal ambiance to enjoy a holiday. It is a highly relaxing and rejuvenating experience to bath in a natural hot water tub surrounded by a green landscape in the vicinity of nature. If you are a true nature lover then you will love to keep this kind of Costa Rica tourist spots on the top of your itinerary.
It is recognized as one of the most impressive and largest waterfalls in Costa Rica tourism places. It is really a thrilling experience to watch waterfall coming out with full power and intensity from the dense forest thereby creating scenery that you only see in wallpapers. Moreover, you can also get an opportunity to spot extraordinary wildlife species that are difficult to find out anywhere else.
Poás Volcano National Park:
If you want to see the perfect blend of park and volcano in one place then this is one of the top places to visit in Costa Rica. It is recognized as one of the highly active and largest volcanoes in the country that became a famous tourist attraction. In the vicinity of the volcano, you can spot several rainforests and cloud forests which is an inhabitant of more than 50 different bird species.
If you are done exploring key tourist places in Costa Rica, it's time to try some adventure. Come to Pacuare River where you can enjoy several water sports activities ranging from riverboarding to whitewater rafting. It is one of the unique destinations in the country where you can enjoy an extreme thrill in the lap of nature. Besides this, you can spot several pools and waterfall in the locality that offers you an opportunity to swim in serene waters.
This is one of the most popular tourist spots in Costa Rica where even celebrities come to enjoy the best moments of their life. Guanacaste beaches are blessed with pristine waters and tranquil weather that attracts tourists who come in search of peace of mind. Adventure lovers can also discover a lot here including swimming, horse riding, fishing, diving, surfing, and much more.
What's next waiting for you?
Costa Rica indeed is a paradise and every place is a different world altogether, our blog has covered some of the key and best places to visit in Costa Rica. The country which is so culturally rich has it reflected in their cuisines as well and you would surely miss out a lot if you do not try their local delicacies which include Gallo Pinto, the national dish of Costa Rica which consists of rice and beans stir-fried together and is often accompanied with fried eggs, sour cream or cheese. Another lip-smacking variety is Casado, consisting of rice and beans served side by side along with meat and a salad. Other delicacies include Bocas or Boquitas, Ceviche, Chicharron and Olla de carne. You should also not miss their typical Christmas dessert which is called queque navideño. Hope you have a Pura Vida life when in the country of Ticos, which is what the residents like calling themselves!
The list of best places to visit in San Jose Costa Rica is endless and you can't cover everything in a single trip. So make sure you try to cover some of the key highlights of this fabulous country during your first tour and explore hidden jewels within the cities in the second tour. If you are planning an extended tour to Costa Rica then use this opportunity to cover maximum sightseeing locations in this incredible North American country.
About Author: Anwesha Ghosh