Best Places to Visit in Jamaica
Jamaica makes for an ideal travel destination, no matter whether you are traveling to this incredible Caribbean country in winter, spring, or summer season. There are over twenty-five countries you will come across in the Caribbean region and out of all Jamaica is the most preferred location to start your journey. Whether you are looking for pristine waters, mouth-watering food, sandy beaches, or serene ambiance, you will get everything in this Caribbean region. Here is a list of best places to visit in Jamaica that will help you to plan your Jamaica vacation in the most effective way: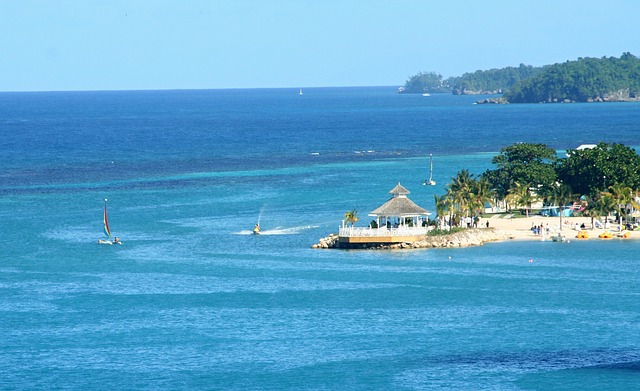 Top Tourist Attractions of Jamaica
Reach Falls
Blue Lagoons
Kool Runnings Adventure Park
Fort Charles
Black River
Bob Marley Museum
Fire Water Pond
Ricks Café
Mystic Mountain
Green Grotto Caves
Emancipation Park
National Gallery of Jamaica
Why you Must-Visit these Travel Destinations?
It is one of the most admired destinations you will come across in all Jamaica travel packages. It is an absolute treat for water sports lovers and people in large groups often visit Reach Falls in order to enjoy its diverse offerings. If you are searching for some adventure then simply cruise through underground caves and rocky paths that will offer a thrilling experience you will never forget. Jamaica tourism attractions are recognized all across the world for sightseeing locations such as Reach Falls. Check out any Jamaica vacation package and you will find this destination rated at the top of the list.
It is also recognized as Luminous Lagoons and listed in one of the top tourist attractions of Jamaica. If you want to go extremely close to nature then there can't be a better place in Jamaica other than Blue Lagoons. It always mesmerizes travelers with its pristine waters and green foliage. It is an absolute treat to watch when the sun hits the natural waters thereby creating royal blue and sapphire color effects. Once you visit this Jamaica vacation destination, you will prefer to visit it again and again.
Kool Runnings Adventure Park:
It is one of the family-friendly Jamaica tourist attractions that offer a perfect blend of thrill and amusement for tourists. This unique park is divided into a couple of sections – Adventure Park and Water Park. In the Adventure Park, you can participate in activities such as go-karting, kayaking, paintball, and bamboo rafting. While Water Park offers an amazing opportunity to enjoy adventurous activities such as water slides, wave pool, and swimming. If you are traveling in Jamaica with the entire family then you must visit these kinds of family tourist attractions in Jamaica.
If you are eager to add some historical landmarks and places to see in Jamaica in your upcoming Jamaican travel holiday then Fort Charles is a must-visit. It was constructed in the year 17th century which acted as a fortress for English people to fight their enemy. When you visit this ancient masterpiece, you will spot lined cannons on the walls of the fort which are rightly preserved. You can discover a small museum inside the fort which will give you an opportunity to explore several other historic masterpieces.
If you want to discover rich wildlife and history of Jamaica at a single destination then Black River is one of the best Jamaica places to visit. While been here, you can take a boat ride to enjoy some of the popular and longest rivers where you can spot several unique creatures. If you are lucky, you will get a chance to see Caribbean crocodiles, exotic birds, and several other local animals. People who are traveling to Jamaica to discover its wildlife creatures often consider adding it in their Jamaica vacation package.
If you are done with exploring natural tourist attractions of Jamaica, it's time to explore some of the hidden gems within the cities. Bob Marley Museum is one such masterpiece that will keep you busy throughout a day with its extraordinary offerings such as memorabilia and priceless possessions of popular legends of Jamaica. History lovers will definitely love spending maximum time here and it is added in every Jamaica holiday without fail.
If you are traveling to Jamaica to explore its hidden wonders then it is worth visiting this Jamaica tourist attraction. Here you will get an opportunity to enjoy the incredible play of water and fire which is a rare site added in every Jamaica vacation package. You will get a feeling equal to Jacuzzi when a fire coming out of water. This weird activity is due to the presence of a high amount of sulfur chemical in water. You will hear several exciting stories about this destination that will increase your interest to know more about it.
When traveling in Jamaica, you will definitely hear a lot about Ricks Café and no wonder it is included in every Jamaica vacation package. It is one of the most thrilling tourist attractions of Jamaica where you can enjoy incredible food and liquor in highly thrilling surroundings. Most of the adventure lovers prefer to jump from a height of 35 feet to enjoy incredible Negril sunset during evening time. It is one of the epic moments you won't prefer to miss during your Jamaica holiday.
If you wish to take a glimpse of Ocha Rios city from the best possible way then come to Mystic Mountain. It boasts about a height of 700ft that offers real adventure for hikers to reach to the top of the mountain. While been here, you can also enjoy thrilling tours such as ziplining, sky explorer and bobsledding. Your Jamaica vacation is incomplete without visiting Mystic Mountain and no wonder you will find it at the top of the best places to visit in Jamaica. A visit to this magical sightseeing location will definitely make your Jamaica vacation more electrifying.
If you want to add an element of thrill to your Jamaica vacation then Green Grotto Caves will offer you perfect settings. You can cruise through the challenging caves to experience stalagmites, stalactites, and other creative dripstone structures. When you go inside of caves, you will come across the underground lake where people throw coins to fulfill their wishes. The cave has become one of the most sought tourist attractions of Jamaica for solo as well as group travelers.
If you are traveling in Jamaica to discover its artificial as well as natural wonders then you shouldn't miss Emancipation Park. It is considered as a hub of lush greenery and scenic ambiance which is are to observe at any other tourist attraction of Jamaica. Here you can spot everything from green landscapes, water fountains and creative stonework. Photography lovers will prefer to spend maximum time here capturing some snaps at the creative settings of the park. There are several reasons that make this park part of Jamaica tourism and you will come to know the reasons when you actually visit this sightseeing location.
National Gallery of Jamaica:
Without any doubt, you will find this historical gallery listed in the best places to visit in Jamaica. It was constructed in the year 1974 and considered as the oldest art museum in the entire country. You will be stunned by the contemporary and modern art collection of the gallery. The overall compilation is an artwork of some of the famous Caribbean artists. The more time you spend in the gallery, the more you will end up discovering.
What's next waiting for you?
The above-mentioned places to visit in Jamaica are only a few of the key highlights that you can consider adding to your Jamaica travel itinerary on a priority basis. If you are planning Jamaica tourism in the near term then there is plenty to explore here all around the year. Whether you are traveling to Jamaica for the first time or you are an experienced traveler, you will find something unique during your every vacation to Jamaica. If you are planning to visit a few more popular Caribbean tourist attractions then check out our other travel guides to get detailed information.