Best Travel Kit Every Traveler Must Have
When it comes to traveling, having a well-equipped travel kit is essential for both men and women.
Whether embarking on a weekend getaway or a month-long expedition, a travel kit ensures you have all the necessary items to keep your journey smooth and hassle-free.
We will explore the best travel kit every traveler must have.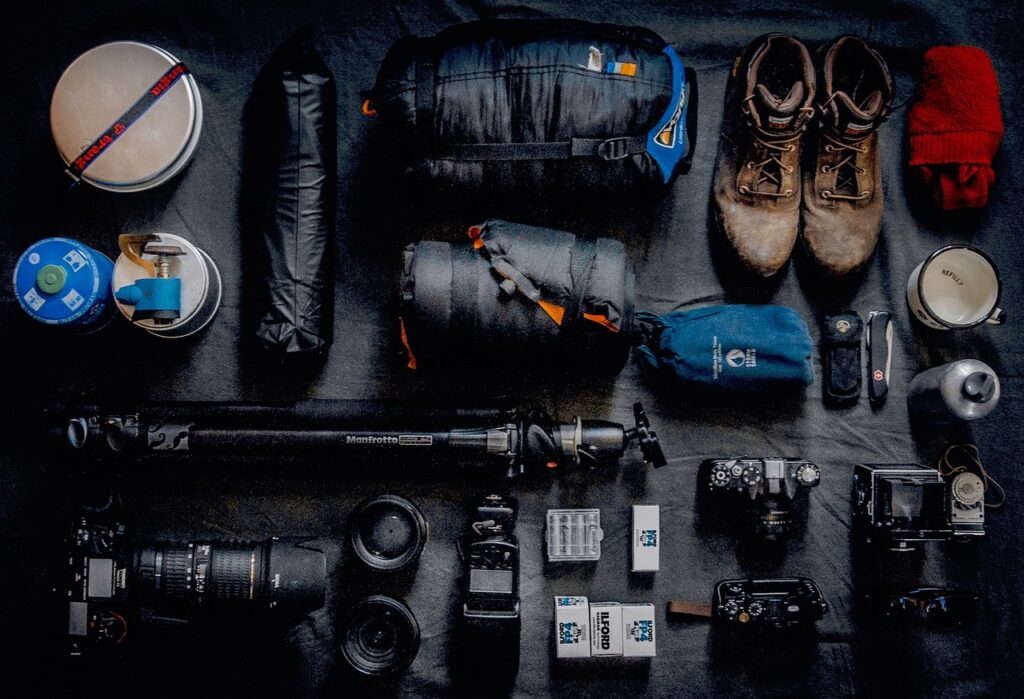 Best Travel Kit for women
Following are the Best Travel kit for women. Also, check out our travel guide on the best travel accessories every traveler must have.
Travel Makeup Kit: A travel makeup kit is essential to any woman's travel kit. A Travel kit makeup should contain all the makeup essentials you need to create different looks while on the go. Look for a compact, portable makeup palette with versatile shades of eyeshadows, blushes, and lip colors. 
Travel Hygiene Kit: A travel hygiene kit should include shampoo, conditioner, body wash, and toothpaste. Look for products that come in leak-proof bottles to prevent any spillage in your suitcase. Include a toothbrush, dental floss, and a small mirror in your hygiene kit.
Toiletry Bag: A toiletry bag keeps all your travel essentials organized and easily accessible. Look for a bag with various compartments and pockets to store items separately.
Travel-sized Skincare Products: Include travel-sized skincare Products in your travel kit, such as cleansers, moisturizers, and sunscreen. These products keep your skin clean and hydrated.
Travel Hair Styling Tools: If you like to style your hair while traveling, consider including travel-sized hair styling tools such as a mini straightener or curling iron in your kit. These compact tools are lightweight and easy to pack, allowing you to achieve your desired hairstyle.
Travel-sized Perfume: A travel-sized perfume is an excellent addition to your travel kit, allowing you to smell fresh and pleasant throughout your trip. Look for a small perfume bottle or perfume samples that occupy less space in your luggage.
Travel-sized First Aid Kit: It's always wise to be prepared for any unforeseen circumstances while traveling. Your travel kit first aid must include band-aids, antiseptic wipes, pain relievers, and needed medications.
Reusable Water Bottle: A reusable water bottle helps you stay hydrated. Refilling your bottle ensures you always have access to water, crucial for maintaining hydration levels and overall well-being while traveling.
Travel-sized Laundry Detergent: If you plan to do laundry during your trip, include a travel-sized packet of laundry detergent in your travel kit. It will allow you to wash your clothes easily and conveniently.
Travel-sized Electronics: Include travel-sized electronics such as a portable charger, earphones, and a travel adapter in your kit. These items will keep you connected and entertained during your travels.
Best Travel kit for men
Following are the Best Travel kit for men. Also, check out our travel guide on 3 top travel essentials.
Travel-sized Containers: Instead of carrying full-sized bottles of shampoo, conditioner, and other liquid essentials, opt for travel-sized containers. These leak-proof containers allow you to have your favorite products without any hassle.
Grooming Essentials: Pack your grooming essentials like a razor, shaving cream, and aftershave. Consider investing in a travel-sized grooming kit that includes all these items in a compact, portable case.
Travel Laundry Kit: A travel laundry kit is necessary if you plan an extended trip. It should include travel-sized detergent, a sink stopper, and a clothesline for drying your clothes.
Travel Emergency Kit: Safety should always be a priority when traveling. Pack a travel emergency kit with basic first-aid items like band-aids, antiseptic wipes, pain relievers, and any necessary prescription medication.
Travel Entertainment: Keep yourself entertained during long flights or downtime with a travel entertainment set. Consider packing a travel chess set, a deck of cards, or a portable electronic device loaded with your favorite movies or games.
Travel Pack n Play: If you're traveling with children, a travel pack n play can make your trip much easier. It provides a safe and comfortable space for your child to sleep or play. Look for lightweight and easy-to-fold options.
Travel Documents Organizer: Keep all your important travel documents organized and easily accessible using a travel documents organizer. This essential item will help you keep your passport, boarding passes, ID cards, and other documents secure and within reach.
Cheap Travel Kit you must have
Following are the affordable Travel kits:
Multi-purpose Microfiber Towel: Save money and space by investing in a multi-purpose microfiber towel. These towels are lightweight, quick-drying, and can be used for various purposes, such as drying off after a swim, as a beach or picnic blanket, or even as a yoga mat.
Travel Entertainment: Stay entertained during your trip without spending too much by opting for budget-friendly travel entertainment options. Consider bringing a deck of cards, a Sudoku or crossword puzzle book, or downloading free e-books or podcasts onto your smartphone or tablet.
Snack Pack: Packing your own saves money on expensive airport or roadside snacks. Fill a reusable snack bag with your favorite granola bars, nuts, dried fruits, or other non-perishable snacks. It will not only save you money but also ensure that you have healthy options readily available.
Travel-sized Electronics Accessories: Avoid the high prices of electronic accessories at airports by purchasing affordable alternatives beforehand. Invest in budget-friendly options such as charging cables, power banks, and travel adapters from reputable online retailers.
Lightweight Travel Gear: When it comes to travel gear, look for affordable options that are lightweight and durable. For example, choose a budget-friendly backpack or suitcase that meets your size and weight requirements without compromising quality.
Best travel pack hacks
Invest in Travel Set Luggage: One of the best ways to streamline your packing process is by using travel set luggage. These sets often include different-sized suitcases, carry-ons, and duffel bags that stack or fit inside each other. It allows for easy organization and maximizes space efficiency.
Use Packing Cubes: Packing cubes are a game-changer for staying organized. Separate your clothes by category and pack them into individual cubes. This way, you can easily find your need without digging through your suitcase.
Roll Your Clothes: This technique not only helps to save space but also minimizes wrinkles. Roll each item tightly and stack them in the packing cubes or your suitcase.
Use Compression Bags: Compression bags maximize space. These bags remove excess air, reducing the volume of your clothing and other bulky items. Vacuum-sealed compression bags are especially useful for reducing the size of your winter jackets or bulkier clothing.
Use Empty Spaces: Fill your shoes with small items in your bag, like socks or rolled-up belts. Stuff underwear or small items inside hats to maximize space. Look for any gaps to fit smaller items.
Pack Dual-purpose Items: Opt for dual-purpose items to save space and reduce the number of things you need to pack. Choose a lightweight jacket that can be folded into a small pouch that can serve as a beach towel, cover-up, or scarf.
Pack a Dryer Sheet: Including a dryer sheet in your luggage is a smart move to keep your clothes smelling fresh throughout your trip. Place it among your garments to prevent any musty odors from developing, ensuring you always have clean and pleasant-smelling garments ready to wear.
Use Ziplock Bags for Liquids: When it comes to liquids and toiletries that have the potential to leak, using Ziplock bags is a wise option. Placing these items inside a bag can effectively prevent spills and leaks, safeguarding your clothes. This simple precaution ensures that your clothes and other items are clean, dry, and undamaged throughout your journey.
Carry a Pillowcase: Instead of packing a bulky pillow, bring a pillowcase and stuff it with soft items like clothing. This makeshift pillow will save space while still providing comfort during your journey.
Use Compression Bags: Compression bags are an excellent investment for maximizing space. These bags allow you to compress your clothes by squeezing out excess air. They are especially useful for bulkier items like sweaters or jackets.
Pack Versatile Clothing: When packing for your trip, prioritize versatile clothing that can be easily mixed and matched. Opt for items that dress up or down, allowing you to create numerous stylish outfits with fewer pieces, maximizing both space and versatility in your travel wardrobe.
Pack a Foldable Tote Bag: Bring a foldable tote bag that can be easily packed into your suitcase. This extra bag can be handy for carrying souvenirs and groceries or as an additional storage option during your trip.
Wear Bulky Items While Traveling: If you have bulky items like a jacket or boots, wear them instead of packing them. It will save space in your suitcase and keep you warm and comfortable during your journey.
Final Words
The best travel kit is essential for every traveler, whether it's a makeup kit, first aid kit, or a set of travel essentials. When it comes to a travel makeup kit, it's important to choose versatile and lightweight products.
A well-packed travel kit helps them stay prepared for any situation while on the road. And for those on a budget, plenty of affordable options are available. So, pack your travel kit before your next adventure to ensure a hassle-free and enjoyable trip.