10 most popular pink sand beaches you must visit
Are you looking for where is best pink sand beach? With powdery pink sand, stunning blue waters, and gorgeous coral reefs, these destinations will surely provide an unforgettable experience. These pink sand beaches are among the most beautiful and unique places to visit, from Florida to the Caribbean.
There are many stunning beaches to explore, and we have compiled the 10 most popular pink sand beaches you must visit.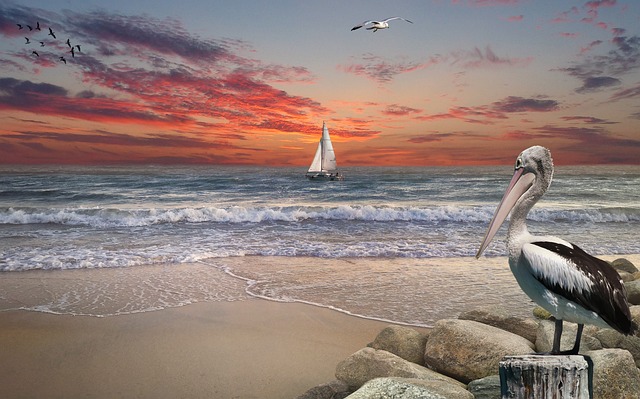 Where Are Pink Sand Beaches?
Pink sand beaches are rare and are in many different places worldwide. The most famous pink sand beaches are Greece, the Dutch Caribbean Island, Spain, Bermuda, Bahamas, Hawaii, Florida, Maui, Costa Rica, California, Puerto Rico, Iceland, and the Big Island.
However, not all of these beaches have pink sand throughout the year. Some of the beaches may have pink sand due to a particular rock type or the presence of specific algae.
Things to Know About Pink Sand Beaches
The following are things to know about the Pink sand beaches
The sand on a pink sand beach is very fine, making it easy to sink into the sand, so take caution when walking there.
Pink sand beaches are often quite narrow, so don't expect to find vast expanses of sand.
The color of the sand on a pink sand beach can vary depending on the rocks, algae, and other factors.
Not all pink sand beaches are suitable for swimming and other recreational activities, so check with local authorities before entering the water.
Why You Should Visit Pink Sand Beaches?
Whether you enjoy breathtaking views or want to relax, these beaches have everything. The unique pink sand makes a stunning backdrop for photographs, and the beach's calm waters provide an excellent opportunity for swimming and snorkeling. Many of these beaches are also surrounded by lush green hills or spectacular cliffs, making them even more picturesque.
Here are some reasons to plan a trip to one of these stunning destinations.
Pink sand beaches are stunning and peaceful to escape the city's hustle and bustle.
The color of the sand is so unique and mesmerizing.
Pink sand beaches are perfect for relaxation and rejuvenation.
The tranquil atmosphere and stunning views will help you to unwind and take in the beauty of nature.
Visiting a pink sand beach is a great way to experience culture and wildlife. Many of these beaches are near wildlife reserves so you can see rare animals, and plants.
Top things to do on pink sand beaches
Here is a complete list of Top things to do in pink sand beaches all around the year:
Swimming: One of the best activities to enjoy on a pink sand beach is swimming. The waters are usually shallow and calm, making them ideal for leisure, and be sure to take advantage of the clarity and peacefulness of the waters. Additionally, many of these pink sand beaches contain a wide variety of wildlife, so watch for colorful fish, dolphins, or even whales!
Sunbathing: With its soft and warm sand, a pink beach is perfect for relaxing and enjoying the sunshine. Take a break from swimming and spend some time soaking up the sun.
Snorkeling: For those looking for adventure, snorkeling is a great way to explore the ocean's depths. Keep your eyes peeled for colorful reef fish, sea turtles, and other creatures of the deep.
Exploring Local Culture: Many pink sand beaches are located in regions with vibrant cultures. Spend time exploring the local area's history and learning about the customs and traditions of the people who live there.
Outdoor Activities: Aside from swimming and sunbathing, there is plenty of other activities to enjoy. Many pink sand beaches offer kayaking, paddle boarding, and fishing. Additionally, there are usually plenty of trails and paths nearby, so remember to bring your hiking shoes and explore the surrounding areas.
Photography: A pink sand beach is excellent for photography. Capture the vibrant blues of the ocean, the soft pinks of the sand, and the lush greenery of tropical plants. Find a spot with a good view of the horizon and the beach to get the best shots.
Kayaking: Kayaking is of the best activities to do when visiting a pink sand beach. Not only will you get to explore the tranquil waters, but you can also get up close and personal with the stunning coast. You can see picturesque coral reefs and colorful sea life, or even some wildlife native to the area, such as dolphins, sea turtles, and whales. Kayaking allows you to enjoy the natural beauty and create lasting memories.
Hiking: Hiking on a pink sand beach is a great way to explore the natural beauty and enjoy the stunning views. You can choose from various trails that wind through the hills and offer breathtaking ocean vistas. You can see different wildlife, including birds, reptiles, small mammals, and even the occasional dolphin.
Pink sand beaches you must see
Harbour Island, Bahamas
The Pink Sands Beach in Harbour Island, Bahamas, is the most popular and unique pink sand beach in Bahamas. This beach is an opportunity to sunbathe and swim in the warm, crystal-clear water. It stretches over three miles wide and 50 to 100 feet deep.
What makes the Pink Sands Beach in Harbour Island so unique is its distinct pinkish-purple hue from the red coral and white sand mixture. It is one of only seven such beaches worldwide – making it a must-visit destination if you're looking for a fantastic beach experience.
Moreover, the Pink Sands Beach on Harbour Island offers much more than just its beautiful color; it is also surrounded by many resorts, restaurants, and other attractions, making it a great place to spend your vacation.
This amazing pink sand beach is a must-see destination for any beach lover in Bahamas. With its stunningly beautiful color, countless attractions and activities, and commitment to safety, it has long been known as one of the most popular and unique pink sand beaches in the Caribbean.
Mile Beach, Bermuda
Mile Beach is the famous pink sand beach in Bermuda and a must-visit to experience the beauty of the Caribbean. Known for its stunningly beautiful coral-pink sands, Mile Beach is on the northern tip of the island of Bermuda, about 20 miles from Antigua.
This most popular pink sand beach Caribbean is incredibly picturesque, with many stunning landscapes, including coral reefs and tropical jungles, that make it a paradise for nature lovers.
Mile Beach's stunning natural beauty has made it famous among local and international beachgoers. The beach gets its unique color from crushed coral and shells which lend that special pink hue to the sand and the shallow waters near the coastline.
With its white shores and turquoise waters, the beach looks like something off a postcard, making it a popular spot for relaxation and sightseeing. Besides, it is also home to abundant marine life and various birds, making it an excellent place for birdwatching.
Mile Beach is an excellent spot for swimming, surfing, snorkeling, and scuba diving. It is also a great place to enjoy a variety of water sports, such as kayaking, sailing, and windsurfing. The beach attracts kiteboarders, although this activity is only permissible in certain areas.
Mile Beach is the perfect spot for a day trip. From snorkeling, scuba diving to lounging on the beach, there's something for everyone at Mile Beach.
Tangsi Beach, Lombok, Indonesia
Tangsi Beach, also known as Pink Beach, is a unique and stunning pink sand beach on the Indonesian island of Lombok. It's one of only ten pink sand beaches in the world!
This incredible beach stands out among the many white-sand beaches that dot the coasts of Southeast Asia due to its distinctive pink hue. It is an incredibly popular destination for tourists visiting Lombok and is one of the world's most beautiful pink sand beaches.
The pink sand of Tangsi Beach is composed of microscopic red coral fragments that wash up on shore from the nearby coral reef. This unique feature gives the beach its characteristic pink hue. The sand is very fine and soft, perfect for walking and sunbathing.
Tangsi Beach offers visitors plenty of other activities to enjoy. There are numerous surrounding hills and cliffs that provide spectacular views of the sea, as well as some excellent hiking trails.
Tangsi Beach is easily accessible by car or motorbike, and several guesthouses are nearby. The area is becoming increasingly popular with international tourists but still retains its local charm. It makes Tangsi Beach a great place to escape the hustle and bustle of Kuta Lombok and enjoy a more relaxed atmosphere.
Spiaggia Rosa, Isola Budelli, Italy
The Spiaggia Rosa on Isola Budelli in Italy is one of the world's most famous pink sand beaches and a must-visit destination for any beach lover. This stunning beach is renowned for its unique pink sand.
The beach is quite small, about 200 meters long and 15 meters wide. Despite its small size, however, it attracts much attention from tourists who admire its natural beauty.
It is in a stunningly beautiful part of the Mediterranean and offers fantastic views of the nearby islands. The surrounding sea is also incredibly clear, making snorkeling in the area particularly enjoyable.
The beach is easily accessible by boat. Many boats visit the area, so it is easy to get to the beach and enjoy its beauty.
The unique pink sand of Spiaggia Rosa makes it a must-visit destination for those looking for a unique beach experience. Although the beach may not be suitable for swimming or sunbathing, its stunning scenery and incredible views make it an unforgettable destination for any beach lover.
Crane Beach, Barbados
Crane Beach in Barbados is undoubtedly one of the most unique pink sand beaches to visit in the world. This striking combination creates a beautiful visual effect that will mesmerize anyone who visits.
The beach has plenty of space for visitors to enjoy, with an area extending to the rolling cliffs at the end. In addition, the scenery around the beach is full of lush greenery, giving it a calming and tranquil atmosphere.
The waves here are also great for boogie boarding, and plenty of activities and amenities are available at the beach. Luxury resorts are located nearby and offer world-class facilities for visitors, including swimming pools, gourmet restaurants, and spas.
There are also plenty of shopping and sightseeing opportunities in the area, so you're sure to find something to keep you occupied during your visit.
Crane Beach is also an excellent destination for snorkeling and scuba diving. With its deep turquoise water and almost white sand, it's easy to see why this is one of the planet's most famous pink sand beaches.
Kaihalulu Beach, Maui
Kaihalulu Beach, situated on the eastern side of the Hawaiian island of Maui, is a unique pink sand beach in Maui that is an absolute must-visit for those looking for an unforgettable beach vacation. The unique pink sands of this beach create from the terrain of the cinder cone which backs it, with the coral and red lava particles merging to create the iconic hue.
The waters off the beach are usually calm and light blue, making them perfect for swimming and snorkeling. The beach is small, but the surrounding area has many activities and attractions. The nearby Kalalau Valley is ideal for those looking for a good surf and bodyboarding spot.
It's an excellent spot for sunbathing, swimming, and snorkeling, and the views from the beach are some of the best in the world.
Kaihalulu Beach is the stunning pink sand beach in big island and a must-visit destination for anyone looking to have a fantastic beach experience.
This beach has become popular with its unique pink sands, calming waters, and breathtaking views. For a romantic getaway, family trip, or exploring nature, Kaihalulu Beach must visit pink sand beach in Hawaii.
Playa Conchal, Costa Rica
Playa Conchal is a beautiful pink sand beach in Costa Rica. It is located in the Guanacaste Province of northwestern Costa Rica and lies between the Pacific Ocean and the Gulf of Papagayo. The stunning pink sand of Playa Conchal is composed of tiny pieces of crushed seashells.
Playa Conchal is ideal for swimming, snorkeling, and kayaking. It is also an excellent place for sunbathing, as the beach receives plenty of sunshine throughout the year. Moreover, plenty of restaurants, shops, and other amenities are near the beach.
Numerous marine species are here in the waters surrounding the beach, including sea turtles, dolphins, manta rays, and sharks. Aside from this, the area has abundant birdlife, monkeys, and other animals.
Playa Conchal is a perfect destination for a unique pink sand beach experience. The beach perfectly escapes the city's hustle and bustle with its calm turquoise waters, vibrant wildlife, and stunning sunsets.
Pfeiffer Beach, California
Pfeiffer Beach, located in Big Sur, California, is one of the world's most unique pink sand beaches. This breathtaking beach offers a mix of bright pink and purple-hued sand that contrast against the striking blue waters of the color of the sand caused by thousands of tiny fragments of pink garnet, which erode naturally from the nearby rocks.
The beach is accessible via a steep path that takes you past lush green meadows and down to the shoreline. You can enjoy various activities such as swimming, surfing, sunbathing, and nature walks. The views from the beach are spectacular, and you may even spot some dolphins or sea lions swimming in the waters.
Aside from the beautiful sand and ocean views, Pfeiffer Beach is also home to many wildlife, including seabirds, whales, sea otters, and even the occasional sea turtle.
Pfeiffer Beach is an absolute must see pink sand beach in California. From its unique pink sand to its abundance of wildlife, this beach makes for a perfect day trip or weekend getaway.
Pfeiffer Beach is among the world's most famous pink sand beaches, with its stunning scenery and unparalleled views. Whether you're looking for a relaxing beach escape or an adventure-filled outing, this beach will surely deliver.
Las Salinas, Puerto Rico
Las Salinas is a gorgeous pink sand beach in Puerto Rico in the southwest coast of Puerto Rico. Las Salinas offers visitors a fantastic experience with its stunning scenery and unique pink sand beaches.
The pink sand beach at Las Salinas is a unique experience. Its distinctive pink sands come from the combination of minerals found in the area, including quartz, coral, alabaster, and, most importantly, olivine, which gives the beach its beautiful pink hue.
At Las Salinas, you can enjoy a variety of activities. Swimming is a popular pastime at the beach, as the warm waters of the Caribbean provide an inviting atmosphere to cool off.
There are several opportunities for snorkeling and diving around Las Salinas, where you can explore the vibrant coral reefs and marine life. Fishing is also a popular activity at the beach, as well as kayaking, stand-up paddleboarding, and windsurfing.
Las Salinas is also an excellent spot for birdwatching. The area is home to various species of birds, including frigate birds, brown pelicans, and dozens of other species. Birdwatchers can take advantage of the many trails and observation points throughout the refuge to get a closer look at the local birdlife.
Rauðasandur Beach, Iceland
Rauðasandur Beach is a unique pink sand beach in Iceland. Located in the Westfjords of Iceland, this beach stands out from other Icelandic beaches due to its stunning reddish hue.
The sand at Rauðasandur has a distinct pinkish color, created by the combination of iron oxide and quartz particles mixed in with the sand. It makes for a stunning and unique landscape, and no visit to the Westfjords would be complete without enjoying some time at this beach.
The surrounding area of Rauðasandur is also worth exploring, as the captivating landscape of the Westfjords provides an ideal backdrop to the beach. Rauðasandur is also an excellent spot for adventure lovers, with plenty of activities. Whether you want to go kayaking, fishing, or hiking there is something for everyone.
You can also take a boat tour to explore the surrounding coastline, or you can even swim in the freezing waters.
Final Words:
The pink sand beaches are some of the most beautiful places in the world. From the stunning sunsets of the Bahamas to the unique and colorful sands of Iceland, these beaches offer a variety of experiences.
These beaches provide visitors with breathtaking views, activities for all ages, and unforgettable memories. You can create lasting memories by Visiting these pink sand beaches. So grab your sunscreen and head off to explore these unique and must-see pink sand beaches!