Best Places To Visit in Peru
Deep, mysterious jungles, massive deserts and Ancient civilizations; Peru really has plenty to please even the most discerning palate of travelers. Peru is the best place for all hiking lovers.  Whether you're visiting Machu Picchu's ancient Andean citadel, wandering the traditional towns and villages, driving east into the thick and biodiverse Amazon rainforest, or traveling to the cosmopolitan capital of Lima on the Pacific, you're sure to enjoy all the incredible Peru places to visit.
Peru is blessed with a rich history and extraordinary culture that reflects at every corner you will come across in this country. Whether those are landscapes, unique architectures, nightlife or beaches, Peru offers everything to keep you entertained. The landscape of Peru is extremely amazing that provides you enough opportunities for hiking and photography. Check out below-mentioned best places to visit in Peru that invites you to experience its spectacular beauty: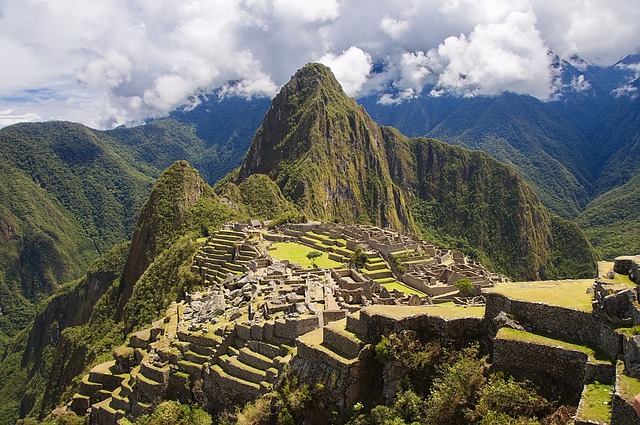 The most popular and iconic way to go to Machu Picchu is along the Inca Trail, the path that the original Incans circumnavigated. Numerous hikes actually occur over a four-day period, starting with sunrise at the sun gate before moving south into Machu Picchu. The trail the Incas built still stays unchanged. Mostly the hike is quick though there are some steep sections but it's almost completely stone stairs, which can be uneven and rough on the joints.
Vinicunca Rainbow mountain, a Newly discovered geographical wonder has indeed been added to the list as a must-see destination around the world. Of course, the mountain had always existed but its most prominent feature was covered under large sheets of Andean snow and ice for ages. And mostly, it slowly melted because of climate change. Instead of troubling the environmentalists, the Cusco area found it had yet another world-renowned tourist attraction.
The trail is mainly flat and not very wide, but it is about 5000 meters above sea level, but could be challenging, as altitude sickness sets in. (Note:- Not for beginners)
The Cordillera Blanca is a mountain range that is part of the larger tropical mountainous region of the Andes was once termed as the "most beautiful mountain in the world", by the Australian alpine club". Almost all of its peaks are more than 6,000 meters high with the highest named "Huascaran" at 6,768 feet above sea level. The region's most renowned hike is the Santa Cruz 4 day trek. This trek is a venue to some of the world's most alpine scenery. Laguna 69 is arguably the area's most known hike. The one day trek will take you to a stunning blue sparkling lagoon. This awesome hike is fast and much less challenging than the other treks in the area and is suitable for the other longer hikes to grow accustomed to. The hike starts at an altitude of 3600 m and ends at a colossal 4600 m above sea level so be alert for a little sickness. No wonder it is listed in one of the best places to visit in Peru Lima.
Peru has for decades intrigued travelers. Culture enthusiasts, historians, artists and travelers alike have been constantly inspired by this. Peru tourist attractions are special in so many different ways and you have to personally visit those to get the best out of them.
Encircled by mist and lush greenery and steep ravines, Machu Picchu 's vast Inca citadel lives up to all expectations. One thing is for sure: you can't truly go to Peru without visiting Machu Picchu, one of the world's seven ancient wonders. It is the most renowned archaeological site on the continent in a stunning location, a must for all vacationers to Peru.
The monuments at Machu Picchu are one of the most remarkable engineering feats in the world and are one of the most challenging tourist attractions for Peru due to their high altitude position.
A tour to Peru is unfinished till you finish this scintillating destination. It is famous in the entire world for its untouched beauty. In order to get the best out of this tourism attraction in Peru, you need to do a lot of hiking here. Besides, you will come across several dry walls here that become a center of attraction for a lot of local as well as foreign tourists.
In Peru's second-most populated city, nicknamed "The White City," spectacular medieval structures built of pearly pillar stone are competing for attention with the western Andes' surrounding volcanoes and snow-capped peaks. Arequipa, it's still preserved and historic, and almost all the banks, hotels, restaurants and coffee shops are situated within the traditional building of generations later.
The icon is worth visiting alone, a magnificent cathedral with the ethereal El Misti rising up behind it. Aside from the spectacular cityscapes, Arequipa has played a crucial role in Peru's gourmet revival, and dining is really a treat here – in communal picantería eateries or fusion-provoking restaurants.
Arequipa can be your one-stop shop to take a lot of items off your travel list. A host of history buff museums, adventure sports for the adrenaline junkie, local restaurants for food lovers and the markets for the shopaholic. You can even get some sun and beach time by taking the bus to the Islay Province, which is squeezed between Arequipa and the coast.
The Huacachina Oasis is the only natural oasis in South America and is located in southern Peru, just 5 hours from Lima and 15 minutes from the town of Ica. Unarguably Huacachina's most popular activity, the sandboarding and dune buggies are sure to take your heart away. There's a reason people are coming from across the world to check out this sport. It's actually a lot of fun! Sandboarding is ideal for all levels of skill: beginners can walk down the slopes on their stomachs, and the pros can go down like a snowboard. All these reasons make Huacachina one of the best tourist places in Peru that you can visit to enjoy the extreme thrill.
Discovered in the year 1920, this UNESCO heritage site has become one of the most popular tourist attractions in Peru. The beliefs and mystery behind this amazing creation have lead to a lot of theories and research over the years. This incredible artistic creation features more than 70 etchings of diverse designs that mainly include plants, strange figures, flowers and animals spread over an area of 80km.
The Nazca lines, considered by many to be among the most bizarre places in the world. There are more than 800 straight lines, 300 abstract figures and 70 plant and animal designs only visible from above. The flight of 30 minutes takes you through a large number of these geoglyphs and is recommended for everyone who comes to Peru. Yet Huacachina has more to offer than just sandboarding and dune buggy tours. From winery tours to a boat ride in their natural habitat to see Humboldt penguins and sea lions real close.
Lima is an intriguing combination of old history and modern evolution. The place on the Pacific Coast means spectacular view and, if the weather allows, opportunities for day trips to nearby islands. Among the town's historical mysteries is the Larco Museum, which has about 45,000 Ancient Peruvian pieces including prehistoric jewels and enigmatic objects to google and look over here at your stop. There's much to see in these world-class museums, as well as plenty more to eat with some of the best restaurants. No wonder it is listed in the best places to visit in Peru Lima during all seasons of the year.
Cuzco is a great neighborhood offering an interesting atmosphere to walk around and soak up. As the old capital of the Inca Empire, with old history and historical sites, Cuzco is seeping over. It makes for an extremely fascinating town with its cobblestone streets, shops and nearby Inca Remains. A quick drive from Cuzco, is the place to be in the Sacred Valley. Which has all – art, vivid markets like Pisac (South America's best), horseback riding, rafting, mountain climbing, trekking, and many other historical landmarks.
The Colca Canyon (Cañon de Colca) offers travelers the chance to get right up close to Peru's country life, spot soaring Andean condors, bathe in secret hot springs, uncover jaw-dropping viewpoints, stay in an oasis, and take a stroll along dusty roads in the depths of one the deepest canyons in the world for two or three days.
Undoubtedly, this canyon is the deepest in the world, considered to be twice as deep as the US Grand Canyon. Unlike most of the Grand Canyon, parts of the Colca canyon are habitable, with terraced prehistoric fields still sustaining farming and human life.
Being considered as a birthplace of In case, it has got a lot of significance in the history of Peru. It is also recognized as the largest navigable destination in the world that features several manmade islands. If you are a true nature lover then you will definitely get mesmerized by the tranquility of this fabulous sightseeing location. Without any doubt, it is listed amongst one of the best places to see in Peru.
Paracas National Reserve:
It is spread over a gigantic area of over 300,000 hectares where you can spot pristine beaches, huge cliffs, cold mountains, windy coast and tropical jungles. It is home to an extremely rich marine life where you can see several rare species of sea animals. Moreover, you will also get an opportunity to catch the glimpse of lively dolphins when they go very close to the massive whales. Check out the list of top Peru visiting places and you will find Paracas National Reserve included in it without fail.
If you are done exploring some of the historical and ancient sites in Peru, it is recommended to head towards Mancora town. Here you can spot several restaurants, bars and cafes to keep you busy during the day. Besides, you can come across an untouched beach where you will get an opportunity to do surfing in a perfect environment. If you searching for some of the serene tourist attractions of Peru then Mancora is a place to be.
It is one of the most extraordinary village places to go in Peru that features several ancient temples, making it one of the most visited archaeological sites in the country. If you are a shopaholic person then you can stroll through several local stores selling handicrafts items that you can take home as a souvenir. Moreover, you will get a lot of opportunities to do photography in such a breathtaking land.
What's next waiting for you?
Peru is a varied country with multiple locations to visit. Peru is popularly arguably one of the greatest food-lovers countries in the world. The capital, Lima, is often called South America's culinary capital. With its stunning scenery and different regions and trekking options, I came to realize that Peru could have just been South America's hiking capital.
The above-mentioned list is considered as the most popular and top places to visit in Peru. It is mainly because they can offer you an experience which one can only enjoy in Peru. Whether you want to do trekking, swimming or water sports, this mind-boggling country has got lot of potential to taste your adventure to an extreme.
About Author: PRIYANKA TIWARI