Best Places To Visit in Jammu
Being a winter capital of Jammu and Kashmir, Jammu is blessed with lots of natural jewels. It is nestled on the banks of Tawi River and surrounded by the majestic Himalaya ranges thereby making Jammu tourism as the first choice of travelers. Whether you are a nature enthusiast, an adventure lover or you simply want to plan a family vacation, it is worth exploring diverse tourist places of Jammu. The list is limitless and you need to do proper planning before venturing into such an exciting journey. Here we have listed the best places to visit in Jammu to make your job easier: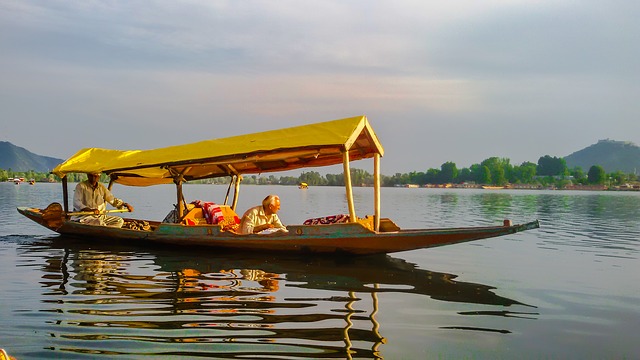 Your Jammu tour is incomplete without visiting this pristine temple of the Hindu goddess. No doubt, it is listed in one of the most visited pilgrim destinations in the world that attract thousands of tourists every month. Devotees from different corners of India come here to pray goddess Mahalakshmi. Tourists need to overcome lots of challenges in order to reach the temple that includes more than 15km of trekking. Helicopter rides and guided tours are also available to make your journey convenient.
If you are looking to discover natural tourist places in Jammu then you must add Gulmarg in your itinerary. It is located very close to Himalaya which means you will get an opportunity to view incredible mountain views that you see only on postcards. Photography lovers will love spending time clicking selfies while having amazing scenery at the background. It is an ideal Jammu tour place that you can consider visiting during winter as well as summer season.
It is one of the most sought after Jammu tourist places where you will experience natural beauty along with ancient masterpieces. The history of Bahu Fort dates back to the 18th century and Mahakali temple is considered as a main attraction within the fort. You will spot several other historical landmarks within Fort to keep yourself busy throughout a day. The fort is recognized for its unique wall structure which is constructed from lime and mortar.
Surrounded by dense forest, gardens, hills and archaic temples, Mansar Lake is listed in most popular Jammu places to visit. It is one of the ideal tourist places in Jammu where you can take your entire family for a holiday tour. The lake also features some more popular tourist places of Jammu including Narasimha temple and Surinsar Mansar wildlife sanctuary. During summer months, you can enjoy amazing flora and fauna here which is difficult to spot anywhere else.
There are numerous reasons why Amar Mahal is featured in Jammu tourism and you will come to know those only you visit it. It was constructed in the 19th century and now transformed into a museum to become one of the highly recommended tourist places in Jammu. The entire structure of the building is designed through the red sandstone that gives it a highly scintillating look. It is worth exploring diverse offerings of the museum that feature several inscriptions, paintings, and historical books. This masterpiece is located very next to the Tawi River thereby offering you an opportunity to cover few more Jammu tour places in the vicinity.
It is situated very next to River of Tawi thereby becoming a must-visit temple in tourist places of Jammu. In order to reach the top of the temple, devotees need to climb several marble steps. During Hindu festivals such as Mahashivaratri, you will see the influx of crowd coming to this destination to enjoy it hidden traveling gems. A visit to this incredible temple gives a different level of satisfaction to pilgrims.
Jammu tourist places are packed with several historical landmarks and palaces which are worth exploring. Mubarak Mandi Palace is a highly valuable addition in the list that attracts foreign as well as local tourists in huge numbers. It gives a perfect demonstration of European, Mughal and Rajasthani architecture which is rare to see anywhere else. Inside the palace, you will come across several key tourist places of Jammu including Nawa Mahal, Rani Charak Palace, Darbar Hall, Gol Ghar complex and nicely adored courtyards.
If you are looking for ideal Jammu tourist places that can offer you an adventurous experience then come to Patnitop. Located only 100 km from the city of Jammu, this amazing travel destination is nestled at the Chenab River. You can enjoy diverse kinds of thrilling activities here including skiing and trekking. If you wish to spend some peaceful time with your loved ones then Patnitop offers you all the surroundings.
If there is any natural reserve in Kashmir which is boasting about its extraordinary wildlife then it is Manda Zoo. No wonder it has become such an integral part of Jammu tourism. The zoo is very compact in size which means you can cover all the highlights of it within a day. You can spot black partridge, python, sambhar, barn owl, leopard, porcupine and Hog deer. All these reasons make it listed in top places to visit in Jammu. It is recommended to visit Manda Zoo from 9 AM to 6 PM to get the best out of your visit.
If you are searching for family-friendly tourist places in Jammu then Baag-e-Bahu should be your first choice. It is located very next to the Tawi River that offers you the most scintillating ambiance to stroll around. If you are fond of photography then you will get lots of exposure to push your limits. In the vicinity, you can also spot a public gallery and a large aquarium. It is worth exploring more than 300 different species of the aquarium when you have kids with you.
The temples of Jammu are made in a very artistic way that clearly demonstrates the hard work and skills of its creators. Raghunath Temple is kind of unique masterpiece where you can experience the magnificent architectural style of ancient times. The temple features several incredible paintings that give the perfect significance of stories of Ramayana, Bhagavad Geeta, and Mahabharat. Your tour to Jammu will be incomplete without visiting such a pristine temple.
Without any doubt, Purmandal is leaving its mark in the Jammu places to visit. If you are a history lover then you will dig into the ancient history of this incredible temple. Devotees from different corners of the world come here to pray their favorite god. It is a common belief amongst pilgrims that their every wish is fulfilled here. The temple is also recognized for its ideal settings thereby making it the best sightseeing destinations to visit during your Kashmir tour.
What's next waiting for you?
Jammu is one of the versatile tourist attractions in India that boasts ancient temples, colonial architecture, scenic views, serene lakes and misty mountains. When it comes to making a final list of best places to visit in Jammu, you have lots of options to choose from. The bunch of Jammu tourist places mentioned above are some selected masterpieces that you shouldn't miss at any cost.
If you are planning to explore the nearest places to visit from Jammu and Kashmir then check out our other travel guides.