10 Most Celebrated Events and Festivals in India
It is not for nothing that India is known as the melting pot of cultures. Millions of people live in this country who celebrate hundreds of festivals and thousands of events. If you are new to the country, well, welcome to the land of diversity and sweet surprises and now! If you are wondering as to how to drench yourself in the Indian culture, well, there are several events and festivals that can help you do so, and today, we would be talking about 10 of the most popular of them.
Check out the list of the most celebrated events and festivals in India that you ought to experience at least once in your lifetime: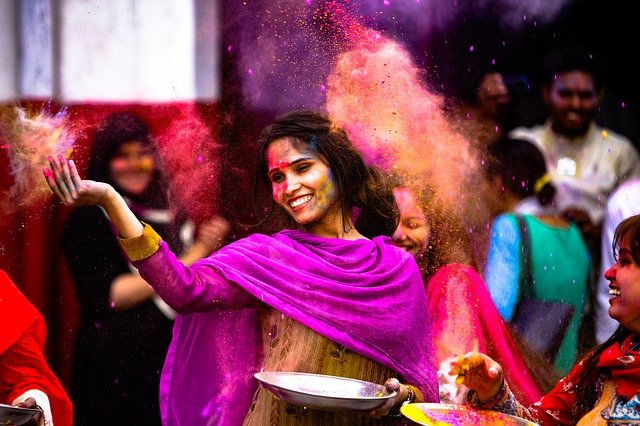 We recently celebrated the Holi festival in India 2020 with great fervor and while some of us are still drenched in colors of the fun festival, all of us will unanimously call it one of the most famous festivals of India that is celebrated pan India. The festival starts with Holika Dahan on Holi eve which celebrates the victory of good over evil. Holi is marked by different places in different ways, the motive always being to welcome spring with bright colors and smiling faces. On the festival of Holi, people eat gujiyas, Dahivada, malpua, and various other Indian delicacies, after playing Holi in the morning with their loved ones.
This one is one of the most prominent events and festivals in India that is, again, celebrated across the country. Also known as the festival of lights, during this festival, people decorate their homes with Ashok leaves, candles, clay lamps, and whatnot! They also make rangoli outside their home to welcome Goddess Lakshmi and Lord Ganesha in their abode and bless the same. To observe the festival, people also wear new clothes and worship the aforementioned God and Goddess with sweets and Prasad. The prime reason why the festival is celebrated is that it marks Lord Ram's return to Ayodhya with brother Laxman and wife Sita after 14 years of exile.
This is the biggest festival of the Muslim community as it marks the end of the holy month of Ramzan or Ramadan. During the entire month of Ramadan, the devotees observe fast, eating only twice – early in the morning (sehri) and after sunset (iftar). The festival of Eid-ul-Fitr is celebrated on Shawwal month's first day according to the lunar Hijri calendar. As per the Gregorian calendar, it falls in July. On the day of this festival, people dress up in new ethnic outfits. While they dedicate their mornings to special community prayer, in the evening, they visit friends and family to exchange sweets. The specialty of this day is Sevvaiyan.
This festival is of prime importance for the devotees of Lord Shiva and it is included in the festivals in India list without fail. Celebrated in the month of Phalgun, Lord Shiva blesses his worshippers with redemption from the sins they ever committed in the past and help them attain salvation. This festival is important for the womenfolk as well, as those who are married, Lord Shiva protect their husband and those who are unmarried get a good husband if they observe a fast on this day. There are many legends behind why Shivaratri is celebrated but the one that is considered to be the most important is that on this very day, Lord Shiva and Goddess Parvati tied the knot.
Vijayadashami or Dussehra are celebrated in different ways as one of the popular festivals in India. After 9 days of Navratri, the 10th day is known as Dussehra when the effigies of Ravana, Kumbhakaran, and Meghnath are burnt and this ritual is called Ravan Dahan. It takes place in several nooks and corners of India and the maximum population of that area always come together to witness the same. The reason why this is done is to mark the death of Ravana, a demon king, who was killed by Lord Ram. Dussehra is a gazetted holiday in India and falls in Hindu lunisolar calendar's Ashwin month, on the 10th day.
Celebrated to observe the birthday of Lord Krishna, this day is also known as Krishna Janmashtami or Govinda. Lord Krishna is worshipped by not just the people of India but abroad as well. In North India, people observe fast on this day, starting from the midnight of a day before to the midnight of the festival. In the evening, Lord Krishna is placed in a palki and is offered Prasad and sweets. He is also covered with gold jewelry and new clothes. In Mumbai, on the second day of this festival, an event named DahiHandi takes place wherein people try to break an earthen pot filled with curd and turmeric. No wonder Janmashtami is recognized as one of the best festivals of India.
One of the two festivals in India that evoke all the patriotic feels in us, Republic Day never fails to make us take pride in our country and its constitution. On this very day, that is, January 26, our constitution came into being, and we became a republic, post freeing ourselves from the shackles of British rule. This day is celebrated annually since 1950, the same year when the constitution was made. To mark this day, a parade is held at a grand level that starts from Rashtrapati Bhavan and moves through Rajpath and India Gate to finally reach Red Fort. Many eminent personalities visit the venue to witness the grandeur of the event.
As the name suggests, it is celebrated to observe the day when India drove away the British to make India a free country. It is a national holiday in India, just like Republic Day and the celebrations are also quite similar. Grand parades take place which is followed by the speech of the Prime Minister of India, performances by school students, tableaus of different states and whatnot! Indians also fly kite on this day to observe the day of Independence with much excitement and great pride. All these reasons make it an integral part of the festivals of India list.
This one is undeniably one of the most religious events in India which is held every 12 years. It takes place at 4 holy riverbanks of India namely – Ujjain, Nashik, Haridwar, and Prayag. People from across the globe come at these places to take a dip in the holy rivers to get rid of their past sins. Apart from taking a bath in the holy waters, people also mass feed the poor people and perform havans on the ghats of the rivers. The next Kumbh Mela is slated to take place from January 14 to April 27 next year, 2021 that is. So make sure you add it in the list of upcoming festivals in India to experience all the joy
Taking place in Pushkar, Rajasthan annually, this is one event that you ought to visit at least once in your lifetime. This fair witness old and ancient traditional-style celebrations wherein camels cover the entire sandy floors of Pushkar which makes up for a beautiful sight. While initially, the do was all about attracting the local cattle and camel traders for business, now it is for one and all with traditional cuisines and even better cultural programs.
What's next waiting for you?
The list of festivals in India is endless and you will definitely come across one or another event during your visit to this incredible country. If you are planning to visit India in the near term then check out our India travel guides to get all the useful information.