Best Places To Visit in Srinagar
If you are searching for heaven on the earth then come to Srinagar. It is not just the capital of Jammu and Kashmir but recognized as the most sought travel destination in the world. Most of the tourists call it a Land of Gardens and Lakes while others accolade it as a "Switzerland of India". Whether it is a honeymoon or a family vacation, Srinagar tourism places will definitely make your vacation worth. If you are pondering over what is the best time to visit Srinagar then plan it during the summer season to bit the heat. Here we have listed the best places to visit in Srinagar to make your Kashmir tour really epic: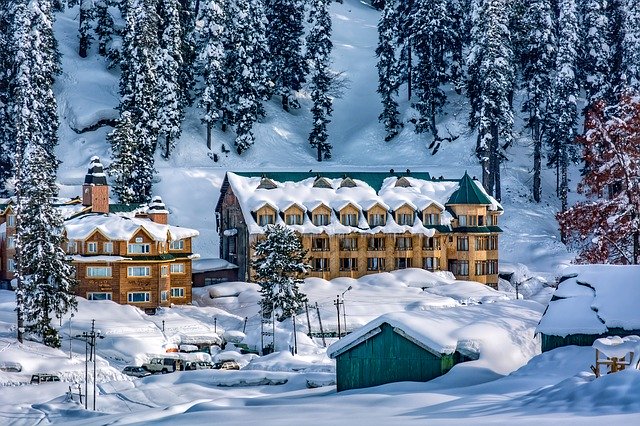 Without any doubt, you will find Shalimar Bagh listed at the top of Srinagar tourist places. It is spread over an immense area of 31 acres and designed in a unique Persian architectural style. The garden features a mesmerizing canal surrounded by dense trees that create perfect scenery to capture in the camera. Here you can spot three different terraces each of them offering spectacular views that you shouldn't miss when exploring tourist places of Sringar.
If you are searching for Srinagar visiting places where you can enjoy houseboat stay and Shikara ride then come to Nigeen Lake. It is one of the most ideal tourist attractions for couples to enjoy some romantic moments with their loved ones. In the vicinity of the lake, you can also spot several natural escapes and structures that enhance its beauty. The unique highlights of this lake make it listed in the best places to visit in Srinagar Kashmir during all seasons.
When we talk about Srinagar tourism places to make your Kashmir tour memorable then Tulip Garden is leading in the list. This magical garden is spread over an area of more than 10 acres that is known for offering most breathtaking views when flowers are blossoming. Here you can spot more than 50 different species of Tulips which are difficult to find anywhere else in the world. Photography lovers will definitely wish to capture some epic pictures while having a vibrant flower view in their background.
It is located on the very famous Shankaracharya Hill that offers some of the most panoramic views of the city. It is recognized as a most sought after the temple for Hindu pilgrims who come here to pray Lord Shiva. The temple is situated at a height of more than 1000 feet above sea level and you need to do some trekking in order to reach the peak of a hill. Inside the temple, you can spot several Persian scriptures.  It is worth exploring these kinds of unique visiting places of Srinagar if you are willing to unravel historical Srinagar tourist places.
Kashmir is blessed with several natural jewels and Dachigam National Park is making it in the list of top places to visit from Srinagar. Here you will get an opportunity to experience the most unique wildlife of India which is only found in Kashmir valley. Adventure lovers can opt for a wildlife safari which will give then a chance to get extremely close to some deadly creatures. Some of the key highlights of the park include the Himalayan black bear and Kashmiri Stag that you can't find anywhere else.
Srinagar tourist places are featured in several Bollywood movies. No wonder you will see one of the famous valleys in the city is named after a popular Hindi movie Betaab. It is listed in one of the most sought Srinagar tourism places on the virtue of its incredible landscape, serene climate, and breathtaking streams. The extraordinary offerings of Betaab Valley make it an ideal tourist places to visit in Srinagar anytime during the year.
Mughal Gardens is listed in the UNESCO heritage site that makes it a part of popular visiting places in Srinagar. Here you will get an opportunity to view Persian style structure which is rare to see anywhere else in Kashmir. In the vicinity, you can also spot the very famous Dal Lake along with some extraordinary monuments. The garden is recognized for its amazing fauna that offers perfect settings for photography lovers.
If you wish to see another holy place in Srinagar which acts as a perfect representation of Islamic culture then come to Jamia Masjid. You will be mesmerized by the amazing interior and exterior of Masjid that clearly demonstrates the skills of its creators. This is one of the unique tourist places in Srinagar which is standing on more than 350 wooden pillars which are also recognized for their subtle carvings. Every year, thousands of tourists visit this amazing creation and fall in love with these kinds of tourist places at Srinagar.
The unique offerings of Aru valley will definitely encourage you to ponder over what is the best time to visit Srinagar. The amazing scenery of snow-covered peaks and lush greenery invites you to visit this destination any time during the year. Adventure lovers have a lot to discover here. If you want to enjoy an ultimate thrilling experience then don't miss Sonamarg Trek and Kolahoi Glacier. Located only 100 km from the main city, Aru Valley is listed in the best places to visit from Srinagar without fail. Some of the key activities tourists prefer doing here include trekking, camping, horse riding, skiing and hiking.
If you are looking to dig into the history of Srinagar then a visit to Srinagar tourist places such as Awantipora is a must. It is listed in one of the key Srinagar tourism places that date back to the old centuries. Once you come here, you will come across several ruins that signify the subtle architecture of the historical time. Though there is not much to discover here, you can definitely consider adding Awantipora in your short itinerary of Srinagar tourist places.
If you want to add an element of excitement and creativity to your Srinagar tour then it is worth exploring Char Chinar. Go for a Shikara ride and on the way, you will discover this amazing island. The breathtaking views of this destination making it part of must-visit places to visit in Srinagar. The entire island is packed with dense trees that offer you a perfect opportunity to do some innovative photography.
If you are looking for the most versatile tourist places to visit in Srinagar then Nehru Garden should be part of your list. It features thousands of ornamental plants that are worth exploring while taking a walk. The garden is always crowded with lots of foreign as well as local tourists who come here to enjoy a vacation with their loved ones. Some of the key highlights of Nehru Garden include Nelo Art and Chashma Shahi garden that will keep you busy throughout a day.
What's next waiting for you?
Tourists who come to Srinagar also love to explore Jammu tourist places that have a unique charm. The people of Srinagar are very cordial and loving who welcome their guests with open hands. March to August is considered as the best time to visit Srinagar when the weather is pleasant and things are favorable to Srinagar tourism places. If you are planning to visit a few more popular cities in India then check out our other travel guides to make your tour all-inclusive.