Best Places To Visit in Jodhpur
When you talk about tourism in Rajasthan, the stellar forts & the splendid palaces of Jodhpur dominate the list. Jodhpur tourism is deeply imbibed in history, culture, and heritage. The different rulers from different dynasties have constructed different palaces and left their impressions, which today leave us awestruck with their unrivaled architecture.
The second-largest city in Rajasthan has a very significant place in Rajputana history. Jodhpur is also called 'The Blue City' as the forts, buildings, palaces, and landscapes of Jodhpur draw a beautiful canvas of the city in vibrant shades of blue. The glistening star on the map of Rajasthan, Jodhpur is The Sun City of India. People believe that in India, the sun greets with its first ray to the Jodhpuris. The amazingly striking city found its root in 1459 by the Maharaja Rao Jodha of Rathore clan. If you want to witness the sheer brilliance of Indian craftsmanship, head over to Jodhpur tourist places. Here, most of the forts and palaces were built by Hindu rulers. Behold these royal monuments and admire the craft of architecture that can beat even modern technology.
Today, let's explore what Jodhpur places to visit has in store to offer its visitors.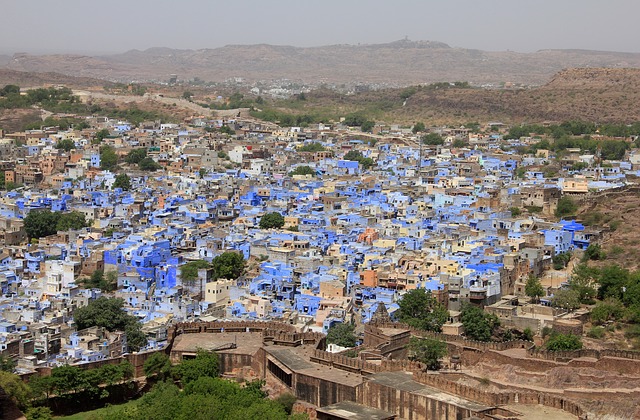 The foundation of Jodhpur started right from here.  The fort was constructed was Maharaja Rao Jodha. Like Amber fort, it too has sweeping courtyards, intricately adorned windows & walls, carved panels, lifelike paintings, imposing bastions, large ramparts, and meticulous art galleries that will allure you at the first sight itself. One of these seven gates still bears the imprints of cannonballs that were bombarded during the enemy attacks. Do you know- Meharangarh Fort rendered its imperial beauty to the Hollywood movie 'The Dark Night Rises'. Within the premises of the fort, there are some other amazingly marvelous palaces such as Moti Mahal, Sheesh Mahal, and Phool Mahal. Meharangarh Fort is one such piece in Jodhpur tourism places that has stood the test of time retaining its majesty.
OH MY GOODNESS!! What an architectural brilliance! For a short description, Jaswant Thada is a stupendous Hindu mausoleum packed with grand architecture and breathtaking art styles. It was built in 1899 in the memory of Maharaja Jaswant Singh II. Thereafter, it became the traditional cremation site of Jodhpur Rulers. The milky white marble and exceptional modern architecture make Jaswant Thada an incomparable monument in one of the Jodhpur nearest tourist places. When these sparkling marbles are kissed by the sun-ray, it seems as if beauty has been personified.
Apart from its architectural exquisiteness, the atmosphere of the palace is also so magnetic that you will find yourself completely enthralled. If you are looking for the most historical places to visit near Jodhpur then this is a destination to be.
Nestled atop the majestic Chittor Hill, Umaid Bhawan Palace is a fusion of Hindu and European architectural styles of this age. The construction of Umaid Bhawan Palace was started in 1929 and it took 14 years to get it completed. Today, the palace has been divided into three parts. One part, which is also one of the largest private residences in the world today, still serves as the royal residence of Maharaja Gaj Singh, a descendant of Rathore clan. The second part houses a museum that showcases a must-watch collection of the royal family. The other part has been converted into a luxury hotel run by the Taj Group of Hotels. Taj Umaid Bhawan Palace Jodhpur is one of the most luxurious hotels in India and lately, it was voted as the best hotel in the world.
If the majestic Mehrangarh Fort, stately Jaswant Thada, and deluxe Umaid Bhawan Palace couldn't slake your thirst for the history buff, head to government Museum. Government Museum would not only take you back in the yesteryears of Rajputana glory but will also give you the vibes of the royal lifestyle. Here, you'll find many royal things such as crown, sword, dresses and many more. Nothing is more interesting than discovering our history and learning new things. If you don't have much time, visit Government Museum for 10 minutes but please visit for sure.
After witnessing the architectural grandeur of Jodhpur, don't forget to get a glimpse of natural beauty in the sun city of India. In fact, the Government Museum is inside the Mandore Gardens. Besides the Government Museum, the Mandore Garden also houses a hall of Rajput heroes, a dilapidated fort, and a shrine dedicated to 33 crore Hindu deities. You must have heard that our Hindu religion has 33 crore venerable gods so in Mandore Gardens, you can at least see the statues of all of them. Mandore Garden has passed through the ravages of time and today it is a major tourist attraction in Jodhpur. Mandore city traces back the time period of the 6th century so in Mondore Garden, you can clearly see the ancient architecture of India. Mandore Garden is one of the ideal places to visit in Jodhpur in 2 days where natural, architectural and religious beauty greets you together.
If you're a nature and peace lover, you can't find a more soothing place than Balsamand Lake in Jodhpur. It is among the most recommended places to visit in Jodhpur at night. Flanked by the lush gardens, rugged hills, and consisting of miscellaneous trees, Balsamand Lake doesn't only give an unforgettable boat riding experience but also serves as an ideal picnic spot. Believe me, life seems beautiful when you're in a place like Balsamand Lake. The lake got its name from the Rajput ruler Balak Rao Parihar who constructed it in 1159. At that time, it was built with the purpose to provide water to the entire Mandore town. It is one of the highly recommended places to visit in Jodhpur in one day for peace seekers!
If you want to relish the pleasure of boat riding amid the heart-felt calmness and slow waves of Balsamand Lake is the best possibility. The scorching heat makes it one of the perfect places to visit in Jodhpur in night.
Best time to visit Jodhpur
Rajasthan is an arid land and if we talk about Jodhpur tourism spots, it remains extremely hot during summers. So, if you can't bear this heat, please visit during winters or rainy seasons because there is no point in exploring the city covering your entire face. Better you visit in winter and explore Jodhpur without caring about the scorching sunshine. And one more thing, if you'll visit during October, you can witness the utmost pomp of the 'Rajasthan International Folk Festival' which starts from 23rd October and lasts till 27th October. So, you can visit Jodhpur anytime but October is unarguably the best time to explore the real Jodhpur.
How to reach Jodhpur?
Jodhpur has its own airport and railway station and the connectivity by road-networks is also of top-notch, so getting Jodhpur is very convenient. Jodhpur Airport which is connected to major cities of India is just 5km from the Jodhpur city. To travel within the city, myriads of cabs, autos, and taxis keep shuttling throughout the day. OlaCab and Uber are also available in Jodhpur, so you can book a cab beforehand.
What's next waiting for you?
So these are the must-visit places in Jodhpur but don't assume that this list is the gist of Jodhpur. There is much more to explore. So, what you're waiting for??? Pack your bags!! Jodhpur is known particularly for royal palaces but the vividness and the vibrancy of this city are so pervasive that you can never get enough of this place. So, go and feel the cheerful life in the utter royalty. If you are searching for few more places to visit in Jodhpur and Jaisalmer then don't forget to check our other travel guides.