6 Indian Cuisines You Must Try On Your Vacation to India
India is a country that has many regions, diverse cultures, multiple languages, and different religions. Almost every region in the country has its own cuisine, unique cooking techniques, and a signature dish that can easily make your mouth water. The religious beliefs and cultures in India have played an influential role in the evolution of Indian cuisines. The exotic and delicious cuisine of India has also influenced by cuisines across the world, especially those of South East Asia, Europe, and the Middle East.
One of the most diverse cuisines in the world, the cuisine of India is characterized by its sophisticated and subtle use of the many spices and locally produced fresh ingredients. From Bengali and Punjabi cuisine to Gujarati and South Indian cuisine, each preparation of dish has its own authenticity and is extremely distinct from each other. Here are some of the most popular Indian cuisines that you must try during your India Tour. If you are searching for Indian cuisines near me then the following list will give an answer to all your questions: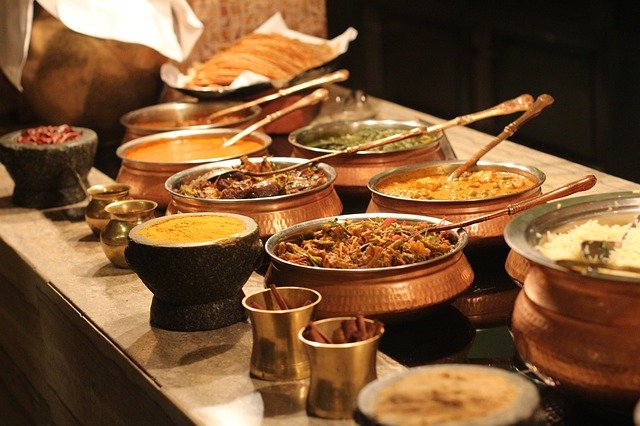 Punjabi Cuisine
Perhaps the most prevalent culinary style found in North India, the Punjab Cuisines in India is well-liked in the world for its flavors, spices, and versatile use of produce. Known for its vivid range of dishes, the cuisine is heavily influenced by the agriculture lifestyle of the locals and is characterized by high use of whole grains, vegetables, butter, and paneer along with meat. The masala of north Indian Cuisines and Punjabi dishes traditionally consists of onion, tomato, ginger-garlic, cumin, garam masala, salt, turmeric, sautéed in mustard oil.
Punjabi cuisine has a rich tradition of many Indian popular dishes and local ways of cooking. One such special form is the tandoori style of cooking that is now famous in other parts of India, as well in many parts of the world. The cuisine includes famous tandoori chicken, chole bhature, butter chicken, dal makhani, rajma-chawal, paneer butter masala, Sarson da sag, and Makki di roti. Punjabi cuisine is incomplete without mentioning the myriad of famous desserts, such as kheer, gajar kahalwa, soojihalwa, rasmalai, gulabjamun, and jalebi.
Mughlai Cuisine
The famous Mughlai cuisines of India was evolved in the royal kitchens of the Mughal Empire, who ruled India from 1426 to 1857. The cuisine is highly influenced by the cuisines of Central Asia, the region where the early Mughal emperors originally hailed from, and it has a profound influence on the culinary styles and regional cuisines of Afghanistan, Pakistan, Bangladesh, and North India, particularly in Delhi, Uttar Pradesh and Hyderabad in Telangana.
Favorite Indian cuisines among foodies across the country, the Mughlai cuisine is generally quite spicy, rich, and heavily marked with a distinctive aroma. As the Mughals were Muslim and Hindus by religion, pork and beef are traditionally not a part of this cuisine, and instead, it comprises of meat of goat, fowls, sheep, and venison in addition to vegetarian-based dishes. The unique use of Indian Cuisine recipes with a right combination of ground and whole spices and the extensive use of milk, cream, and butter in various gravies and curries makes the dishes even more appetizing. Biryani, Mughlai chicken, MughlaiParatha, MurgMusallam, Kebabs, MalaiKofta, and Kadhaigosht are some traditional dishes from the Mughlai cuisines that are bound to entice the gastronomic enthusiasts to crave for more.
Gujarati Cuisine
Gujarati cuisine, originated from the western Indian state of Gujarat, is mostly vegetarian because of the influence of Jain culture and philosophy. This Indian cuisine is unique in many ways compared to other culinary traditions of India and can vary widely in flavor and heat based on personal and regional tastes. North Gujarat, Kathiawad, Kachch, and South Gujarat are the four major regions of Gujarat that contribute their unique touch to Gujarati cuisine.
All Indian veg dishes in Gujarati Cuisine have an absolutely different cooking style and the cuisine changes with the seasonal availability of vegetables. Gujaratis use a combination of different spices along with ingredients like coconut, groundnut, sesame seeds, lime juice, etc. the unique feature of this cuisine is that a touch of sugar goes into most Gujarati spicing. One can find some of the best vegetarian dishes in this cuisine. They serve the best dhokla, kadhi, khandvi, khakra, undhiyu, basundi, and locho. The typical Gujarati thali comprises roti, kadhi or dal, rice, papad, and sabzi. Also, the region is well known for its chutneys that use cooked, fresh, or pickled vegetables and fruits with sweet, sour, and spicy flavors.
Hyderabadi Cuisine
Also known as Deccani cuisine, Hyderabadi cuisine is the native culinary art of the Hyderabadi Muslims, which started to develop after the founding of the Bahmani Sultanate, and subsequently became a royal legacy of the Nizams, the erstwhile rulers of Hyderabad state. The delicious Hyderabadi cuisine is an amalgamation of Mughlai, Arabic, and Turkish delicacies, blended with native Telugu and Maratha culinary traditions.
With over 400-year-old culinary history, the Indian non-veg dishes of Hyderabad are vibrant and diversified that comprises a broad repertoire of rice, wheat, and meat dishes. The skilled use of various spices, herbs, natural edibles, and the rich blend of masalas provide the dishes an incredible taste and texture that adds uniqueness to the dish. Hyderabadi Biryani seems to have taken the center-stage as the sole representative of Hyderabadi cuisine, and is popular all over the world. Besides, Kheer, Paaya Nahari, Pattar Ka Gosht, Khubani-ka-Meetha, Baghare Baingan, Haleem, Mirch-Ka-Salan, and Sheer Korma are the other popular delicacies of Hyderabadi cuisine.
Bengali Cuisine
Known for its mouth-watering desserts and Indian dishes with chicken, the Bengali cuisine is originated in the Bengal region, which is divided between Bangladesh and the Indian states of West Bengal, Tripura, and Assam. The typical Bengali meal follows a multi-course tradition which starts with a 'Shukto' (a bitter preparation) followed by 'Shak' (leafy vegetables), dal (pulses), variety of vegetables, fish/mutton/chicken/egg curry, chutney (sweet-sour saucy item) and ends with a sweet dish. This is analogous in structure to the modern service à la russe style of French cuisine.
This unique Indian cuisine is known for subtle flavors with an emphasis on fish, meat, vegetables, lentils, and staple rice. Bengali cuisine is one of the spiciest cuisines in India as well in the World. Although there are many tastes, preferences, and choice of items, the basic Bengali cuisine generally remains the same with rice and fish playing a dominant role.  Bengalis prepare fish in many ways, such as steaming, braising, or stewing in vegetables and sauces based on mustard seeds and coconut milk. Rosogullas, Chomchom, Rasamalai, Sorshe Ilish, and Chingri Macher Malai Curry are a few of the mouthwatering and tempting food of the highly illustrated and exquisite Bengali cuisine.
South Indian Cuisine
Famed across the globe, South Indian cuisine usually encompasses the cuisines of five Southern states namely Karnataka, Tamilnadu, Kerala, Andhra Pradesh, and Telangana. This cuisine has influenced by both the geography and vivid cultures of the South. The region offers a wide range of vegetarian and non-vegetarian dishes for all five states along with main dishes, snacks, light meals, desserts, and drinks that are well-known in their respective region.
The coastal state of Andhra Pradesh yields hot Andhra cuisine, the state of Tamilnadu has Chettinad cuisine, perhaps the fieriest of all Indian food, and Kerala has Malabari cuisine. Karnataka is home to Udupi cuisine which is well known for its vegetarian dishes like dosa, idli, vada while Hyderabad is home to the regal Nizami food. The cuisine of South India is distinguished by a greater emphasis on rice, the omnipresence of sambar and rasam, a variety of pickles, and the liberal use of coconut and curry leaves. Chakra Pongal, Sambar, Dosa, Idli, Vada, Fish Curry, Kadala Curry, Appam, Kebabs, and Biryanis are some authentic and popular South Indian dishes that are sure to delight your taste buds.
What's next waiting for you?
Now you have got all the information on north Indian Cuisine, Indian dishes with chicken, Indian popular dishes, Indian veg dishes, Indian non-veg dishes and popular cuisines of India. The above list will answer your question to Indian Cuisines near me? If you are searching for the best places to visit in India in the most efficient way then check out our India travel guides to get all the information.