Best Places To Visit in Amritsar
Amritsar is one of the versatile tourist cities in India where you will get acquainted with typical customs of the Sikh religion. The city is also blessed with natural surroundings thereby making it one of the must-visit tourist attractions in India. Winter season is considered as the best time to visit Amritsar but you can also plan your trip during summer months. Here we have tried to give a closer look to Amritsar tourism by listing down all the best places to visit in Amritsar for your upcoming trip.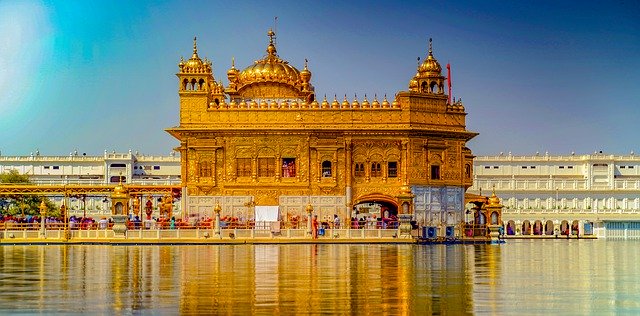 Top Tourist Attractions of Amritsar
The Golden Temple
Jallianwala Bagh
Wagah Border
Maharaja Ranjit Singh Museum
Bathinda Fort
Tarn Taran Sahib
Durgiana Temple
Khalsa College
Kaisar Bagh Park
Nightlife
Dukh Bhanjani Ber Tree
Why you must-visit these travel destinations?
It is one of the pride things for not only Amritsar tourism but for entire India. Though it is recognized as a pilgrim center, the temple has also received lots of appreciation because of its stunning architecture. There are several mystical stories about this destination and you will come to know about it from local people. If you are lucky, you will get a chance to taste the very famous Halwa here which is served as a Prasad to devotees. It is one of the most sought after tourist attractions in Amritsar where you can achieve a spiritual solace.
You may have heard lots of things about Jallianwala Bagh in history books and Bollywood movies. It is a destination where the public massacre has been done by the British Army before the Independence of India. In the year 1951, the memorial was created here in the memories of this heinous incident. There is a gigantic stone located on the site where tourists go and pay a tribute to the people who lost their lives in this incident.
It is one of the highly recommended places to visit in Amritsar which is the border crossing between Pakistan and India. The change of Guard and Beating Retreat ceremony are some of the key highlights here that you can enjoy during evening time. The entry to enjoy the ceremony is completely free but make sure you will reach at least one hour prior to the commencement of the program to watch some other innovative shows. Every day, hundreds of tourists come here and experience the vibes of patriotism when they hear the loud sounds of armies admiring their respective countries. Photography lovers will love capturing the entire incident in their camera as it one of the lifetime experiences you shouldn't miss at all.
Maharaja Ranjit Singh Museum:
Amritsar tourist attractions are recognized for their long history and they were part and parcel of the several wars happened in India over the period of time. If you want to dig into the entire history of Amritsar then come to Maharaja Ranjit Singh Museum. Here you can spot several artifacts demonstrating the achievements of Maharaja. The sound and light show conducted here is one of the top things to do in Amritsar. It gives you an actual simulation of war situations through several laser and sound effects which are worth watching during your journey.
If you are on a mission of unraveling the historical tourist places of Amritsar then Bathinda Fort will be added in the list without any doubt. The fort is highly famous for its offbeat architecture which looks very similar to sheep places on the sea of sand. The material used for construction this fort belongs to the Kushana period. It is one of the best places to visit near Amritsar where you can spend some time doing photography as well.
Amritsar visiting places also include several Gurudwara and there can't be a better destination than Tarn Taran Sahib to cover those. It is one of the holiest destinations for the entire Sikh community where devotees gather in huge numbers for making prayers. Some of the main pilgrim tourist attractions in Amritsar can be found here. These mainly include Gurudwara Guru Ka Khuh and Darbar Sahib Sri Guru Arjan Dev Ji. If you are planning an extended Amritsar holiday vacation then you must add this amazing place in your list.
It is one of the most sacred places to see in Amritsar where devotees gather from different corners of the country. Inside the temple, you will spot a majestic idol of Goddess Durga and therefore named as a Durgiana temple. It is also recognized as a Lakshmi Narayan Temple and the history of this masterpiece dates back to the early years of the 16th century. The temple is surrounded by an amazing lake that offers tourists an opportunity to take a stroll around this incredible architecture.
It is one of the most underrated tourist attractions of Amritsar which is known for its fantastic architecture. It was established in the 19th century and spread over an immense area of 300 acres. The college has a long history of creating several intelligent students who are making their names across different parts of the world. It is worth spending some time exploring history and architecture in this one of the highly recommended Amritsar places to visit.
It is another historical tourist place in Amritsar where you will get a chance to unravel several old things about the city. The shape of the park is designed in the quadrangular style and you will be mesmerized by the architecture of its entry gate. It is worth planning a short tour of this park that will give you a glance at the Gothic and Mughal style of the structure. Inside the temple, you can also spot a small temple where you can a peaceful time in the sacred environment.
The people of Punjab are recognized for their lively nature and they believe in enjoying their life to the extreme. No wonder nightlife experience is considered as one of the top things to do in Amritsar after a long day of traveling. Within the city, you can spot several pubs and bars that allow you to dance till late night on loud Punjabi music. If you are a foodie then you will love checking out several local restaurants where you can try some Punjabi food to satiate your food cravings. The people of Punjab are known for their healthy lifestyle and the credit goes to their high-fat food that contains lots of butter and daily products.
It is one of the most sought after places to visit in Amritsar which is located just next to Golden Temple. Every year, thousands of tourists from all the parts of India come here thereby making it one of the most visited tourist places in Amritsar. There are several stories about this destination that you can hear from local people. Guided tours are also available to cover some other sightseeing locations such as Amrit Sarovar in your trip to Amritsar.
What's next waiting for you?
If you are planning to explore the northern cities of Amritsar then you shouldn't miss coming to this famous tourist attraction. The best places to visit in Amritsar mentioned above are more than sufficient to make your tour all inclusive.  There are several other cities near Amritsar which are worth adding in your itinerary. Check out our other travel guides to know about some other famous cities you can consider visiting in India.