Best Ski Resorts in Colorado US You Must Visit
Colorado is renowned for its breathtaking mountain landscapes and world-class ski resorts. With abundant snowfall and diverse terrain, the state is a haven for winter sports enthusiasts.
Colorado has something for everyone, whether you're seeking thrilling slopes, family-friendly activities, or affordable options. We explore the best ski resorts of Colorado US.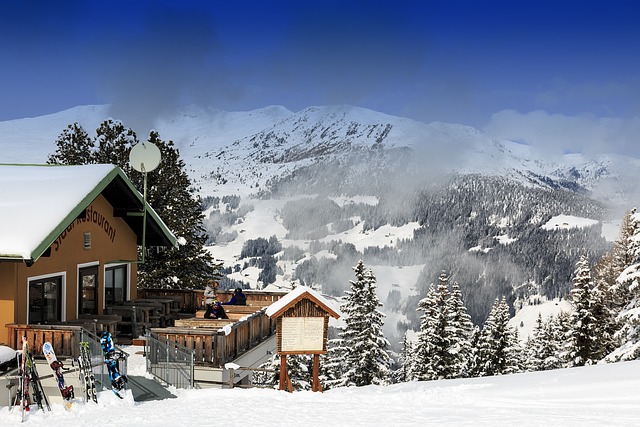 Top 10 Colorado Ski Resorts to Visit
Aspen: Aspen is among the best Colorado ski resorts Aspen. This resort town offers unparalleled skiing and snowboarding experiences. With four mountains to explore, Aspen Mountain, Aspen Highlands, Buttermilk, and Snowmass, there are options for all skill levels. Also, check out our travel guide on the best places to visit in Colorado for more information.
Vail: It is among the best Colorado ski resorts Vail. With its vast terrain spanning over 5,300 acres, Vail offers endless possibilities for skiers and snowboarders of all abilities. The resort features seven legendary back bowls, challenging moguls, and groomed cruisers. Additionally, Vail Village provides a charming alpine atmosphere with excellent dining, shopping, and après-ski options.
Keystone: Keystone Resort is among the best Colorado ski resorts keystone for families and beginner to intermediate skiers. Its prime location, just an hour's drive from Denver, offers convenient access for day trips or extended stays, making it among the best ski resorts in Colorado for families to enjoy a memorable winter vacation.
Keystone Resort boasts three interconnected peaks, Dercum Mountain, North Peak, and the Outback, providing various terrain for all skill levels of skiers. The resort is perfect for families looking to climb the mountain. Additionally, Keystone Resort offers an array of family-friendly amenities and activities, such as ice skating, tubing, and snowshoeing, providing endless options for off-slope adventures.
Winter Park: Winter Park Resort is among the best ski resorts winter park Colorado. It is famous for its diverse terrain and its convenient location near Denver. This resort is perfect for families and friends with varying skiing abilities. Beginners will find several gentle slopes to practice their skills, while experts can challenge themselves with the resort's abundance of moguls and glades.
Winter Park has recently expanded Mary Jane territory, a haven for powder hounds seeking thrilling off-piste adventures. Additionally, the resort boasts a vibrant village filled with various restaurants, shops, and après-ski entertainment options, ensuring visitors have a memorable experience on and off the slopes.
Beaver Creek: Beaver Creek is an exceptional destination for those seeking a lavish mountain getaway. This resort is in the picturesque Rocky Mountains and offers an unmatched luxurious experience. The resort boasts an array of exquisite accommodations, ranging from cozy chalets to elegant slope-side lodges, ensuring every guest feels comfortable throughout their stay. When it comes to dining options, Beaver Creek doesn't disappoint.
With a selection of world-class restaurants offering delectable cuisine and fine wines, food enthusiasts will be in paradise. As for skiing and snowboarding, Beaver Creek caters to all levels of ability with its diverse terrain. Beginners can enjoy gentle slopes and expert instruction, while advanced skiers and snowboarders can tackle challenging runs and thrilling terrain parks.
Copper Mountain: Copper Mountain is among the best ski resorts of Colorado Denver, offering skiers and snowboarders an affordable and laid-back experience. It is situated only 75 miles west of Denver and provides easy access for locals and tourists. With over 2,500 acres of terrain, Copper Mountain offers a vast playground for winter enthusiasts.
The resort is known for its naturally divided terrain, catering to beginners with gentle slopes and more advanced skiers with challenging bowls and thrilling terrain parks. In addition to its fantastic skiing opportunities, Copper Mountain hosts various events and festivals throughout the season, creating a vibrant atmosphere for visitors.
Arapahoe Basin: Arapahoe Basin is renowned for its unparalleled views and long ski season. Located high in the Rockies near the Continental Divide, this resort offers a breathtaking backdrop of the majestic Colorado Rockies. Arapahoe Basin is a haven for advanced skiers and snowboarders, attracting thrill-seekers with its challenging and exhilarating terrain.
The resort is famous for its steep chutes, thrilling tree skiing, and expansive bowl areas that provide endless opportunities for adventure. Despite its reputation for challenging terrain, Arapahoe Basin also caters to skiers and snowboarders of all skill levels, with various slopes suitable for beginners and intermediate riders.
Breckenridge: Breckenridge is a historic mining town turned world-class ski resort, a true gem in the heart of Colorado's Rocky Mountains. Its picturesque setting and captivating history make it a destination that seamlessly blends the Old West's charm with modern ski resorts' conveniences.
The town's Victorian architecture transports visitors back in time, while its lively Main Street boasts a vibrant atmosphere filled with shops, restaurants, and art galleries. As for skiing, Breckenridge offers an unparalleled experience with its diverse terrain spread across five peaks.
Steamboat Springs: Steamboat Springs is among the best ski resorts in Colorado all inclusive for skiers and snowboarders. With its breathtaking landscapes and abundant snowfall, Steamboat Springs offers an array of exceptional skiing and snowboarding opportunities. The resort boasts diverse terrains to cater to all skill levels, from gently groomed beginner runs to challenging glades for advanced riders.
The resort's terrain parks also provide an exhilarating experience with features like jibs, jumps, rails, ramps, and half-pipes for freestyle enthusiasts. Families visiting Steamboat can use the Kid's Vacation Center, where children of all ages can participate in lessons and engaging activities while parents hit the slopes.
Telluride: Telluride is a gem among the top ski resorts in Colorado. With its breathtaking scenery and legendary terrain, Telluride offers an unforgettable skiing experience. From the adrenaline-pumping extreme runs to the picturesque groomed trails, Telluride has something for everyone. The historic downtown and year-round activities make it an ideal destination for families and adventure-seekers.
Cheap ski resorts of Colorado
Following are the most affordable Colorado ski resorts. Also, check our travel guide on Cheapest Places to Travel in the USA.
Loveland Ski Area: Loveland Ski Area is known for its affordable lift tickets and uncrowded slopes. With 1,800 acres of terrain and an average annual snowfall of 422 inches, Loveland offers plenty of room to ski and ride. It's a great option for budget-conscious skiers who still want to enjoy the beauty of the Colorado Rockies.
Eldora Mountain Resort: Eldora Mountain Resort offers a convenient and affordable option for skiing near the Denver metro area. Eldora provides diverse slopes, including gentle beginner runs and challenging black diamonds. The resort offers affordable lift ticket prices and discounted rates for beginners' lessons and rentals.
Monarch Mountain: Monarch Mountain is a hidden gem among Colorado ski resorts. Known for its affordable lift tickets and friendly atmosphere, Monarch offers breathtaking views and diverse terrain for all skill levels. The resort is especially popular among powder enthusiasts, receiving an average of 350 inches of snow annually.
Sunlight Mountain Resort: Sunlight Mountain Resort is renowned as an affordable for families to learn to ski and ride. With the terrain ideally suited for beginners, Sunlight makes skiing accessible for all ages and abilities.
Echo Mountain: Echo Mountain is Denver's closest and most affordable ski area. It's an ideal day trip destination and a good option for saving on gas and lodging. With affordable adult lift tickets, Echo Mountain provides a cost-effective option for skiers.
Hesperus Ski Area: Hesperus Ski Area is one of the cheapest ski resorts in Colorado and offers a unique and thrilling experience. This resort boasts the largest night skiing area in the Southwest, allowing skiers and snowboarders to hit the slopes under the stars. Hesperus provides plenty of opportunities for beginners and advanced riders. Additionally, the resort has ski and snowboard lessons, rentals, and even a tubing hill for those looking for a different kind of winter adventure.
Ski resorts by Colorado Springs
Timber Lodge: Timber Lodge is among the best ski resorts near Colorado Springs. With its stunning alpine scenery and charming rustic lodge, Timber Lodge offers a unique skiing experience. The resort boasts a variety of well-groomed slopes suitable for beginners to advanced skiers. Timber Lodge is a popular choice among Colorado Springs locals and visitors.
Garden of the Gods Resort & Club: It is among the best ski resorts close to Colorado Springs and offers a unique ski resort experience. Nestled at the foot of the iconic Garden of the Gods Park, this resort combines breathtaking natural beauty with world-class amenities. Access to nearby ski areas allows guests to enjoy a day on the slopes and return to luxurious accommodations, fine dining options, and rejuvenating spa treatments. 
Cheyenne Mountain Resort: Cheyenne Mountain Resort offers a unique skiing experience close to the city. Nestled in the stunning Cheyenne Mountain foothills, this resort provides breathtaking views and convenient access to nearby slopes. With various runs suitable for all skill levels and state-of-the-art facilities, visitors can enjoy an exciting day on the slopes, followed by luxurious amenities, including spa treatments, fine dining, and cozy accommodations.
Final Words
Colorado has the best ski resorts in the United States. From the historic mining town of Breckenridge to the luxurious Aspen and Vail resorts, there are various options for every type of traveler. Whether you're looking for affordable options near Denver or Colorado Springs or all-inclusive resorts in Winter Park, there is something for everyone.
Colorado has several family-friendly ski resorts for a memorable vacation for all ages. So, pack your skis, and hit the slopes at these ski resorts in Colorado for an affordable and memorable winter getaway.