Top Places To Take Photos in Nepal
"Heaven is a Myth, Nepal is real". You probably have heard the quote many times. You can only imagine how beautiful Nepal is. Every year thousands of travelers visit this small beautiful country with hopes of witnessing awesome places. Nepal exceeds their expectations way beyond their imagination and they love to capture some incredible photos in Nepal.
Nepal has been blessed with stunning mountains, rivers, lakes, caves, forests which are known for jaw-dropping views. Nepal has been a famous destination for trekking, hiking, tours, and other recreational activities. Well, whatever the reason you wish to visit Nepal you may also want to take beautiful photographs along with you. Anyways, this blog is all about the famous and amazing places to take photos in Nepal and you can see the entire Nepal in Photos.
Photos are an integral part of traveling, be it portraits, landscapes, or mountainscapes. Every traveler wishes to fill up their picture books with travel memories, one they wish to look into with their loved ones. So, here are the top 8 places to capture amazing photographs of Nepal: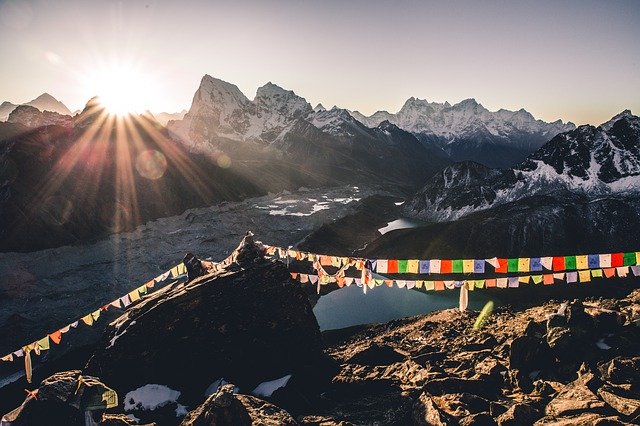 1. Boudhanath
Boudhanath is one of the largest stupas of Nepal and believed to be built around 600 AD. This is one of the World Heritage Sites. So, you can imagine what amazing this place has to offer you. On a clear sunny day, the Tibetan prayer flags, the large white dome with the painted eyes of Lord Buddha will probably make your pictures pop out among other pictures. The temple gives off a peaceful vibe, which makes the time spent there to be wonderful. And if you are really into night photography, then the place will not disappoint you. Every day, hundreds of devotees come to stroll around the stupa and if you are lucky enough they might agree to take pictures with you. The stupa is located 7 km northeast of Kathmandu and it is a perfect destination that can be captured in your collection of 'Nepal ka Photos'.
2. Bhaktapur Durbar Square
Among the three Durbar Square, this has always been one of my favorites. This place is known for its centuries-old buildings, monuments, 55 window palace, temples, and handicrafts. The best time to go is the morning when there are fewer people and you will be able to capture really amazing pictures. Let's just say morning is a magical time to add some magnificent snaps in your collection of Nepal photos. Nonetheless, there are numerous rooftop restaurants and bars around the premises. These cafes and restaurants have terraces on them which offer amazing views of the city and the best hotspot for photographers too. The durbar square is 15.7 km east from Kathmandu.
3. Lakeside Pokhara
Pokhara is about 200 km away from Kathmandu and it is also the second biggest city after Kathmandu. Pokhara has many photogenic sites such as peace pagoda, Davis falls and Lakeside is one of them. Lakeside is a popular name as it surrounds the amazing Phewa Tal (Lake). Phewa Lake is the freshwater lake, and at the center of the lake lies Tal Barahi Temple. If you wish, you can book a boat and head over to the Temple. The lake is famous for giving off amazing reflections of the majestic Annapurna range and Machhapuchhre mountains with blue skies over it. Lakeside is just a side road along the Phewa Lake and it offers amazing sunsets in the evening for amazing Nepal photographs. Another special thing about this place is the short walk along the banks of Phewa Lake is always enchanting.
4. Patan Durbar Square
Patan Durbar Square comes second after Bhaktapur Durbar. But that doesn't mean Patan is any less beautiful than Bhaktapur Durbar Square. This place has one of the famous temples of Nepal, Krishna Mandir(Temple). People and devotees come to this place mostly during the morning and in the evening. If you are wondering what kind of Nepal photos you will get to capture here. Well, you can head to the Patan Museum which has beautiful gardens and historical sculptures and paintings. You will get fascinated with the exquisitely carved shrines and ancient monuments. You should definitely bring in some extra batteries and memory cards because you will want to capture numerous photographs. The place lies in the heart of the Lalitpur city.
5. Shanti Stupa, Pokhara
Front-facing the Sarangkot, on the top of Anadu hill lies the Shanti Stupa. The stupa was built in 1991. It has always been one of the popular spots for viewing the Annapurna Himalayas, Phewa Lake, and several hills. You can reach the place by public bus or taxi, but you will still have to walk some steps to reach the main stupa. The place has some scripted stone carvings, beautiful gardens, and the white dome stupa. The stupa reflects world peace and prosperity. You might find other tourists strolling around the stupa but that won't stop you from capturing beautiful photos of Nepal. As this stupa is on the top of the hill, the environment is peaceful and calm. The stupa looks beautiful in all seasons and it is worth adding in your Nepal photos. But, if you really want to capture photos of the mountains then visiting during September and November would be an ideal time.
6. Swayambhunath
The monkey temple, Swayambhunath is probably one of the holiest shrines in the Kathmandu Valley. Swayambhu means "self-created", there are various myths and legends that a lotus turned into a hill and a powerful light turned into the stupa itself. The white dome with golden spire is visible from almost all places of Kathmandu. The area around the stupa consists of temples. Shrines, shiva lingams, paintings and so on. So, that means you won't have any problems thinking about what to photograph. However, you should be careful of the steep stone steps that lead to the statue. Last but not the least, there are monkeys everywhere, so you might want to hold on to your belongings well. And if you want you can feed them some food and click photos of it. Swayambhunath is 3km west of Kathmandu city.
7. Sarangkot
You must have read about this name in leaflets, news, and guidebooks. The place is located in Pokhara and is popular for paragliding as well as sunrise/sunset views. Sarangkot is just 28 minutes drive from Phewa Lake. Besides that, this place is also popular for enjoying the magnificent view of the Annapurna range of mountains. You can witness mountains such as Manaslu, Dhaulagiri, Machhapuchhre from the top of Sarangkot. The golden hour to visit the place is during sunrise. And you might have guessed it by now, how amazing the photographs would turn out during the golden hour. More specifically, when the first rays of the sun touch the mountain peaks. You don't have to be a professional photographer for this because any photos of Nepal you take will turn out to be good.
8. Nagarkot Viewpoint
Nagarkot is a village just 32 km away from Kathmandu. The Nagarkot viewpoint offers a full 360-degree view of the mountains such as Mt Everest, Ganesh Himal, Lakpa Dorje, Gaurishankar, Langtang, and many others. This hill station is famous for witnessing amazing sunrise and sunset views. If you love trekking then you will get lots of opportunities to enjoy it here. When you reach there, you can enjoy the view from the tower located in the viewpoint. You should climb up that tower for the best views and photographs. From there, you can see Kathmandu city and the north side will offer you fantastic mountain views. For clear and unobstructed views, it is recommended to visit this place during the season of the month of October to May. So, head on Nagarkot for some awesome selfies with the mountains and panoramic shots. From the top of the mountain, you will get lots of exposure to capture entire Nepal in photos.
What's next waiting for you?
Now you got a whole list of destinations that will help you to create a perfect album of photos of Nepal. If you are searching for the best places to visit in Nepal along with top things to do in such a wonderful country then don't forget to check out our travel guides. Once you visit these destinations your friends and relatives will definitely ask you about your grand collection of photos from Nepal.