How to Travel from Los Angeles to San Francisco
Los Angeles and San Francisco are two of the best cities in California, separated by 382 miles of the best places in California. Traveling between these two cities makes one of the best road trips in the Americas. But there are so many other ways and modes of transport available to travel between these two cities. And it all depends on what you are traveling for.
Is it sightseeing? Or is it a quick business trip? Maybe, you are taking your family along on a holiday, or are traveling solo, with ample time to do exciting activities along the way. Whatever be your reason, you may take one of these traveling modes to travel between Los Angeles and San Francisco: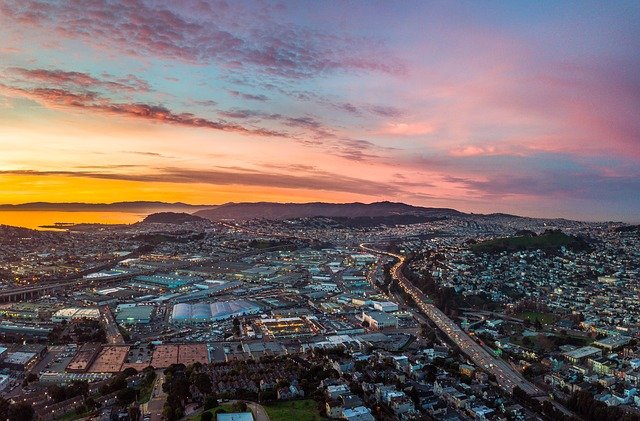 LA to San Francisco By Flight
One of the fastest ways to reach San Francisco from Los Angeles is to go aboard an airplane. It takes under an hour and a half to reach from LA to San Francisco via air flight. It is the busiest route in the USA and every year more than a million passengers book their airplane tickets to travel from Los Angeles to San Francisco. Tickets are affordable and the competitive airfares make this one of the most popular travel options among locals and tourists alike.
Los Angeles has five airports (Los Angeles International Airport (LAX), Ontario International Airport (ONT), John Wayne Airport (SNA), Hollywood Burbank Airport (BUR), Long Beach Airport (LGB). San Francisco Bay Area has three airports (San Francisco International Airport (SFO), Oakland International Airport (OAK), and Norman Y. Mineta San Jose International Airport (SJC).
International and Domestic airports in Los Angeles offer non-stop flights to airports in San Francisco. Travelers experience the usual delays like long security checks, but it does not deter them from booking flights to San Francisco. Airlines like American Airlines, Delta Airlines, United Airlines, and others like Southwest and JetBlue have non-stop flights operating between Los Angeles to San Francisco.
Oakland International Airport is the closest airport to San Francisco. You can reach San Francisco from Oakland International Airport within half an hour via car. From San Jose, you may drive to San Francisco or take one to two hours to reach San Francisco.
LA to San Francisco By Bus
Traveling by bus from Los Angeles to San Francisco takes around 11 hours, and is the slowest mode of transportation. But even then, the bus remains the most popular mode of traveling between these two cities. Operators like Greyhound, Flixbus, and Megabus run non-stop bus services between these two cities every day. The frequency is greater on weekends. Greyhound runs an express bus service overnight that is speedier and takes almost 7 hours traveling. Megabus takes a little more time, 8 hours to 9 hours to reach San Francisco. Bus service becomes more comfortable when you consider the facilities that you get on the way like bathrooms, Wi-Fi, power plugs for charging, legroom, etc. There is entertainment also in the bus where you can watch movies, TV shows, play games with the free Wi-Fi on your laptops, mobiles, tablets, etc.
Los Angeles to San Francisco By Train
Trains also take a long time to reach San Francisco from Los Angeles i.e. 8 to 12 hours. However, the greatest plus point of traveling by train is that you can enjoy the scenic landscapes of the Pacific coast along the way. Amtrak's Pacific Surfliner and Amtrak's Coast Starlight are the train services to San Francisco and offer the best train ride experience. You can travel in coach class and if you want more luxury, then you can go for Business Class. However there are no direct trains to San Francisco, but you will have to alight at San Jose and catch a connecting bus to Oakland, and then on to San Francisco by car. But the incredible scenery along the way will make the train journey between Los Angeles to San Francisco an affordable and relaxing way of travel.
LA to San Francisco By Car
Traveling by car has its pleasures and a car is the best mode of transport if you love driving on scenic highways along with a night stay at some places. The best thing about traveling in a car from Los Angeles to San Francisco by road is that you set your own pace and are free to explore the many scenic places on the Pacific coastline, also do some hiking or swimming. You can stop for some rest, or for using the restrooms, and just drive to a highway hotel or restaurant and refresh yourself along the way.
I-5 highway is the fastest route from LA to San Francisco and will take approximately 6 hours of traveling time. You will go through the Central Valley region and its very scenic routes. Highway 101 is also best and it will take you to see beaches like Pismo Beach, and towns like Santa Barbara, Malibu, and San Luis Obispo.
But the best route is through Highway 1 which goes along the Pacific Coast to give you breathtaking views of the sea and the mountains. You will cut through forests and cliffs of Big Sur State Park, and along with the car, ride visit cities like Monterey and Santa Cruz.
Los Angeles to San Francisco By Cruise
Both Los Angeles and San Francisco are on the Pacific Coast and sailing on a cruise ship is a luxurious way of traveling between these two cities. There are many companies offering cruise ships and luxury liners packages. You travel in luxury in world-class comforts on a cruise ship. There are luxury rooms, entertainment, world-class dining options, casino games, and movie theatres. You can go on short excursions to beaches or historic landmarks, and explore the Californian coast. The duration may be different for different cruise ships, but it may take approximately 7 to 10 days depending on stops.
Los Angeles to San Francisco By Hiking
Hiking might be the most thrilling way to explore everything that the Pacific coastline offers – secluded beaches, rugged mountains, forested valleys, wildlife, coastal cities, etc. When you consider that hiking gives you the freedom to do just about every exciting thing, be it swimming, spotting whales, interacting with locals, catching some fish, or walking on beaches, this might turn out to be an exciting way to travel from Los Angeles to San Francisco.
There are so many hiking trails where you can go on an epic road trip. It can take 2-3 months depending on which route you are taking, and how often you are spending at each destination along the route. A longer duration might also take 4-6 months of hiking. The Pacific Crest Trail is one of the most scenic ones, and also the most famous, and this trail leads inward through the wilderness of the most famous national parks in the US.
You traverse through Sequoia National Park and Yosemite National Park and the landscape changes from lakes and canyons to green pasturelands and alpine forests. You can spot wildlife such as coyotes, marmots, black bears, deer, etc. You have to carry light and hiking gives you the opportunity to camp in the outdoors.
LA to San Francisco By Cycling
You can best explore Los Angeles to San Francisco through a bike trip. Peddling along on coastal roads, with nothing but verdant landscapes of the Pacific coast to greet your eyes is a sublime experience in itself. It is a route of roughly 500 miles and you can stretch it on for more than 7 days so that you do not fatigue yourself, and also have enough time to appreciate the natural bounty that comes on the way. You can rest your legs and stay along the way in places like Solvang, Cambria. There are many lodges along this route, and this route is full of fantastic natural wonders like waterfalls, jagged ocean cliffs, azure sea, creeks and inlets, natural bays and coves, bridges, etc. You will find campgrounds also where you can pitch a tent and stay overnight.
What is the public transport from the airport to downtown San Francisco?
You generally arrive at San Francisco International Airport (SFO) if you are on a direct flight. From the airport, you can catch the BART (Bay Area Rapid Transit) train to reach the downtown San Francisco area and it will take around half an hour. If you arrive at Oakland Airport (OAK), then also, you can catch the train and reach downtown San Francisco within half an hour.
San Jose Airport (SJC) though, is a long way from San Francisco, and it may take more than an hour and a half to reach San Francisco. First, take a cab or bus to San Jose Diridon train station. And then, you can take the Caltrain (railway line) and reach San Francisco in around an hour. If you prefer the comfort of a car, then you can book an Uber or Lyft from San Francisco International Airport to reach downtown San Francisco.
What to do in San Francisco?
San Francisco is one of the most famous US cities, and there is so much you can do here. Golden Gate Bridge is the icon of San Francisco and you can ride a ferry and pass under the famous bridge, or go to one of the many viewpoints like Golden Gate Bridge Vista Point and have instagrammable pictures of the Golden Gate Bridge. If you have a bike with you, you can go across the Golden Gate Bridge.
Perhaps one place that is sure to keep you busy for an entire day in San Francisco is the Golden Gate Park. This is a top attraction of San Francisco and is an enormous green space full of museums, gardens, lakes, etc. The best attractions here are the California Academy of Sciences (science museum), de Young Art Museum, Japanese Tea Garden, San Francisco Botanical Garden, Stow Lake, and Strawberry Hill.
You can visit Fisherman's Wharf and stroll along to greet the sea lions having a feast of fish. The area is famous for its food, shopping, and recreation. You can visit historic warships like USS Pampanito, or taste incredible chocolates and ice-creams at Ghirardelli Square.
You can take a vintage ride in the cable cars that still are a major attraction of San Francisco. San Francisco has many museums like the Palace of Fine Arts, Asian Art Museum, Exploratorium, etc. and you can immerse yourself in art, sciences, Asian art, and culture at these places. But perhaps no trip to San Francisco is complete without a visit to the Alcatraz, the infamous prison on Alcatraz Island.
And if you are in a mood to entertain yourself and to have a good time, then visit Union Square. There are boutique shops, restaurants, cafes, art galleries here, and its nightlife is also the most interesting.
But don't forget the beaches too, and the ones like Baker Beach, Rodeo Beach, Muir Beach, and others are best for beach walks and relaxation.
Frequently Asked Questions (FAQs)
How many miles from San Francisco to Los Angeles?
The driving distance between Los Angeles to San Francisco is 382 miles. San Francisco is to the northwest of Los Angeles.
How long does it take to drive from San Francisco to Los Angeles?
In your car, it may take 6 hours to reach San Francisco from Los Angeles. It depends on the route you have taken, and the traffic you get during your journey.
Which are the places to stay between San Francisco and Los Angeles?
There are many stops along your route from Los Angeles to San Francisco on which you can stay for the night and resume your journey in the day. Places like San Luis Obispo, Solvang, Monterey, Malibu Coast are best for a stay on the road.
What's next waiting for you?
With so many travel options available between Los Angeles and San Francisco, you may opt for the one that suits your time and budget. A lot depends on the type of journey you want to undertake and for what purpose do you want to travel between these two fascinating cities of California. If you want to reach in quick time, it is best to take a flight.
If you want to experience the thrill of adventure then go on a road trip by your own car or opt for Limo Service San Francisco. But also remember, that a bus and train have their appeal. If you are planning to explore best places to visit near San Francisco then check out our other travel guides.