Best Places To Visit in California
If we talk about the best places to visit in California then it is a 'Mecca' of it in the USA. It is the place where you'll find Hollywood.  It is the home of some famous faces, film studios, and the amusement parks. It's also home to Silicon Valley, the global headquarters of many big tech companies. And don't forget the iconic Golden Gate Bridge. Here you will find some fantastic natural beauty on offer in California. Whether you are looking for unique places to visit in Southern California or Northern California, the city has a lot to offer tourists.
Here you can see giant redwoods, deserts and rock formations, and fantastic beaches along the coast. It's home to sweeping landscapes, vineyards, and a collection of cities that are as famous as the state itself: think San Francisco, Los Angeles, and San Diego. Here we have listed some of the best places to visit in California that are truly fascinating to explore: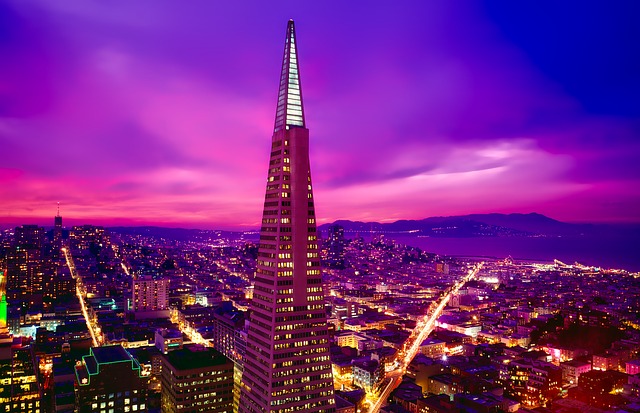 1. Death Valley
Death Valley is nestled in between eastern California and Nevada. It is one of the most sought after tourist attractions in California that you must add in your itinerary. You can explore here the gorgeous Titus Canyon, colorful desert rocks, and sand dunes or wander around the nearby eerie ghost town of Rhyolite. You'll be standing on North America's lowest point once you reach the salt flats in Badwater Basin. It's best to visit in the cooler seasons, due to the extreme temperatures. No wonder it is listed amongst one of the top places to visit in California in winter.
2. Hearst Castle
Hearst Castle is located in San Simeon. It is a National Historic Landmark and a fascinating must-see place. The land owned by George Hearst in 1865 started out as a ranch. His son, William Randolph Hearst, inherited the property and built the estate to showcase his immaculate art collection. The castle and grounds comprise 165 rooms, 123 acres of gardens, terraces, pools, and walkways. If you are searching for most offbeat tourist attractions of California then a visit to Heart Castle is highly recommended.
3. Hollywood Sign
You can't hike directly to the Hollywood Sign in Los Angeles but there is a legal trail that allows you to look out over the sign. This sign came into existence in the 1920s when it was used as an advertisement for a real-estate venture. Originally it was used to read "Hollywoodland." When the Great Depression hit, maintenance on the sign stopped, and eventually, the "land" part was taken down. It is one of the vital parts of California tourism since several years. You will also find it listed amongst the unique places to visit in California in December.
4. Balboa Park
Balboa Park is such a park where culture, science, and nature come together in a 1,200-acre space. You will find here gardens, walking paths, museums, and 17 theaters these are top interesting things to do in Southern California to explore and discover. It's even home to the San Diego Zoo thereby becoming one of the coolest places to visit in California.
5. Monterey Bay Aquarium
In this Monterey Bay Aquarium, you can see otters, countless species of fish, octopus, jellyfish, and much more. All these reasons make it one of the fun places to visit in California with kids. You can also learn here about the many wonders of the ocean through various exhibits, which will appeal to people of all ages. When you work up an appetite the aquarium even has an in-house restaurant. Check out any list of tourist attractions for California and you will find Monterey Bay Aquarium is listed in it without fail.
6. La Brea Tar Pits
The La Brea Tar Pitsis located in L.A. It formed over thousands of years as the natural asphalt seeped up to the surface. There is also a museum that takes tourists through the whole story of what exactly is happening to the earth in this spot. You can even watch active digs if you time your visit right. All these reasons make this tourist attraction a vital part of your California trip.
7. Lassen Volcanic National Park
Lassen Volcanic National Park is situated in Northern California. It is home to acres of bubbling mud pots, gorgeous views, and lava rocks thereby adding an element of excitement to your California holiday. Wander the numerous sulfur mines, mountain streams and lakes, along with over 150 miles (241 kilometers) of hiking trails. Of course, you can't forget a stop at the Devastated Area, which is laden with lava rocks from the volcano's last eruption.
8. The Golden Gate Bridge
No trip to California would be complete without a stop at the famous Golden Gate Bridge. Constructed in 1933, the one-mile-wide Golden Gate is an international emblem. Drive across the bridge, or even walk or bike the almost 9,000 feet (2,743 meters) to take in the landmark and surrounding beauty. California tourist attractions are known for their uniqueness and The Golden Gate Bridge is one such destination that appeals to an influx of tourists.
9. General Sherman Tree
General Sherman is a single stem tree on the planet. It is 275 feet (83.8 meters) tall. General Sherman stands in Giant Forest in Sequoia National Park in Tulare County. It's a bit of a hike but nothing too strenuous; just lace up your shoes and leave your car in the designated parking lot. General Sherman's sheer magnitude will leave anyone speechless. If you are searching for most serene California vacations spots to be added in your itinerary then a visit to General Sherman is a must.
10. Hollywood Universal Studios
Not only was your favorite blockbuster probably filmed at Universal Studios Hollywood, but it's an amusement park too! You can discover worlds that you've only been able to observe through a screen. Roller coasters, ride simulators, and an impressive amount of dining options flood this park as well. Real studio tours are also available. You can also get additional information regarding the USA travel guide.
11. Santa Cruz, California
Santa Cruz is one of the surfing meccas of the United States. This city itself is only small with a population of approximately 50,000 but the beautiful beaches and bohemian vibe attracts many tourists from across the planet. The all year summer feel adds to the feeling of never-ending paradise that you will always feel in this city. If you are searching for some of the cheapest places to visit in California then Santa Cruz is an ideal option.
12. Joshua Tree National Park
The area is a designated wilderness and encompasses two very different deserts. Visitors to the park can experience camping, hiking, and climbing. Joshua Tree National Park is named this because of the Joshua trees that are native to the park. Check out any California vacation package and you will find this park is listed in the best places to visit in California.
13. California Street Cable Car
The California Street Cable Car is known as the last manually operated cable car system left on the planet. Now there are just three remaining and they make for a beautiful view when you are visiting the city. It is an icon of San Francisco and during its peak, there were twenty-three lines running through the city.
14. Pfeiffer Beach
Pfeiffer Beach is a peaceful, lovely and strange seashore. Local people visit the region normally however to the vacationer, the seashore is still genuinely obscure. The sand at the seashore is an uncommon purple shading and this is brought about by the manganese garnet particles that get washed down from the neighboring slope.
15. San Diego
Along the bank of the Pacific Ocean is the dynamic and flawless city of San Diego. There are a lot of wonderful seashores to investigate which when tempered with the gentle atmosphere of the territory make this a fabulous spot to visit. San Diego has the epithet "America's Finest City" which should state everything truly.
16. Lava Beds National Monument
There are 25 magma tubes gives in that you can visit when you are in Tulelake. At the point when you move down into the caverns, it will resemble nothing you have encountered previously. The caverns have tubes that are made out of magma and a guest focus that clarifies their creations. Travel guides always include this destination in the best places to visit in California.
17. Big Sur
Huge Sur was gotten from the Spanish words 'el sure grande' which signifies 'the enormous south'. The zone is daintily populated and sits in the south of the city of Monterey. There are some staggering perspectives to be had while you are in this little territory which makes it exceptionally well known with visitors.
18. McWay Falls
McWay Falls is an 80-foot cascade that is situated in Julia Pfeiffer Burns State Park. The fall is really classed as tide fall because of its nearness to the sea. The cascade used to stream legitimately into the sea yet following an avalanche in 1985 the landscape was changed and it presently streams into a blocked off the seashore.
19. San Francisco
San Francisco is encompassed by the Pacific Ocean and is well known for the dazzling Golden Gate Bridge, brilliant houses from the Victorian age and the final link vehicles. The city has numerous colossal high rises that make for a lovely view. Simply off the coast is Alcatraz Island which was home to the celebrated jail.
20. Yosemite Falls, Yosemite National Park
Yosemite Falls are well known for guests from around the globe. A significant part of the water that accidents down the falls and into the lake underneath originate from snowmelt. Yosemite falls itself is the fifth most noteworthy cascade on the planet and through and through it is 2,425 feet. The falls are at their generally tremendous in May and June when the snow has dissolved the falls become a stream and you at that point need to sit tight for the cooler climate once more.
21. Sturtevant Falls, Big Santa Anita Canyon
Sturtevant Falls is situated in the lower regions of the Angeles National Forest. The falls themselves are fifty feet in stature and look extraordinarily delightful because of the greenery and green growth that develops on the precipice. This makes the hues you see as the water runs particular and hypnotizing.
22. California's Pacific Coast Highway
The Pacific Coast Highway in California is one of the most wonderful drives there is. It runs along a large portion of the coastline of California and is well known over the world for its lovely landscape. The course is an assigned Blue Star Memorial Highway as a method for the acknowledgment of those that serve in the U.S. military.
23. Vernal Falls
In the Yosemite National Park, you will run over Vernal Falls. A 317-foot cascade that falls into the Merced River. The falls run lasting through the year however at specific purposes of the year, they break into different strands when the volume of water diminishes.
24. Monterey Beach
Monterey Beaches are comprised of a determination of Beaches that range from minor little gems to enormous territories of sand. Each seashore is one of a kind and offers a lot of diversion offices from kayaking to surfing to jumping. If you are looking for most beach-friendly places to visit in California then you should come to Monterey beach.
25. Emerald Bay
Emerald Bay is a little island that sits inside Lake Tahoe. The inlet has now been assigned a National Natural Landmark because of the characteristic magnificence that this little island gives. There are two outdoor grounds and a picturesque foot trail that goes around the outside of the island. California places to visit are known for their unique touch and you will recognize this when you visit Emerald Bay.
26. Muir Woods National Monument
Muir Woods is a piece of the Golden Gate National Recreation Area and a problem area for tree darlings. The woodland is frequently shrouded in a haze that originates from the coast. There are innumerable redwood trees developing in the zone that utilization the haze that leaks in to remain sodden during the dry summers.
What's next waiting for you?
The list of tourist attractions of California is never-ending and you definitely need to plan an extended holiday trip to cover maximum vacation spots here. Now you got to know all the best places to visit in California simply pack your bags and embark on your journey to this incredible tourist destination. If you are planning to visit a few more popular cities in the USA then check our other travel guides to get detailed information.