Best Gulf Coast Beaches You Must Visit
The Gulf Coast is home to some of the most stunning and picturesque beaches in the United States. From crystal-clear waters to soft white sand, these beaches offer the perfect setting for a relaxing vacation or an adventurous getaway.
Whether you're looking for a beach with vibrant nightlife, water sports activities, or soaking up the sun, the Gulf Coast has something for everyone. We will explore the best Gulf Coast beaches you must visit.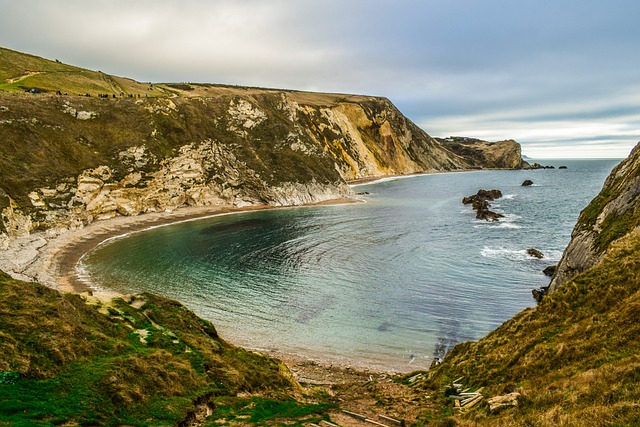 Best Gulf Coast Beaches in Florida
Following are the beaches of gulf coast Florida. Also, check out our travel guide to the Best Places to Visit in Florida:
Blue Mountain Beach: Blue Mountain Beach, located along the scenic 30A coastal highway, is a hidden gem on the map of Gulf Coast beaches in Florida. This serene and picturesque beach is among the best gulf coast vacation spots Florida offers visitors a peaceful vacation from the hustle and bustle of more popular destinations. The beach gets its name from the vibrant blue lupine flowers that bloom along the sand dunes, creating a stunning contrast against the white sandy shores.
Blue Mountain Beach is worth visiting whether you're a local or a visitor exploring the map of Gulf Coast beaches in Florida. Its peaceful ambiance, stunning natural beauty, and excellent swimming conditions make it among the best beaches of the gulf coast Florida.
Honeymoon Island: Honeymoon Island, located just off the coast of Dunedin, Florida, is a true gem on the maps of Gulf Coast beaches. This stunning island offers visitors an unparalleled experience of unspoiled beauty and serenity. With its pristine stretches of shoreline, lush vegetation, and abundant wildlife, Honeymoon Island is a paradise for nature lovers and beach enthusiasts.
One of the highlights of Honeymoon Island is its picturesque beach, which offers more than just sand and surf. The island boasts a well-maintained nature trail that winds through the coastal dunes and mangrove forests, allowing visitors to explore the island's diverse ecosystem. Along the trail, hikers may encounter various species of birds, including ospreys and eagles, as well as other fascinating wildlife, such as gopher tortoises and armadillos.
Indian Rocks Beach: It is a delightful coastal haven between Clearwater and St. Petersburg, perfectly positioned on the maps of Gulf Coast beaches in Florida. This charming destination offers a laid-back and family-friendly atmosphere, making it an ideal retreat for relaxation and adventure. With its inviting powdery sand, warm and calm waters, and relaxed vibe, Indian Rocks Beach has become a beloved spot for visitors seeking tranquility and quality time with loved ones.
Indian Rocks Beach has a pristine shoreline. The soft, powdery sand stretches for miles, inviting beachgoers to sink their toes into its warmth while basking under the gentle rays of the Florida sun. Visitors can spend their days lounging on beach chairs, building sandcastles, or taking leisurely walks along the water's edge.
Venice Beach: Venice Beach is a paradise for fossil hunters and beachcombers. This beach has abundant shark teeth that can be found along its pristine shoreline. Venice Beach also offers a range of other attractions and activities for visitors to enjoy.
The crystal-clear waters provide excellent swimming conditions, allowing beachgoers to cool off and soak up the sun. The beautiful sandy beach is perfect for leisurely walks, beach volleyball games, or simply relaxing under the shade of an umbrella.
Boca Grande: Boca Grande, situated on the picturesque Gasparilla Island, is a haven for a tranquil and secluded beach experience. This idyllic barrier island is renowned for its untouched natural beauty, boasting pristine sand dunes, gentle waves, and awe-inspiring sunsets that paint the sky with vibrant hues.
Boca Grande has abundant fishing opportunities. The surrounding waters teem with various fish species, making it a prime destination for seasoned anglers and beginners. Whether casting a line from the shore or venturing on a fishing charter, visitors can expect an unforgettable experience in this angler's paradise.
Fort Myers Beach: It is a famous destination that attracts visitors with its breathtaking natural beauty. Renowned for its soft, powdery white sand and crystal-clear blue waters, this coastal gem offers a picturesque setting that is nothing short of paradise.
Stretching for miles along the Gulf of Mexico, Fort Myers Beach provides ample space for beachgoers to relax and soak up the sun. The pristine shorelines invite visitors to indulge in the simple pleasure of sunbathing. The gentle waves beckon swimmers of all ages to take a refreshing dip, while adventurous souls can partake in thrilling water sports such as kayaking, paddleboarding, or parasailing.
Gulf Coast Beaches in Alabama
Following are the beaches of gulf coast Alabama. Also, check out our travel guide for the best places to visit Alabama for more information:
Gulf Shores Beach: Located where Alabama Highway 59 ends at East Beach Blvd, Gulf Shores Beach is the main public beach in the area. It features three open-air pavilions, a picnic area, a playground, and on-site amenities such as restrooms and showers.
Dauphin Island Beach: Located on a barrier island, Dauphin Island Beach is a tranquil and less crowded beach option. Visitors can enjoy long stretches of sandy shorelines and take in breathtaking sunsets over Mobile Bay.
Orange Beach: Orange Beach boasts 8 miles of unspoiled coastline. Its powdery white sands and calm waters make it the perfect spot for sunbathing, swimming, and beach activities.
Gulf State Park Beach: Situated within Gulf State Park, this beach offers visitors even more than stunning views. It provides opportunities for hiking, biking, camping, and fishing, making it perfect for those seeking outdoor adventures.
Fort Morgan Beach: Fort Morgan Beach offers a serene atmosphere with its secluded location. It's a popular spot for birdwatching, fishing, and exploring the historic Fort Morgan.
West Beach: Known for its laid-back ambiance, West Beach offers a quieter and more relaxed beach experience. Visitors can enjoy long walks along the shore, collect seashells, or soak up the sun.
Robinson Island: Accessible only by boat, Robinson Island is a hidden gem off the coast of Alabama. It's an ideal spot for snorkeling, picnicking, and exploring the pristine natural surroundings. Carry a portable dolphin charger for emergencies whenever you are on a boat.
Beaches of Gulf Coast Texas
Following are the Gulf Coast beaches in Texas:
Padre Island National Seashore: Spanning over 70 miles, Padre Island National Seashore is the longest undeveloped barrier island in the world. This beach offers visitors a chance to enjoy unspoiled nature, with opportunities for birdwatching, camping, fishing, and even sea turtle nesting.
Port Aransas Beach: Located on Mustang Island, Port Aransas Beach is a popular destination for sun-seekers and water sports enthusiasts. It offers a wide shoreline, gentle waves, and plenty of space for beach activities such as swimming, surfing, and beachcombing.
Rockport Beach: Rockport Beach is family-friendly, with calm waters and shady picnic spots. It's an excellent spot for swimming, sunbathing, and fishing, with amenities including picnic tables, barbecue grills, and a playground.
Malaquite Beach: Situated within the boundaries of Padre Island National Seashore, Malaquite Beach is a pristine stretch of sand with clear turquoise waters. This beach is perfect for sunbathing, shelling, and birdwatching, and it also offers camping facilities for those looking to stay overnight.
Surfside Beach: Located near Freeport, Surfside Beach is a popular destination for beachgoers and anglers. With its gentle waves and ample fishing opportunities, it's an ideal spot for swimming, surfing, kayaking, and casting a line.
East Beach: East Beach is among the most popular beaches along the Texas Gulf Coast. It's known for its vibrant atmosphere, live music events, and beach parties. Visitors can enjoy swimming, sunbathing, and various beach festivals throughout the year.
Best beach hostels gulf coast Florida
Anna Maria Island Beach Resort: This beachfront hostel offers stunning views of the Gulf Coast. Anna Maria Island Beach Resort provides comfortable and modern rooms and amenities like a heated outdoor pool and BBQ facilities. Guests can explore the island's charming shops and restaurants or relax on the pristine beaches.
Barefoot Beach Hostel, St. Petersburg: Located just steps away from the pristine white sands of the Gulf Coast, Barefoot Beach Hostel offers a laid-back and friendly atmosphere. With comfortable dormitory-style rooms and private beach access, this hostel is perfect for budget travelers looking to soak up the sun.
Crash Pad Destin: This hostel is just a short walk from the beach. It features shared and private rooms, a fully equipped kitchen, and a cozy communal area with a fireplace. Guests can also enjoy the hostel's outdoor patio and barbecue facilities.
Beachside Hostel – Bonita Springs: Located near Bonita Beach, this hostel offers budget-friendly accommodations with easy access to beautiful beaches. Guests can choose between shared and private rooms, and the hostel provides free Wi-Fi, a communal kitchen, and a lounge area for relaxation.
Sarasota Hostel International: This hostel is located in Sarasota, just a short drive from the white sandy beaches of Siesta Key. The hostel offers private rooms, shared dorms, and has a communal kitchen, outdoor patio, and free Wi-Fi.
Final Words
The Gulf Coast offers some of the best beaches in the United States, making it an ideal destination for beach lovers. Whether you're looking for a relaxing getaway or an adventurous beach vacation, the Gulf Coast has something for everyone.
There are several beach options in Florida, Texas, and Alabama. Several beach hostels in Florida offer affordable accommodation options near the Gulf Coast. So pack your sunscreen and prepare for an unforgettable Gulf Coast beach experience.