Sentosa's Best Attraction to Visit with your Family
Universal Studios In Sentosa:
Universal Studios is a theme park located in Singapore which draws many visitors and locals each year. The entertainment in the Universal Studio Singapore and attractions make it one of the top places to visit with family and friends. With more than 25 rides and seven themes, Universal Studios (Singapore) is one of the biggest theme parks across Asia. With the Universal Studio Singapore map in the palm of one's hand, visitors can take in the diverse events and distinctive areas that the theme creates. There are a variety of Universal Studio Singapore attractions including "The Lost World", "Ancient Egypt", 'Far Away', 'Madagascar' and Hollywood, New York, and Sci-fi City. Each of these attractions have different types of shows and events that visitors can go to. Each offers a unique entrance that is in line with their respective themes. Apart of all that there is it is worth noting that the Universal Studios Singapore roller coaster is also very well-known.
In the past, each cabin was to be a four-seater and today, it has two seating per cabin. There are approximately 24 rides, of which 18 are unique to Universal Studio Singapore. Visitors can also catch live performances, street shows as well as a beautiful fireworks show. There are a variety of characters that roam the streets and visitors can snap pictures too.. Therefore, a trip to Universal Studios Singapore is a necessity to experience some of the most thrilling rides and shows that are not available anywhere elsewhere. You can go to their Universal Studios Singapore official website to find full details about the rides, events, and shows in the park.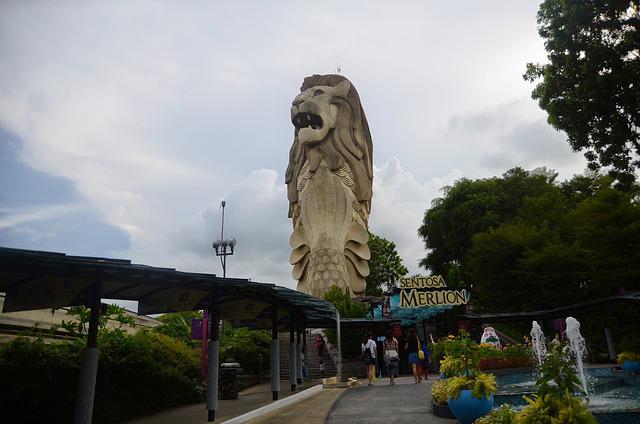 The Sea Aquarium in Sentosa is one of the top tourist attractions in Singapore. The aquarium is beautiful and home to more than 100,000 marine creatures and 1000 different species. The gorgeous design of the structure draws many people each year. SEA Aquarium ticket price costs around SGD 41 per adult.
i) Exhibits at S.E.A. Aquarium:
There are plenty of activities to enjoy within Sea Aquarium Singapore, which makes it a great place for kids as well as for adults. There are numerous interactive learning displays that educate people about sea urchins, sea starfish, sea cucumbers, sea urchins and more. Additionally, visitors could also go to the Maritime Experiential Museum, which highlights the rich historical background of the Asian submerged habitat.
ii) Marine Habitats at S.E.A. Aquarium:
The Sea Aquarium Sentosa is broken into distinct areas, and each is devoted to a specific habitat and the creatures it supports. Its Shark Seas Room is the most well-known among them since it is home to certain endangered species of sharks that aren't found in other areas of the world, such as the hammerhead shark that has a scallop as well as the deadly silvertip sharks, massive sandbar sharks, and numerous others.
iii) Activities to Do in S.E.A. Aquarium:
It is safe to declare that the Sea Aquarium in Sentosa, Singapore is a must-visit with kids and family for an insight into the life and habitat of sea creatures. Youngsters and those who are young at heart can climb beneath a dome and get close-up views of various species of marine life. The glass walls that are tall in the museum offer a stunning glimpse of this, as do the museum, which has interactive displays that allow everyone to gain the opportunity to gain a deeper understanding.
iv) Events at S.E.A. Aquarium:
SEA Aquarium Sentosa also runs educational programs for various age groups to help people learn more about marine life and its protection. These programs also offer guided tours, activities, and education about different marine careers. Visitors can also take part in Ocean Dreams, wherein they can stay over at the aquarium, and experience how the marine life is alive at night. In the evening, all night creatures begin swimming in the ocean, which is an entirely different experience altogether. Thus you can visit the sea aquarium. Sentosa could be described as an all-inclusive educational and entertainment program for all ages.
Skyline Luge Sentosa is a thrilling and fun spot to enjoy with your family and friends. The location offers an exciting experience for visitors with its Skyride and luge rides. It is located on Sentosa Island which is easily accessible via Sentosa Express or by bus A, and then alighting at the Bus Stop named Beach Station. Skyline Luge trip Sentosa is for people who are on their own, whereas the sky rides are for groups. event for groups.
The Sentosa Skyline luge and Skyride provide an unforgettable adventure for people. In Skyride, you can get a bird's-eye view of Sentosa's Island and the surrounding South China Sea. Skyride can be shared by couples during the night as they spend time with one another under the bright stars of a stunning night. It is believed that the Skyline Luge ride Sentosa are popular with youngsters because they provide an adrenaline-filled experience to crowds. There are many trails to choose from such as Kupu Kupu trails, Dragon Trail and Jungle trail, visitors can select the one that suits their needs. Night luge rides are also enjoyable on Skyline Luge Sentosa because of the distinctive lighting that makes the location, making the trail extremely thrilling. Overall an excursion at Skyline Luge Sentosa is a must. Skyline Luge Sentosa is essential, regardless of whether one is traveling on their own for a honeymoon or with friends since the location is a perfect fit for everyone's preferences and tastes. You can also purchase a Sentosa fun pass for exploring Sentosa's attractions.
Sri Mariamman Temple In Singapore:
The most ancient Hindu Temple in Singapore, Sri Mariamman Temple was constructed in 1827 under the direction of Naraina Pilai. The temple is generally known as Mariamman Kovil. It is a stunning example of Dravidian architecture and art, the temple is also said to be one of the most visited temples due to its spiritual significance, vibrant exteriors and stunning architectural design. The temple is dedicated to goddess Mariamman The goddess is believed to grant the devotees the ability to cure epidemic diseases and ailments. The temple's gate or gopuram is decorated with sculptures representing Gods, Goddesses and mythological beasts is something to behold. Due to its architectural and historical significance, Sri Mariamman temple Singapore was designated a National Monument on the 6th of July 1973. There are other free-standing shrines, with decorated dome roofs that belong to goddesses Durga and Lord Ganesha as well as Lord Shiva. Draupadi's shrine is the second-highest shrine of the Sri Mariamman Temple. To the left of it, wherein are the Pandavas that are overseen by Lord Krishna. The flagpole, which is free-standing, is a significant feature in the Sri Mariamman temple. At every major festival or religious ceremony there is a flag displayed on this flagpole. Make sure to visit this temple Sri Maha Mariamman Temple Singapore whenever you have the opportunity to visit and be amazed by its spirituality and beauty.
Siloso Beach in Singapore:
Siloso Beach, Singapore is the place to go for happy people due to the beach being located on Sentosa Island. It was first constructed by the British in the 1880s as part of the defense of Singapore It is now recognized as the most hyped beach in Singapore. Siloso Beach plays host to tourists from all over the globe to enjoy the energy and excitement on the beach and revel in the vibrant vibe. Siloso Beach, Sentosa, is located on the southern coast of the island and, while it's a great place to relax, it's extremely well-maintained, providing a relaxing time to visit and discover it is free of all kinds of garbage or garbage. There are plenty of activities at the beach, there's plenty of space for those who wish to sit and enjoy the sunset or sunrise. Many people travel from all over the world to enjoy Siloso Beach's party vibe and relax on the beach with friends who share the same interests. It could be bungee jumping in AJ Hackett, zip-lining, volleyball on the beach or trying the indoor Skydiving experience at iFly Singapore, flow-riding at Wave House Sentosa, enjoying the stunning 3D experience in Wings of Time or trying out water-jetpacks in the Ola Beach Club, people are able to enjoy it all. There are many cool places to eat, dance and drink in, and eateries for those who prefer to sit down and enjoy their meals without interruption.