Top Things To Do In Auckland: 72-Hours in New Zealand's Epic Harbor Town
Auckland is a bustling city on the incredibly scenic and mountainous North Island of New Zealand. At least one-third of New Zealand's population of 4.5 million lives in or around Auckland, and for a very good reason. The city is currently seeing growth unmatched in its prior decades. No matter whether its draw derives from the millions of sailboats visiting each year, the vibrant and unique influences of Polynesian culture, or the finger-licking good seafood available on almost every street corner, Auckland is guaranteed to delight with endless entertainment. Whether you are looking for top things to do in Auckland for kids or things to do in Auckland for free, the city will never disappoint tourists.
Yet, despite the amusements waiting around every corner, getting around this "City of Sails" can prove to be considerably overwhelming without having an itinerary in mind. That's why we've compiled an itinerary with some of the top things to do in Auckland on your 72-hour visit. Who knows? Maybe by the time you head home, you'll be considered by most Zealanders to be an honorary Kiwi.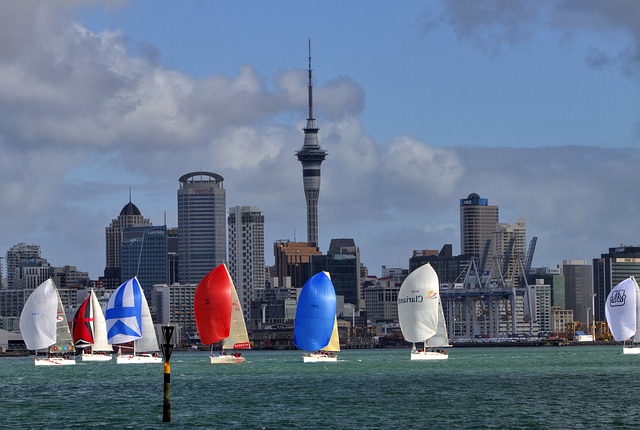 Auckland Itinerary – Day 1
First things first, let's talk about some of the practicalities for making the most of your 72-hour visit. Hands down, the best times to visit Auckland are from March to May and between September and November, primarily due to the gentler temperatures and the thinning of large tourist crowds. Remember, New Zealand is in the southern hemisphere, so their warmest months are between October and March.
Fortunately, Auckland has a plethora of airports within a relatively short area so planning your layover flight to Auckland should be relatively hassle-free. The largest and most popular in the area is the Auckland Airport, located just outside the city in the residential suburbs of Mangere.
One thing you'll notice quickly upon arriving in the city is that Kiwis sure love their coffee. With tons of local cafes and coffee shops, the coffee culture in Auckland is loaded with tons of options to choose from. You can attempt to try them all if you'd like, but if you'd like to avoid consuming lethal doses of caffeine, seek out Chuffed, a quaint but busy café tucked away on High Street. Chuffed is staffed with highly experienced baristas who live for crafting exquisitely caffeinated drinks.
From here, take a drive 20 minutes south to the affluent residential village of Mount Eden. Atop this volcanic peak, you'll not only find enjoyment in having spectacular views of the city, but there are also a considerable number of hiking and jogging trails leading to views looking over the Hauraki Gulf.
Once you've had your fill of immaculate vistas, head back toward the downtown of the area for some more excitement. If shopping is your thing, you'll be delighted to find tons of chic boutiques and designer fashion stores in Auckland. For some recommendations, be sure to check out the Britomart shopping mall, stroll around Queen Street for big brands like Louis Vuitton, M&B, Gucci, and Dior, stop in Ponsonby for modern furniture and gift shops, and end with Takapuna for everything else you may have in mind.
By the end of your first day, having climbed to see panoramic views of the city, and spending your daily allotment on a shopping spree, prepare for dinner with New Zealand delicacies at the Depot Eatery. Loved particularly for its fantastic oyster bar, Depot also boasts a wide array of other scrumptious seafood dishes. It is one of the top things to do in Auckland tonight.
Auckland Itinerary – Day 2
For the start of your second day in Auckland, treat yourself to breakfast at Pilkingtons. This breakfast café is beautifully arranged with ornate native plants to help you ease into a stress-free morning by dining in a garden oasis. Their scrambled eggs, made with bacon, potato layer cake, and sourdough toast, are simply out of this world.
After you're done indulging in delectable breakfast cuisines, head just outside of the city to visit Piha Beach. As one of the most famous beaches in Auckland (if not in all of New Zealand), Piha Beach is known for its stunning scenic views and world-class surfing along the shoreline. But even then, Piha Beach is known for yet another reason. The black sand along the shore is the result of volcanic eruption millions of years ago. Due to this, you'll additionally find tons of lovely volcanic boulders scattered along the shore.
Upon leaving the beach, head back into Auckland to see the city's most iconic image, the Sky Tower. This building is the absolute tallest in all of New Zealand and its majestic image sits against Auckland's cobalt blue skyline. From the bottom of the tower, you can take the elevator up to the peak for only $32 NZD. What makes this experience totally worth it is the fact that the Sky Tower is more than just an observation deck. From the peak, you'll find offerings like bungee jumping and a sky walking, allowing you to walk the outer edge of the tower. Just remember to pack a tripod for your camera if you hope to catch a stable photo from up above which is one of the top things to do in Auckland today.
At this point in the evening, if you're feeling tuckered out from a long day at the beach, rest assured. There are a number of restaurants in or around the complex of the Sky Tower. One particularly iconic restaurant is Orbit 360° Dining, a brasserie at the top of the Sky Tower with rotating windows and offering a range of hand-crafted exquisite dinners, like the Akaroa Salmon or the Cambridge Duck Breast.
As the sun sets while you enjoy your meal, take time to marvel at the nearby bays lining the city. Auckland is, in fact, one of the only cities in the world with two main harbors on either side.
Auckland Itinerary – Day 3
On your last day in Auckland wake up early to catch a ferry boat to Rangitoto Island. Although there are tons of islands close by to the coast of Auckland, this one is the most famous, primarily due to the shield volcano on the island. There are plenty of Auckland things to do while you're on this incredible island.
You can hike to the summit of the volcano on foot, which will take about an hour, or you can opt for a guided tour in a 4 wheel drive vehicle. At the peak, you'll find another scenic vista worth seeing while staying in the city.
Once you climb down from the peak, there are numerous lava caves to explore on the island, and the best part is, many of them are free to visit! You can also relax in some of the sprawling fields on the island, leaving plenty of room for a quiet picnic, a game of catch, or simply stretching your legs. Rangitoto Island is surely one place you can't leave off of your 72-hour Auckland itinerary thereby making it one of the best things to do in Auckland with kids.
From here, book a whale and dolphin watching cruise off the coast in the Hauraki Gulf. This guided tour will allow you to learn about the dense variety of marine life that exists in Auckland's waters and nearby to Rangitoto Island. Expect to get up-close-and-personal with marine mammal sightings, and score some incredible views of the coast as well. The 65-foot catamaran with an on-board cafe and bar seems to be the undisputed experience of a lifetime for fully relaxing on the golden coast of Auckland.
What's next waiting for you?
72-hours in Auckland may not be a long time, but it's certainly plenty of time to enjoy New Zealand's most popular city. Hopefully, this itinerary will help you to discover many of the best things while in Auckland. If you enjoyed this guide, feel free to comment on some of your favorite experiences in Auckland. If you are searching for the best places to visit in Auckland then check out our other travel guide.