Top Things To Do in Ladakh
Ladakh is a traveler's haven, with beautiful lakes, trekking trails, and valleys. Also known as the land of monasteries and monks, beautiful villages tucked away in picturesque landscapes, there is a lot to experience in Ladakh tourism.
Best Time To Visit Ladakh
The best time to visit Ladakh is summers (April to June) as the weather gets pleasant and the thick layers of snow start to thaw. In winter, the trip to Ladakh gets difficult as the Manali-Leh route is not functional and the Srinagar-Leh route gets prone to landslides. The list of best places to visit in Ladakh below will answer your question to why should one visit Leh-Ladakh?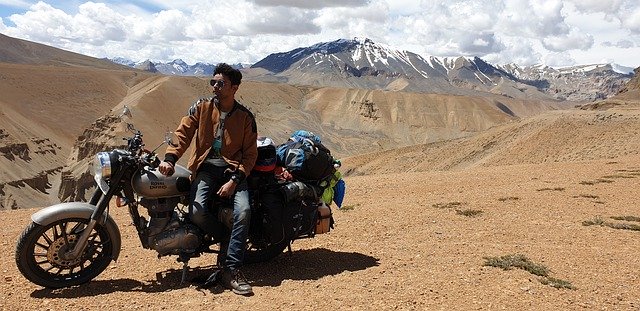 Things To Do in Ladakh
Located 45 Kms from Leh, Hemis (Himalayan Buddhist) Monastery holds the annual Hemis festival to celebrate the birth anniversary of Guru Padmasambhava in June. It is a two-day fiesta to celebrate good over evil from 11th July to 12th July 2020. It is believed that Guru Padmasambhava defeated the evil forces with the help of Vajrayana Buddhism.
The natives dressed in their traditional attires along with the Lamas gather in the courtyard, dance around to the beats of drums, longhorns, and cymbals. Beautiful handicrafts of the place are also showcased. The long gowns, elaborate masks, and headgears of Lamas and monks add to the charm of the festival. Otherwise, a cold deserted place gets lit with joy and all sorts of festivities during the festival. The highlight of the festival, 'Chham- dance' (the masked dances) is a depiction of good over evil. These dances are accompanied with performances of sacred plays that are amusing to watch. A local liquor 'Chang' is also served. People say you won't feel the spirit and true magnetism of Ladakh if you haven't seen the dance drama flaunting vibrant clothes and formidable masks of the Hemis Festival.
Enjoy a Bactrian camel safari
One of the major tourist places of Leh Ladakh is a safari on two hump camels. That's right, it is also one of the top things to do in Leh Ladakh with family or friends. Camel safaris are not only confined to the hot deserts of Rajasthan but also an important mode of transport in Ladakh's cold desert. These Bactrian camels have been a major mode of traveling since the 17th century and now also a major tourist attraction. The Bactrian camel safari is most popular in the Nubra valley. It takes around two hours for the safari to complete. Tourists can explore Ladakh tourism through this amazing safari from July to September. You can witness the scenic beauty during your Bactrian camel safari ride from Hunder to Turtuk.
'Chhupri' (the local name for yak cheese) is one of the must-try food items in Ladakh. Available in three flavors: Sweet, salty and plain, 'chhupri' is easily available in the main market and even sold by roadside vendors. Although a hard cheese and difficult to bite on large pieces, yak cheese is great in taste and said to have high nutritional value. You can even try yak cheese pizza in places like Gesmo restaurant and La Pizzeria in Leh.
Spend time with the monks
Hanging out with the monks at monasteries and indulging in reviving conversations is such a peaceful experience that should definitely be on your itinerary when planning a trip to Ladakh. Here are the names of monasteries that you must add to your final list of visiting places in Ladakh.
Hemis Monastery
Thiksey Monastery
Diskit Monastery
Likir Monastery
Spituk Monastery
Stakna Monastery
Alchi Monastery
Phyang Monastery
Takthok Monastery
Sumda Chun Monastery
Lamayuru Monastery
Phugtal Monastery
Shey Monastery
Rizong Monastery
Matho Monastery
Morning prayer at a monastery
When exploring the monasteries of Ladakh, also stay at one of these overnight and attend their morning prayer. Morning prayers will be a mesmerizing sight to see and which will be a soothing and beautiful experience added in the list of Ladakh things to do.
Known as gur gur chai in Ladakh, this salted tea is one of the most unique things ever to taste as we are used to drinking the usual sweet tea. This tea is prepared by boiling baking soda and salt with tea (usually using yak's milk) in a vessel called 'samovar' and then a chunk of butter is added later to the tea. This unique local drink gives warmth in the cold weather of Ladakh and is also said to be therapeutic.
Don't forget a Spituk Trek
Spituk trek, known for its gompas (Buddhist temple or monasteries) offers you an opportunity to explore old Buddhist monasteries, villages and rich Ladakhi culture. Spituk Monastery is the most known monastery of this trek and it is quite a great place to explore by the adventurous souls.
Picnic at Tso Moriri lake
A great place to enjoy a picnic lunch and relax while enjoying the mesmerizing views. Being surrounded by lofty mountains and bordered by Tso Moriri wildlife reserve is what makes the view from this site so beautiful.
Ladakh is one of the best-known places for stargazing in India. You can fulfill your stargazing dreams with unparalleled views of one of the clearest night skies in Lamayuru. It is a small village and houses a few of the oldest monasteries in Ladakh. The village is also known as 'moonland' due to its unusual land surface that closely resembles the surface of the moon. This is the place that you will never forget.
Grab the appetizing local food
Apart from offering multi-cuisine food items including Indian, Tibetan, Korean, and Chinese, Ladakh tourist attractions also offer a lot of unique and interesting food. Some of the must-try food items in Ladakh are- Ladakhi pulao, tigmo, saag, thupka, khambir, phirni, momos, skew, kulcha bun and cholak.
Highest Cafeteria In The World – On The Top
One of the most interesting Ladakh visiting places is the Maggi point which is the highest cafeteria in the world. You may have eaten this noodle at many places but we bet you haven't enjoyed this noodle with the mesmerizing view of Himalayan range at Khardung La Pass, which is one of the highest motorable passes in the world. The best time to visit Khardungla Pass is from April to June as well as September to October.
Glance The Beauty Of Nubra Valley – Panoramic Sights
Another fascinating place to visit in Leh Ladakh is Nubra Valley. Situated at a distance of nearly 140 kilometers from Leh, the Nubra valley is known for its scenic beauty and adventurous expedition. You will cross the flourishing Shyok and Nubra waterway to reach the valley which is likewise home to various wonderful monasteries. The region is under military supervision because of its vicinity to Siachen Base camp. The place is also known for Bactrian camel rides. The best time to visit Nubra valley is between June to September.
Peaceful Hours At Shanti Stupa – Religious Visits
Shanti Stupa in Leh is among the most famous Tibetan structures that are known for its design and excellence. Its white-arch structure is really hypnotizing and this place offers all panoramic sights of the surrounding area. The place will surely give you an ideal opportunity to restore your spirit in the midst of the peaceful ambiance of this stupa. The stupa was built up by a popular Japanese Buddhist, Bhikshu Gyomyo Nakamura in the year 1991.
What's next waiting for you?
Now you know what to do in Leh Ladakh, go ahead and plan your journey right now. The top things to do in Ladakh mentioned above will definitely more than enough to add an element of excitement to your tour. If you are planning to visit some other tourist attractions near Ladakh then check out our other travel guides to get all the information.