Top Things to Do in Phuket
The hugely popular tourist resort of Phuket is in Southern Thailand. Phuket is the main island but there are several smaller ones off its Coast within the Province. There is a bridge connecting Phuket Island to the Mainland of Thailand and its international airport means that there are plenty of flights bringing tourists direct to the place of their dreams.
With popularity comes the tendency for overcrowding and too much commercialism but there are plenty of escapes from the main conurbation where you can enjoy the natural environment, land and sea. Phuket's climate sees little temperature variation because of its proximity to the Equator. The dry months are between December and March but this is very much an all year- round destination for travellers.
Wherever you go in the Province there are photo opportunities. If you are not a seasoned traveller and know little about photography, get some advice. You want the best camera for photography and with the light so good, you are likely to have a memorable album of photographs when you leave. Some visitors even stay; they have found their paradise.
Be sure to pack all of the travel essentials such as: passport, visa, clothes, sun cream, travel towels, cameras, your best walking shoes before heading to this beach heaven. Here are some of the top places to visit and best things to do in Phuket Thailand.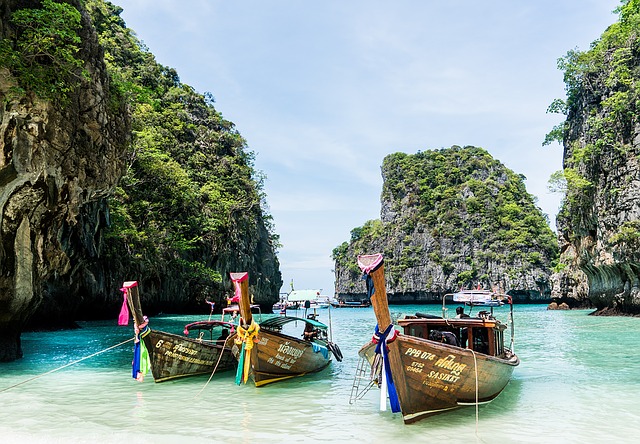 1. Phi Phi Islands
When people saw the hugely popular Leonardo DiCaprio film ''The Beach'' many of them said to themselves where is that paradise? It was one of the Phi Phi Islands, Koh Phi Phi, a speedboat ride from Phuket. This group of islands has changed and some will say too much. However, if you use your imagination to look past the developments, you will still see the lovely natural environment. The colours haven't changed. The sea remains a beautiful shade of blue, more than a match for the sky. Koh Phi Phi is the only one of the Islands that is inhabited. Some places are closed to the public and hopefully, future developments are more sympathetic to the environment.
2. Phuket's Beaches
Phuket Island itself has plenty of beaches that offer wide range of Phuket things to do with friends. The best sandy beaches are on the west of the Island but that means crowds. Patong is the best beach but the most crowded as well. It is a mile and a half long. There are hotels, bars and restaurants along its length so the choice is yours as to whether this is for you.
If you want a quieter time, there are options to the south. Karon is in the southwest of Phuket, another long beach with a little less development. You should also consider Rawai Beach on the southern tip of the Island and facing west. There is plenty of shade here and it is also the place where you can get a speedboat to the nearby Coral Island.
3. Coral Island
Another excellent excursion away from Phuket Island is the cruise to visit Coral Island. It is just 15 minutes by speedboat to reach Coral Island which has two main beaches, Long and Banana. This is a great place for snorkeling or scuba diving unless you just want to relax and take in the sun's rays. There are restaurants and bars as well as water sports facilities here. Banana Beach is the quieter of the two. If you want a really quiet time, stay there overnight and enjoy the place once the daytrippers have left, and the early morning before they arrive; 9.30 am.
4. Big Buddha
Thailand is a Buddhist country and despite the commercialism of Phuket, religion is very important to the locals. The Great Buddha of Phuket sits in a prominent position on Nakkerd Hill near Chalong. Work began on the Buddha in 2004 and the work is yet to finish. Donations are welcome to buy the white marble that covers the statue. It is still worth seeing and is the third tallest in the Country. The Big Buddha is almost 150 feet high and over 80 feet wide thereby making it one of the best places to visit in Phuket. It is made of concrete before being overlaid with beautiful white marble. The ongoing cost, the vast majority being donations, is approaching US$1 million.
5. Phuket Old Town
Phuket has an interesting history. Its Old Town is full of colorfully painted buildings from colonial times. They are typical Sino-Portuguese and line both sides of the ancient streets. Many of them are in modern use as shops, restaurants, hotels and most interestingly museums. There are several museums that are worth a little of your time, I recommend staying in Phuket Old town few days to see all of these attractions, this one of the best area to stay in Phuket.
Phuket's former tin mines brought many nationalities here including Chinese, Indians, Malays and Eurasians. Within the Old Town, there still remains a community with its own language and culture from those mining days in the 18th Century.
6. Aquaria
Qualified scuba divers will have a great time exploring the seas off Phuket. For ordinary people, the chance to see what lies under the waves can best be seen in the Aquaria on Phuket. If you are traveling with young children and looking for fun things to do in Phuket with kids then this is a great way to show them marine life.
There are thousands of species to see, mostly exotic and colourful. There are 30-something tanks, some seawater, others freshwater. You will see sharks, eels, dangerous stonefish and some species that need camouflage for protection. The highlight is Aquaria's tunnel where you can feel surrounded by huge fish as you walk along. Outside pools have endangered sea turtles and all signage is in Thai and English.
7. Cookery Classes
Thai food is now popular worldwide and cookery classes are now widely available to teach you the Thai basics. Your lesson will begin at the market where you will buy the fresh produce you are going to use in the lesson. Not only will you learn the basics of Thai cooking, but you will also have a lovely meal at the end. These days, it is likely that all the ingredients you need to cook these days when you are back home will be available locally. No matter what excites you, cookery classed is one of the unique things to do in Phuket Thailand all around the year.
8. Jungle Trekking
While most tourists stay on Phuket's coastline, there is another side to the Island, its mountainous jungle interior. Khao Phra Thaeo National Park still contains virgin rainforest as well as protected species of wild animals. Numerous trekking trails within the Park will delight hikers with guides readily available to advise. Ton Sai Waterfall is one of the Park's highlights in a natural area covering almost 1,700 square miles. The limestone formations rise above 3,000 feet. It is all quite a surprise bearing in mind the developments on Phuket's coastline.
There is a small Elephant Sanctuary in the Park, covering just 30 acres. In Asia, elephants are often working animals and there has been criticism of their treatment by humans. This Sanctuary looks after rescued elephants, some injured, others just old. They are well-fed, can bathe as they wish and wander around without disturbance.
9. Sirinat National Park
This National Park close to the International Airport north of Phuket Town incorporates both land and sea. It is just 35 square miles in total but it is an important area, especially because of the endangered sea turtle population. The Park has lost some land to unscrupulous developers because the original park had some great beaches. It still has lovely white beaches where turtles nest between November and February but increasingly in smaller numbers. Several tree species protect the beaches from winds and attract a range of birdlife. There is also a small area of mangrove where snakes and lizards as well as several marine species live.
What's next waiting for you?
Make sure you have the best camera for photography when you visit Phuket because there will be so many memories you will want to have in your photo album. Phuket is certainly popular and commercialized but it has plenty to offer even for those wanting to avoid crowds. If there are a couple of months to avoid Phuket because of rain, then they are probably September and October. However, you will avoid the crowds, have temperatures not much below 30C, and prices fall. Now you know what to do in Phuket you can go ahead and plan your journey with utmost enthusiasm.