Best Places To Visit in Boston
The United States has a lot to offer and that is including Boston, the capital of Commonwealth of Massachusetts. "Beantown," as it is often known, is an American culture and historical gem. The streets of Boston are home to some of the most famous universities, museums, parks and more. A whole package in itself, Boston is one of the oldest municipalities in the United States. Built on Shawmut Peninsula, Boston is witness to some of the many firsts of the United States, including the first-ever built public park in the United States, the first public/state school and the first subway system that connects various neighborhoods. No wonder, you will run out of time while exploring some of the top places to visit in Boston.
Housing some of the most top-notch cities of the world i.e. Harvard and The Massachusetts Institute of Technology (MIT) and Cambridge a subway ride away, Boston is no short of an education hub. A lively, youthful city, offering a peek into olden times, rich in architecture, parks and more, you will never run out on Boston places to visit while here.
Boston is a versatile city in America that makes sure you never run out of choices while cruising through different sightseeing destinations within the city. Most of the key highlights of the city are located within a very close distance which makes it easy for tourists to cover maximum destinations through walking. Whether those are educational universities, parks, museums or theatres, there is a lot to discover in this compact city. Go through following travel guide on Boston to know about must-visit destinations within the city:
Here is an all-inclusive list of the best places to visit in Boston that you shouldn't skip at all: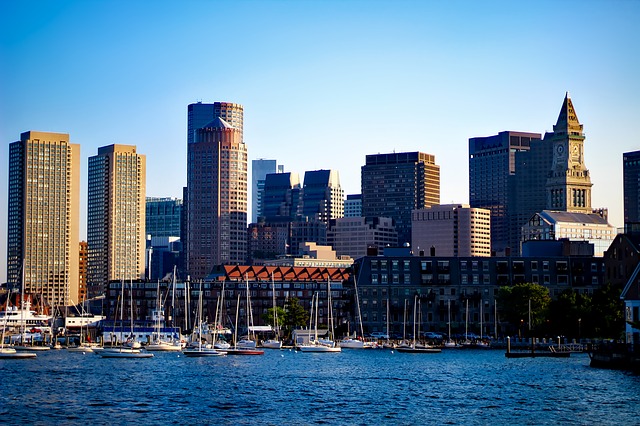 Experience the authentic American history on this four-kilometer long trail that covers the major attractions in Boston. The path leads right into the 16 most important monuments of American history. Grab a map, follow the red bricks or follow the footprints on the sidewalk and dive right into the past. Conceived in the 1950s, the Freedom trail starts with the Boston Common and ends with Bunker Hill Monument, a 220-feet granite, with a few churches, Boston's oldest cemetery and notable buildings along the way. This trail that links all the famous local landmarks has attracted thousands of tourists and still continues to do so. If you are a history buff, then this one of the best places to visit in Boston Massachusetts for you to start your amazing trip in Boston!
If you want to explore historical landmarks and monuments of Boston in one go then you should visit Freedom Trails. Here you will get an opportunity to visit more than 16 different sites by following trails of around three miles. Some of the highly recommended landmarks you can spot here include King's Chapel Burying Ground, Paul Revere House, Bunker Hill Monument, Old South Meeting House and Old Granary Burying Ground.
Located right in the middle of the city, Beacon Hill is one of the most beautiful neighborhoods in Boston. The south side of Beacon Hill has been home to 'Boston Brahmins,' members of the traditional old upper class. The brick homes on Beacon Hill are designed in Federal and Greek revival styles and are still very well maintained. The Nichols House Museum is adorned with decorative art pieces and furnishings from the 16th to 19th centuries and provides a peek into how the Brahmins lived. At the foot of Beacon Hill, at Charles Street, you will find several shops and boutiques for your souvenir shopping. While at the north side of Beacon Hill, one can engage in the Black Heritage Trail from April to November or can have a self-guided tour year-round.
Boston Museum of Fine Arts
The fourth-largest museum in the United States is decked with 500,000 pieces of art from all over the world. The Boston Museum of Fine Arts includes collections of ancient Egyptian Treasures, Asian and Persian Fine arts, Impressionist Paintings, and works from Greece and the Middle East. Its major attractions include the ivory and gold statue of the Minoan Snake Goddess from 1500 BC, 12th Century lacquered-wood sculpture of a Buddhist Bodhisattva and Korean Painted screens. In recent times an American Wing has been constructed that includes, in chronological order, collections of American Paintings, furniture, decorative arts, silver and glassware and more. The Boston Museum of Fine Arts is no short of a marvel in itself. The collections are praise-worthy.
Regardless of if you are a sports fan or not when in Boston, a tour of Fenway Park is a must. One of the oldest parks in Major League Baseball has been merited with 'America's most beloved ballpark.' Home to Boston Red Sox, a baseball team, one can witness a Red Sox game and experience the typical Boston culture. Whether you are a sports person or not, you will love this most happening complex in the city. A visit to this park will make sure that you will have a fun time with your companions. The park still features the old method of the scoreboard which is operated manually. The seating capacity of Fenway Park is extremely limited making it very difficult for spectators to get match tickets during Major Leagues organized here.
Boston Common and Public Garden
Boston, home to America's oldest park, Boston Common is the start of the Freedom Trail. At the center of the Park are various monuments including the Central Burying Ground of 1756. Rent Skates, pack a picnic or simply stroll along the path and strike up a conversation with the locals, Boston Common could be a perfect, relaxing end to your day of sightseeing.
Besides the Boston Common is America's oldest Botanical Garden, the Public Garden that spreads over 24-acres. The Victorian-style monuments, statues and more make the garden a visual treat. Ride in the famous Swan Boats, which was first launched in the 1870s, and witness Boston's scenery.
Boston Public Library and Copley Square
If you are a book-lover the Boston Public Library is where you belong. The Back Bay area on one side is surrounded by the Boston Public Library and across the grassy lawn is the Trinity Church. Founded in 1848, the library's Renaissance Revival architecture is one of its kind. There are several murals, granite medallion are some salient features of the library.
Considered to be one of the finest works of Hobson Richardson, the red sandstone building, is the Trinity Church. Just like the library, the church is bejeweled with frescoes, murals and painted decorations inside. Hence, if books don't interest you, then the architecture, paintings and murals definitely make it worth a visit.
New England Aquarium tops the list in attractions for families and animal lovers. Featuring over 20,000 aquatic animals and over 550 species, this man-made Caribbean coral reef is very famous. Hosting various kinds of tropical fish, sharks, turtles. You can also handle crabs, starfish, urchins at the Edge of the Sea touch tank. Tourists can also watch and interact with seals outside the aquarium in their enclosed habitat.
If you are done exploring historical landmarks and museums of Boston, it is time to experience its unique aquatic life. Come to New England Aquarium where you can spot more than 20,000 aquatic animals and fishes of more than 500 different species. Here you can also spot artificial coral reefs that are surrounded by a variety of underwater and tropical fish species such as moray eels, turtles, sharks and much more.
Boston HarborWalk and Cruises
Extending from Charlestown to South Boston, the Boston HarborWalk connects the Boston Waterfront. The walkway is full of parks, public art, benches, cafes, interpretative signs. If you want to explore the harbor further hop on the cruise boat, ferry or water taxi. The Odyssey cruise is well known amongst tourists and head over to Little Brewster Island. Enjoy the Boston skyline along the Charlestown Naval Yard. The tourist attractions of Boston are nothing short of fun and you will come to know about this fact when you visit Boston HarborWalk. If you are searching for one of the best places to visit in Boston Massachusetts then there can't be a better destination than this one.
Built-in 1740-42, the Faneuil Hall is often called as the 'Cradle of Liberty.' The ground floor of the hall is occupied by the market stalls while the upper floor is a council chamber, a meeting place of revolutionaries in the 18th and 19th centuries. Above that is the Ancient and Honourable Artillery Museum. Besides the Faneuil Hall, there are three other long halls, the Quincy Market, North Market, and South Market, which includes a plethora of shops, restaurants and exhibitions along with street performers. When you visit this kind if extraordinary Boston tourist attractions, you will be spoilt by choice, that's for sure.
This extraordinary museum features exhibits on different subjects including astronomy, zoology, ecology, chemistry, biology, physics and many more. It is not just for kids but most of the young also people find it interesting. Some of the key highlights of the museum include Butterfly Garden, The Planetarium, ComputerPlace, Electricity dome and much more. If you are planning to visit this exciting museum then make sure you allocate a whole day to visit its all offerings. All these reasons make this museum one of the best places to visit in Boston MA with family and friends.
Harvard Museums and the Glass Flowers
You may have visited different kinds of Museums in the world but this one is truly unique in its own. Here you can spot more than 800 different species of flowers with over 3,000 different models that are manufactured from glass material. It will be hard for your eyes to believe whether these items are really made from glass. It is part of an immense collection of Harvard which is demonstrated under a single roof of four different museums. If you are looking for some of the most offbeat tourist attractions in Boston then you should come to Harvard Museum.
What's next waiting for you?
Rich in history, architecture, culture, education and more, Boston is a city that is an artists' paradise. The monuments not far from each other ensure that people can visit them while on foot and take in the everyday lives of people as is. If this is your next destination, an amazing trip is on the cards! If you are searching for the top places to visit near Boston then you will find many of those.
While going through a diverse range of tourist attractions of Boston, you will get to know several historical facts about this museum. The city of Boston is very convenient for traveling and you can plan to cover the maximum places within a short time. If you are planning to visit a few more cities in North America the check out our other travel guides to get detailed information.
About Author
RIYA BAGARIA: From the City of Dreams, Mumbai, Riya believes in experiencing and exploring. Having completed her bachelor's in media, majoring in journalism, Riya is always on the lookout for honing her writing skills. Writing is her escape. She loves travel and writing, and believes each destination as an unique experience to offer which is waiting to be documented.