Cheapest Ways to Travel the World
Want to travel the world? You might feel that it may be too costly to travel, but, traveling the world does not necessarily have to be so much of a burden on your travel budget. It only takes some careful consideration and finding out what are the cheapest ways to travel the world. Check out this world travel guide that covers some of the best ways to know how to travel the world on a budget: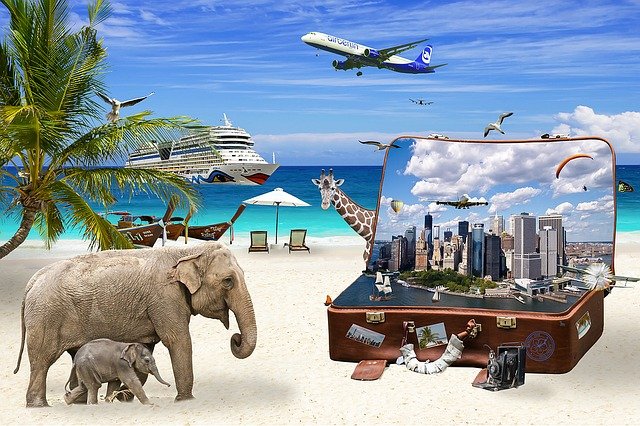 Teach English to Foreigners
Do you speak English fluently? Do you have a knack to teach English? Why not teach English to students in foreign countries. That way, you not only travel to a foreign land but also share your knowledge about English speaking with others. You will need a TEFL certification, of course. Many Southeast Asian countries need English teachers. You can also teach virtually, through one-on-one virtual classroom sessions. It is one of the most effective ways to travel the world for free.
Work Overseas
How about getting a job in some foreign land? You can always apply for jobs abroad, and you will also get to travel with the money earned. Seek jobs that will allow you to work with people. Tour guides, bartenders, working in cruise ships or yachts, work in casinos, restaurants, ski resorts, clubs, hotels, are the best jobs that will allow you to travel. You can also teach Yoga, or work as a caretaker, or housekeeping staff. It may not necessarily be high-paying jobs, but you can earn enough to travel more.
Cook your meals
One way which can make your travel much cheaper is to make your meals. That way, you are saving on restaurant bills. Just make sure that the place you are staying has its kitchen. You can then, take all the groceries you want, and cook for yourself. Or if you can make your sandwiches while you are on the go. If you are house-sitting or Couchsurfing then you may find a fully equipped kitchen where you can cook a decent meal for yourself and your friends.
Travel with friends
Traveling with friends will help you share your cost of traveling and this way you also won't have to travel alone. You can share all the travel costs like accommodation expenses, car rental charges, food bills, adventure activities, sightseeing fees, and other travel expenses.
Au Pairing
Au pairing might be one of the best ways you can see the world and its cultures. Au pairing benefits you in a way that you live as part of the host family, and helps in household chores, such as babysitting, domestic help, taking care of the family pet. You get to live with the family, understand the culture, and earn some money. Different countries have their own Au pairing rules and duties also vary from country to country. Find a trusted Au pair agency, contact a host, and you are all set to join them.
Go backpacking
Backpacking is the best way to travel cheaply around the world. You stay at cheap hostels or homestays and cutting down on expensive hotels or resorts. Backpacking also means that you do not opt for holiday packages, and are more interested in going out in the rugged country and experiencing raw nature. You can backpack while you are working in a foreign country, or even find good backpacking destinations on your own. This way, you come close to the natives and mingle with them, and seek more interactive travel experiences.
Visit a cheap country
You've always dreamt of visiting the Swiss Alps, but then one glance at the travel fare and hotel rates would dampen all your spirits. But then Switzerland is not the only country where you would find such magnificent mountains, is it not? You can always find a more budget-friendly travel destination, say Thailand, or Indonesia? With an open mind, you can always travel cheap to some less expensive country, where exchange rates are low. Southeast Asian countries, eastern Europe, India, Nepal, Bhutan, Mongolia all are budget travel destinations and are very cheap compared to other expensive countries.
Go in offseason
The off-season might be one of the cheapest ways to travel the world. Hotel rooms cost way less than the charge during peak season. Airfare might be low too. And you don't get a rush at popular tourist sites too. Go to destinations and find more about the best time to travel there. Choose your dates carefully, and go there when no one is going there.
Volunteer abroad
You could consider volunteering abroad, and this is also one of the most affordable ways to travel the world. You can volunteer for so many organizations, and they can arrange for your accommodation and flight bookings. You can even raise funds yourself through fundraising platforms. Evaluate your skills and offer your services for business planning, wildlife conservation, teaching life skills, and many other ways. Volunteering also gives you the incentive to travel to other destinations and seeing first-hand their cultures and local history.
Rail Pass & City Pass
If you feel your car rental is way too expensive for commuting between travel destinations, or sightseeing points within a city, then why not consider local transport. Many cities have their modes of transportation like bus, metro, shuttle, and going by these might be a cheaper alternative to traveling by a private car. In Europe, you get the Eurail Pass, while in the US it's the Amtrak Rail Pass. These allow you to use multiple modes of transport between cities and destinations. You can get a city pass and get discounts on entry to famous landmarks too. Paris Pass or London Pass will be able to give you free entry to famous landmarks within these cities.
Hitchhiking
While you may laugh at this idea, it is one of the most effective and free ways to travel the world. Getting a free lift saves some money while commuting in places. Read well about the place you are traveling to, and whether it supports hitchhiking. Some countries are not safe for hitchhiking, and you will only land in trouble if you are in unfamiliar territory. But if you are lucky, you will find hitchhiking helpful in cutting down on your overall travel costs.
WWOOF
If you like working with plants or tending to the garden, then you might consider offering your services to organic farms. Check out WWOOF (World-Wide Opportunities on Organic Farms), which has so many organic farms waiting for guests to come by and help in agriculture activities and gardening chores. You will not be paid, of course, but you will certainly live among the local people, and get to explore the surrounding country.
Peace Corps
Working with Peace Corps is not that easy as it sounds. It requires a commitment towards helping the poor and the needy people. You could be working in slums, in an impoverished neighborhood, or a farm, or a far-flung village, in almost every country. You will be far from the luxuries of modern cities. But it will be an eye-opening experience and also life-changing. You will undergo three months of intense training and spend two years working in hot humid environments or in a remote village where there is no internet connectivity, sometimes not even electricity. But it will enable you to travel the country and know the culture of the place up close. You will receive a stipend and accommodation, which is a comforting thing to know.
Drive someone else's car
Quite often people need someone to drive their car, and it might be one of the best ways to travel across the world. It is also cheap as the hosts might also sponsor your travel, and when you do drive the car, you also get to travel. You will enjoy being on the road, and driving a car, though it is someone else's, it will be one good road trip, especially if it's a foreign destination. The road trip on car will definitely teach you important lessons on how to travel the world on a budget.
House swapping or renting your home
You can swap your house with other guests and travel cheaply. When someone from Portugal wants to visit Australia, or someone in Australia wants to visit Portugal, you can swap your houses so that you don't have to stay in luxury hotels and pay hotel bills. You get a fully equipped kitchen, together with readymade furniture and other amenities, for free. You can also offer your house for rent to guests so that you have the extra money for long vacations.
Take up a challenge
If you like traveling a lot and are willing to join an expedition, then it also can be a cheaper way to travel around the world. You can join a cross-country motorcycle race, trek across the rugged Rocky Mountains, or one of the many Himalayan peaks. It will take some bit of training on your part to prepare for such tough challenges, but it will also be so much satisfying to you. You may have to sponsor the challenge to other participants, and the sponsors will take care of your flight tickets, itinerary, travel gear, and accommodation.
Stay cheap
If you do not demand too much luxury when traveling, then you may consider staying at a cheap hostel, or even a dorm in a travel destination. There are plenty of cheap guesthouses, homestays, available on Airbnb and other booking sites, where you will find hosts offering their properties at cheap rates. You will find sites like CouchSurfing.com, where you will find couches for free. It will surely cut down on accommodation expenses, which are the main reason why travel has become so much expensive.
Free activities
There is always something or the other activity that is freely available in any travel destination. Just find it out on the internet, or ask the locals about it. You may skip the taxi, and go on a walking tour all by yourself, or hike a mountain without a guide, or sit long hours on the beach and watch the sunsets. It does not take any money to do all these, and you can also find a native and chat with them about various things. You can even pay him by offering to do something useful or teaching a skill.
Staying outskirts in the country
Often visitors travel to a famous city, where transport and accommodation might be expensive. But if you just go outskirts of the city, and enter rural areas, or the countryside, then you might find cheap accommodation. Delhi, Mumbai, and many other cities of India, and even other South American nations, have huge rural areas, where you get cheap food, and can live in local houses, with cheap travel budgets.
Go camping
Camping outdoors is one way to minimize your night stay fares at hotels. It is a both refreshing and incredibly cheap way to travel any country. You will find camping grounds in many US national parks, where you can pitch your tent and stay there for nights. You will, of course, need to carry your food, drinks, medical kit, sleeping bags, and brace yourself for rough weather.
Travel to visa-free countries
There are some countries where you won't need a visa to travel. Countries like Bhutan, Nepal, Seychelles, Maldives, Fiji do need a visa to enter, and you do only need your passport. Many countries hand over visas on arrival, and these countries include Laos, Cambodia, Macedonia, Barbados, Kenya, Jordan, and others. They are cheap countries and you will find many hotels, guest houses, resorts here that are incredibly cheap.
Travel Slow
By slowing down while traveling, you are making travel cheaper. So what are the ways of slowing down on your travels? Stay at a place for more length of time, so that you can mingle with the locals, know more about the place and its culture, find the best markets there, find the cheapest restaurants to eat, and find the best modes of transport. You need not stay at luxurious hotels, and sharing a couch with a fellow traveler, might make the trip even more interesting. You might take the local bus, or the metro, and skip on the high-speed train, that promises to take you from point A to point B in a matter of a few hours.
What's next waiting for you?
Now you know the most budget-friendly ways to travel the world, you can plan your travel with utmost enthusiasm. If you are searching for jobs that help you travel the world for free then check out our other travel guides.