Most Popular Hot Springs in California You Must Visit
California, known for its diverse landscapes and natural wonders, has some of the best hot springs in the country. Whether in Northern or Southern California, these natural hot springs offer a rejuvenating experience, surrounded by stunning scenery.
We'll explore the best hot springs in northern and Southern California.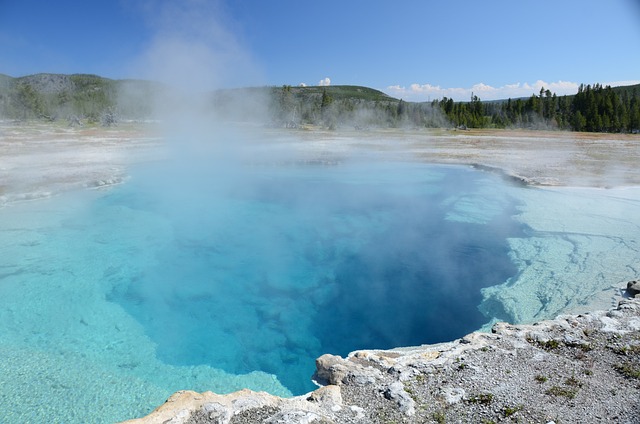 Best Hot Springs in Northern California
Vichy Springs Resort: Vichy Springs Resort in Ukiah is a landmark hot spring resort in NorCal and is among the best natural Hot springs northern California. Nestled amidst picturesque gardens and towering trees, Vichy Springs offers guests a tranquil atmosphere.
Its renowned Vichy mineral baths are supplied by North America's only warm carbonated "Vichy" mineral springs, known for their healing properties. With temperature-controlled private tubs and an outdoor communal pool, visitors can indulge in the soothing warmth while surrounded by the beauty of nature.
Harbin Hot Springs: Harbin Hot Springs in Middletown is among the best Hot springs northern California. This rustic retreat offers a variety of mineral pools ranging in temperature, allowing guests to find their perfect level of relaxation. The Japanese-style hot pool, nestled in a lush garden, provides a peaceful and serene experience. Harbin Hot Springs also offers overnight accommodations, immersing visitors in this tranquil oasis.
Sierra Hot Springs: Sierra Hot Springs, located in the peaceful town of Sierraville, is a popular destination for those seeking relaxation and healing. This historic hot springs retreat offers soaking options, including outdoor pools with varying temperatures and a large dome-covered pool.
Surrounded by breathtaking mountain views, visitors can enjoy the natural beauty. Sierra Hot Springs also offers yoga classes, massage therapy, and overnight accommodations for those looking to enhance their wellness experience.
Orr Hot Springs: Nestled in the heart of Mendocino County, Orr Hot Springs is a tranquil oasis known for its natural mineral waters. With both indoor and outdoor soaking options, guests can unwind and relax while taking in the beauty of the surrounding redwood forest.
The hot spring pools at Orr Hot Springs are carefully curated to provide a range of temperatures to suit every preference. This serene retreat also offers massage therapy, yoga classes, and cozy cabins for overnight stays, ensuring a truly rejuvenating experience.
Wilbur Hot Springs: Wilbur Hot Springs, located in the foothills of the Coast Range, is a unique destination renowned for its healing waters and serene ambiance. The hot springs at Wilbur flow, providing a refreshing and therapeutic soak.
Visitors can choose private tubs or immerse themselves in the communal pool while enjoying the peaceful surroundings. Wilbur Hot Springs also offers accommodations, including cozycabins and a historic hotel, allowing guests to extend their stay and fully embrace the healing powers of the hot springs.
Tassajara Hot Springs: It offers a unique blend of relaxation and spiritual nourishment. Visitors can soak in the revitalizing hot springs, surrounded by lush greenery and natural beauty. Tassajara Hot Springs also offers meditation classes, yoga retreats, and vegetarian meals, providing a holistic experience for mind, body, and soul.
Best Hot Springs in Southern California
Following are the Best Hot Springs Southern California. Also, check out our travel guide on Fun-Filled Places to Visit in Southern California.
Deep Creek Hot Springs: The Deep Creek Hot Springs are situated along the banks of a scenic creek and offer a tranquil setting for relaxation. The water flows from the ground at a toasty temperature, and visitors can choose between natural pools or private soaking tubs.
Wild Willy's Hot Springs: Wild Willy's Hot Springs is among the best natural Hot springs southern California has unique geological formation that consists of several hot pools of varying temperatures. Breathtaking mountain views surround the springs and offer an escape from everyday hustle and bustle. Visitors can take in the beauty of the Eastern Sierra landscape.
Gaviota Hot Springs: Gaviota Hot Springs is nestled in a picturesque canyon. The natural pools offer a relaxing and rejuvenating experience, with the soothing warm water providing a welcome respite from the outside world.
Tecopa Mud Hot Springs: Tecopa Mud Hot Springs is known for its unique mud baths that offer therapeutic benefits. The springs are surrounded by stunning desert scenery and provide a relaxing oasis. Visitors can enjoy soaking in the hot mineral waters before indulging in a rejuvenating mud bath, leaving their skin feeling refreshed and revitalized.
Saline Valley Warm Springs: Saline Valley Warm Springs is a remote and secluded hot spring destination. The springs can be accessed via a rugged dirt road and offer a peaceful retreat in the heart of the desert. Enjoy the vast expanse of the surrounding desert landscape.
Best time to visit Hot springs in northern California
The best time to visit hot springs Northern California is during the winter or early spring, particularly between August and October and February to April. The mountains are covered in white, creating a stunning backdrop for your soak.
Best time to visit Hot Springs in Southern California
The best time to visit Hot Springs Southern California, is spring, specifically between March and May. The weather is mild and pleasant during this time, making it ideal for outdoor activities such as soaking in hot springs and the spring season blooming wildflowers and lush vegetation, adding to the beauty of the surrounding landscape.
Things to do in Hot springs northern California
Soak in the hot springs: Northern California has various hot springs, each offering a unique experience. Whether you prefer natural pools, tubs, or mineral pools, you'll find various options to suit your preferences.
Enjoy healing treatments: Many hot springs resorts offer massages, yoga classes, and other therapies. These treatments can enhance your relaxation and provide a holistic wellness experience.
Explore nature trails: Surrounding the hot springs are picturesque nature trails waiting to be explored. Take a leisurely hike to discover breathtaking views, wildlife, and vibrant flora.
Visit nearby attractions: Hot springs in Northern California are often located near popular attractions. Explore nearby towns, national parks, or historic sites within driving distance.
Taste local cuisine: Experience the region's flavors by indulging in local cuisine. Many hot springs resorts have on-site restaurants or nearby eateries serving delicious, fresh, locally sourced dishes.
Things to do in Hot Springs Southern California
Soak in Natural Hot Springs: These natural pools of geothermally heated groundwater provide a soothing and therapeutic experience. Whether you choose to soak in a public hot spring or visit a private hot spring resort, the warm waters will melt away your stress and leave you feeling rejuvenated.
Enjoy Scenic Views: Many hot springs in Southern California are in picturesque settings, surrounded by stunning natural landscapes. Take the time to appreciate the beauty of your surroundings as you soak in the soothing waters. From desert vistas to mountain backdrops, these hot springs offer a unique opportunity to connect with nature.
Hiking and Nature Walks: Several hot springs in Southern California are located within or near beautiful hiking trails and nature preserves. Explore the surrounding wilderness, and spot native plants and animals.
Wellness Retreats: Some hot springs in Southern California offer wellness retreats that include yoga, meditation, and spa treatments. These retreats provide a holistic approach to relaxation and rejuvenation, allowing you to immerse yourself in a healing environment.
Best places to visit near Hot springs in northern California
Yosemite National Park: It is among the best places to visit near Hot Springs northern California. With its towering granite cliffs, majestic waterfalls, and breathtaking valleys, this national park offers endless opportunities for outdoor enthusiasts.
Lake Tahoe: Lake Tahoe is a stunningly beautiful destination near hot springs. The crystal-clear blue waters of the lake, surrounded by towering mountains, provide a picturesque setting for various activities like boating, fishing, kayaking, and swimming.
Big Sur: Big Sur is a rugged and scenic coastline stretch perfect for a day trip from hot springs. It is an ideal destination for nature lovers with its dramatic cliffs, pristine beaches, and ancient redwood. Visitors can enjoy hiking, camping, and picnicking while enjoying breathtaking views.
Napa Valley: Napa Valley is famous for vineyards and wineries. Wine enthusiasts can enjoy wine tastings, vineyard tours, and gourmet dining experiences. The picturesque landscapes and charming towns add to the overall allure of this region.
Point Reyes National Seashore: It has stunning sandy beaches, scenic hiking trails, and abundant wildlife viewing opportunities. Visitors can explore lighthouses, visit historic ranches, and spot marine life along the rugged coastline.
Best places to visit near Hot Springs in Southern California
Joshua Tree National Park: The desert oasis has stunning natural beauty. Explore unique rock formations, hike through Joshua Tree forests, and enjoy breathtaking views of the desert landscape. Also, check out our travel guide on top Things to do in California for more information.
Beverly Hot Springs: This hot spring is in Los Angeles and offers a tranquil oasis amidst the bustling city. The natural mineral-rich waters provide therapeutic benefits, promoting relaxation and healing. Visitors can enjoy massages and body treatments to enhance their spa experience.
Sespe Hot Springs: Sespe Hot Springs is among the best places to visit near Hot Springs Southern California, for nature lovers. Surrounded by lush greenery and majestic mountains, visitors can relax in the warm waters while immersing themselves in the serene ambiance of the forest.
Sycamore Mineral Springs Resort & Spa: Sycamore Mineral Springs Resort & Spa offers a luxurious and pampering hot springs experience. The resort features private hillside tubs filled with mineral-rich thermal waters, providing a therapeutic and indulgent soak.
Salton Sea: The Salton Sea is a unique destination offering natural beauty and hot spring experiences. Nearby, visitors can find hot springs where they can soak and unwind in the soothing mineral-rich water. It's a perfect spot for nature enthusiasts and those seeking a peaceful retreat.
Final Words
California boasts some of the best hot springs in the state's northern and southern regions. These hot springs offer a relaxing soak with healing minerals and luxurious stays. In Northern California, Vichy Springs Resort provides rejuvenating experiences amidst stunning landscapes.
Deep Creek Hot Springs offers a unique desert oasis in the Southern region. These hot springs are a soothing escape and connect you with nature and the beautiful landscapes of California.