Top Things To Do in Las Vegas
Now Las Vegas is a place not everyone can handle! It's one such city that people either hate or love. People love it because of its glamor and casinos while on the other hand, many people hate it for the same reasons! There is a heap of cool things to do in Las Vegas with so many cheap events and foodies places to enjoy to your hearts out. It's a mind-boggling city with so many wonderful places to visit and spend an amazing time!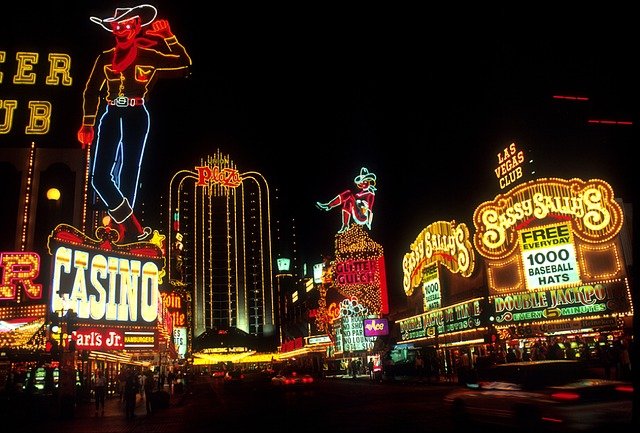 Check out Fabulous Las Vegas Sign
No trip to Las Vegas is complete without visiting and see the fabulous Las Vegas sign designed by Betty Willis in 1959 and since then, it has been attracting thousands of visitors to this place daily. It is a complete neon sign banner and visiting this place is completely free. The parking lot of this place is full quite often but you have to be patient for getting your turn in checking this signboard out. You may even have to wait to get a photo with the sign but even that line moves out fast. It is one of the top things to do in Las Vegas tonight that must be added to your itinerary.
Taking the Fremont Street Experience
Fremont Street is only the pedestrian area compiled with the best and unique experiences that thrills people and they love coming back to this place time and again. A 5-section block of Fremont Street is covered with LED lights illuminating the sky with various lights and colors which is such a grand spectrum. You can enjoy a great night with visual performances and night music taking place. Fremont Street is just a few kilometers from the Strip so you can book a taxi to reach the place. The Fremont Street lights show is a blissful show that you simply cannot afford to miss out on which is also one of the cheap things to do in Las Vegas for free.
Talking food walk tour in Las Vegas
Lip Smacking dishes are awaiting you in this joyful culinary experience where guides will be guiding you to visit signature restaurants to try out their sample dishes and recipes. You don't have to wait in line or even for tables as you have just 1 day to enjoy the best of food experiences in Las Vegas restaurants. Guests can also take their self-guided tours to places like Fremont Street, the Arts District, and Chinatown. You will get to taste authentic foods of Las Vegas which are so delicious. If you are searching for unique things to do in Las Vegas this weekend then a food tour is a must.
The neon Museum gives you an exotic experience of the past of Vegas shown using Neon signs and marquees that you get from casinos. The attraction of the museum glows at night with all the Neon sign lights getting brighter and glowing. Check out "Brilliant" which is a light and video in music bringing some of the neon lights back to life. No Neon Sign is plugged in and yet it glows so brightly. But if you prefer seeing the Neon signs from your home only, you can download the Neon Museum App for digital exploring all the 25 exhibits.
Getting soaked in the eternal beauty of Bellagio Fountains
This is not only one of the free things to do in Las Vegas but also one of the coolest tourist attractions in Las Vegas. The sight of the fountain water touching the sky is so mesmerizing getting 500 feet above air and it can never get old. You see it years later and it will still remain the same. The fountains run for 15 minutes every night and for half an hour even in the broad daylight. But people love witnessing it only during the night for its beauty. No wonder it is one of the fun things to do in Las Vegas with kids and family.
Step to the town for some real fun
Take a break from playing casinos and head out for some amazement to the Southeast of Vegas with the Hoover Dam offering some adventurous tours for the travelers. You can also get to ride in the train tracks with the Rail Explorers and also get a chance of visiting the free Hoover Dam Museum located in Boulder Dam Hotel. Just grab a beer and beef burger on the way, precisely from The Dillinger because the burgers are that good here! It is an old bank that has been converted into a bar and restaurant. If you are searching for some of the free things to do in Las Vegas today then come to town.
Grab in some artisanal chocolates
Las Vegas is home to some famous chocolate makers in the world. Try out Marie Auboine Chocolatier for some luxury chocolates melting in your mouth and there are so many retail shops selling so many treats ranging from caramels, truffles to chocolate scrubs. All of the chocolates are crafted with palm sugar, cocoa along with a touch of milk and vanilla. All the chocolates as desserts are so delicious that you will feel like having them so many times during your trip to Las Vegas.
If you don't know where to go in Las Vegas, then The Strip is the answer to all your queries. It is a 3 km long stretch running from the middle of Sin City having themed cafes, luxurious restaurants, casinos, and resorts. You will not feel like coming out of this place once you enter the Strip. It looks gorgeous during the night with the neon light illuminating in the night sky. It becomes such an enthralling experience that is not to be missed at any cost. Every best place in Vegas revolves either in and around the Strip.
Enjoying a Gondola ride right inside the casino
All the gondoliers at the Venetian come to pretty close deals and a gondola ride right inside the casino is such an amusing experience. You will be floating under the bridges and passing by trendy cafes and restaurants and people walking on the sides of the bridge. Just like what you would have got in Venice! The ride for two turns out to be expensive but it is so worth it! If you want a casual ride on the canal, then you can get that too. Get on the shared gondola ride taking you to Madam Tussauds as well. It turns out to be a real deal for you!
Drive towards the Red Rock Canyon
The 13km long drive in the Red Rock Canyon Park is exhilarating where you will be getting to see some amazing sandstone rock formations along with the beautiful vistas. You can stop by the side and take views of the formations or even have a picnic in the nice weather that you will be getting. Enjoy serenity and peace in the park! If you are in an active mood, you can also hike to the Red Rock. Keep your eyes on the exotic flora that you will see along the way that also makes it one of the romantic things to do in Las Vegas during the day.
Having a Las Vegas buffet
One of the best things to do in Las Vegas for couples is to try out a Vegas buffet and if you are a foodie, this will surely attract you. There are varieties that will make you astounded. Choose your buffet wisely and even if you are a vegetarian, you will be getting steamed veggies and so many other mouth-watering dishes. If you are having a sweet tooth, options are there at Wicked Spoon, the Cosmopolitan Buffet, etc. The buffets, in general, are not expensive but if you are having it at the non-standard time, you will have to pay VIP charges at times.
What's next waiting for you?
These are some of the top things to try out in Las Vegas. From the options, which one interests you the most? Whether you are looking for cool things to do in Las Vegas Strip or family things to do in Las Vegas Nevada, the above travel guide covers everything. Now you know what to do in Las Vegas, go ahead and plan your trip with total enthusiasm. If you are planning to visit some other popular cities near Las Vegas then don't forget to check our USA travel guide.
About Author: R Bhabanasree