Top Things To Do in Maryland
Maryland is a little state in the United States which wraps around the Chesapeake Bay. Maryland experiences four equal seasons; with spectacularly beautiful springs, breezy falls and mild winters, it almost makes up the weather for a perfect dream destination. It's known for the largest city in the state being 'Baltimore' and crabs, of course! Maryland things to do will not only attract you with its admirable scenic beauty and wonderfully delicious seafood, but the state also has a major history having witnessed the War of 1812 and civil war, also being a part of the industrial revolution, the space age, and mostly all other major American stories.
Even with its small size Maryland provides a variety of tourist attractions- from thick forests to oceans and beaches, from waterfalls and lakes to hiking and mountain climbing, from wildlife and migratory birds to city life, museums, and monuments.
Whether you are looking for best places to visit in Maryland for couples or fun things to do in Maryland with kids, here we will take you through amazing drive to Maryland: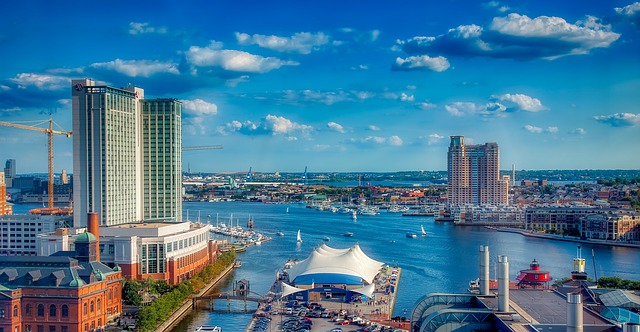 EXPLORE FORT MC-HENRY NATIONAL MONUMENT AND SHRINE
Amongst the rich heritage of Maryland comes Fort McHenry national monument, with well-kept grounds, friendly staff and amazingly built; you can take tours through the buildings, walk the ramps and watch a presentation on the history of the fort. The fort is known to withstand a 24-hour bombardment by the British in 1814, this fort saved Baltimore from being occupied by the British. It's perfect to visit for a fun time with your family and friends.
ENJOY TOUR OF NATIONAL AQUARIUM
Located on Baltimore's Inner Harbor, this aquarium has about 20,000+ animals, 800+ species under one aquarium including sea animals, birds, mammals also plant life showing how the animals from the deep oceans and dense canopies are connected to water. Not only this, the aquarium has several projects and missions going on to protect the animals and save the planet, they rescue injured sea animals and provide shelter to them. So for a breathtaking experience, that's the stop. If you are searching for top things to do in Maryland Baltimore today with kids this you must add National Aquarium to your itinerary.
TAKE A TOUR OF ASSATEAGUE STATE PARK
Found on the Assateague island, on one side of this island is a breathtaking landscape of the Atlantic ocean, with a long beach running alongside makes this place popular in summer for surfing and swimming. On the other side is a windswept grassland supporting a wide range of wildlife mostly feral horses. This park provides camping facilities, picnic tables and a little snack bar too. Amazing experience to be with family.
DON'T MISS ANTIETAM NATIONAL BATTLEFIELD
Enriched with war history this place explains the terrible costs of wars. During the civil war of 1862, armies approaching each other from both sides led to the bloodiest days in the history of Maryland. This battle killed, wounded, injured nearly 23,000 men. Today this battlefield stands out in the countryside peaceful as ever, filled with rows of monuments including – Dunker church, Sunken Road, Burnside bridge, etc. which all provide a great sense of the history witnessed by Maryland.
BALTIMORE AND OHIO RAILROAD MUSEUM
So, are you very fond of trains too like our beloved Dr. Sheldon cooper?? Here's your stop. This museum comes amongst the rich historical and tourist attractions in Baltimore and provides a brief overlook of the American Railroad history. The museum has working models of various locomotives, trains, and coaches. Having many monumental attractions the best one is in the Roundhouse, which displays 22 connecting lines. For a fun-filled time, do visit.
BLACKWATER NATIONAL WILDLIFE REFUGE
Located on Maryland's Eastern Shore, covers about 26,000 acres of land in little ponds, grasses and forests. This place is a habitat to large of migratory birds who visit here every season, and this makes it a popular attraction for bird watching and counting camps. This is also home to a fox squirrel who recently made out of the endangered species list. You'll be able to witness beautiful wildlife here at any time of the year, but during springs and falls this place is not less than heaven. You can just look through the place on numerous walking trails.
MUST VISIT OCEAN CITY BOARDWALK
Ocean City has 10 miles of free public beach and then 3 miles of the wooden boardwalk which makes it one of the best tourist attractions and cool things to do in Maryland Ocean city. Alongside, there are shops, a Ferris wheel, a roller coaster, a carousel and little pretty shops selling food from hot funnel cakes to seafood. It's a complete package with the ocean breeze and romantic walks, a little amusement park swings and an exquisite experience. If you are searching for free things to do in Maryland today then you should take a stroll at the nearby beach.
OLD TOWN ANNAPOLIS AND WILLIAM PACA HOUSE
Between the Town dock and Maryland State House, these few blocks are filled with history and charm. This narrow street lane is filled with unique bricks and buildings which further leads to the William Paca House and garden, where lived William paca, the person who signed the declaration of independence. This house of the paca family is furnished with paca family items, beautiful antiques and sets a great example of the colonial Era prosperous Annapolis families.
AMAZE YOURSELF AT BALTIMORE INNER HARBOR
The whole area is filled with beautiful clear blue water on one side and queues of wonderfully made amusement parks, restaurants, shops, historic ships, and antique stores; this place is a full-fledged space for a fun family day out. These have historical ships like USS constellation, USS torsk, US coast guard cutter Taney, etc. with great meaning to their existence. Around the harbor are different tourist attractions – National Aquarium, Visionary art museum, Maryland science center, etc. moreover, there's a wide range of shops and restaurants to complete your day.
What's next waiting for you?
Whether you are looking for fun things to do in Hagerstown Maryland this weekend or romantic things to do in Salisbury Maryland, the above travel guide covers everything. Once you get acquainted with what to do in Maryland, you can plan your tour with utmost perfection and total zeal. If you are planning to explore top places to visit near Maryland then check out the best places to visit in Virginia. Hope you enjoy your visit!!
About Author: Kirtika Tiwari is a very professional and skilled writer who shares her travel experiences through regular blogs.