Top Things To Do in San Antonio
To all the travel holics out there, if you are looking out for destinations to land your ever-ready travel feet at then we are pleased to introduce you to this beautiful city, a major one, in south-central Texas.  Having a rich colonial heritage the city is sure to give you a cultural blast owing to its rich heritage. The deep history contrasted with the rapid growth is indeed worth being a part of. Whether you are looking for cool things to do in San Antonio for kids or the best things to do in San Antonio this weekend, the city fulfills expectations of every traveler.
With visitors flocking in mainly to experience the Tejano culture, San Antonio has grown its attractions and expanded to include new neighborhoods offering a richer and diverse historical and cultural encounter.  Whether you are visiting it for work or a vacation, here's a list of top things to do in San Antonio Texas you must indulge in without fail while you make your presence felt in this incredible city: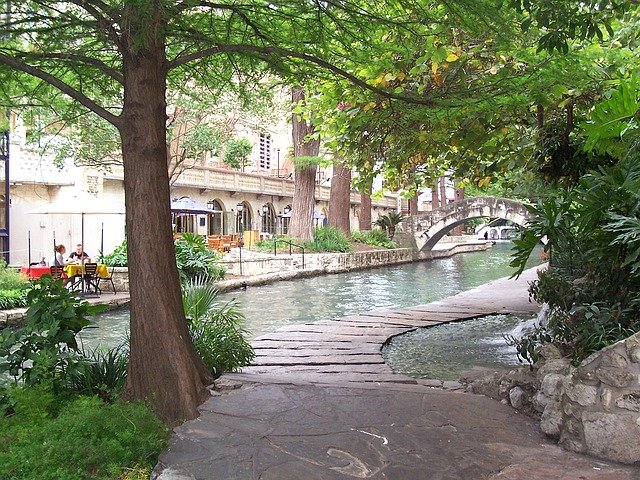 Also known as Paseo Del Rio, this wonderful place is situated 20 feet below street level and is 15 miles long. The most popular section of the river is 5 miles downtown San Antonio and houses shops, museums, restaurants, hotels and a lot more. The stone pathways peppered with river taxis, bands set up a soothing yet fun ambiance for visitors to enjoy while they get lost gazing at the beautiful architecture surrounding them. Take a stroll along this beautiful path and we assure you will have a wonderful time! No wonder, it is one of the free things to do in San Antonio today that you must add in your itinerary.
Soak in artistic vibes at the San Antonio Museum of Art:
Offering cultural experiences unlike any other, this incredible place is located in a complex that once housed Lone Star Brewery. Featuring an impressive collection that spans over 5000 years and has various genres at the display, this place is a treat for art lovers. Best known for housing impressive Egyptian, Greek and Roman art collection, the museum will definitely make your eyes go-round at every step you take thereby making it one of the unique San Antonio things to do.
More artistic pleasure at McNay Art Museum:
A sight to behold this museum, a house to a number of impressive art collections by renowned artists is set amidst the backdrop of a Spanish colonial mansion. Named after artist and art collector Marion Koogler McNay who had collected over 700 artworks by Diego Rivera, Van Gogh, and Picasso. The museum currently includes 22,000 pieces of art from the 19th to 20th century for you to admire with all your heart.
Explore the Alamo culture:
Founded in the 18th Century the Alamo Roman Catholic Mission, now a museum in the Alamo plaza educates on the famous 1836 Alamo battle. This place offers a magnificent opportunity for visitors to learn about the mission's fascinating history through the various eras. The always ready to help tour guides are well informed and friendly to ensure you have a marvelous experience. Do visit the gift shop to check in a few souvenirs.
Hang around in the San Antonio Botanical Garden:
A fantastic venue to visit all around the year this 38-acre botanical garden is a treat to visit. Presenting a wonderful mix of colors and fragrances of plants and flowers this garden is eye candy. Housing various exotic tropical selections, this place also provides a lot of information on backyard design. A walk along the WaterSaver Garden is sure to inspire you to help get eco-friendly and economical! If you are searching for some of the romantic things to do in San Antonio for couples then you shouldn't miss a visit to this garden.
A drive around Natural Bridge Wildlife Ranch:
Home to 500 animals of 40 different species this 400 acre is lined with trees along gentle sloping hills. Drive-thru the park enjoying the refreshing natural ambiance as well as your kids will enjoy themselves to the fullest after greeting their favorite animals closely. A fun day, while you take your family out for a safari, is indeed an attractive option! The best part? You can drive through as many times you want and you also get a free bag of food with your entrance fee.
If you are in a mood to explore something new and exotic then a visit to the Natural Bridge Caverns is a must! The largest known caves in the United States it is a magnificent place to visit with your family. Courtesy of the 60 ft natural limestone slab bridge that stretches at the entrance of the cavern's amphitheater the venue is awarded this interesting name. A walk along the well-paved and lighted walkway will lead you to discover astonishing foundations present in the underground chambers. The presence of a mining replica allowing kids to look around for gold and other gems makes it one of the fun things to do in San Antonio with kids.
Fall in love with theatre at the Majestic Theatre:
A paradise for theatre lovers, this place is bound to make anyone take an interest in theatre and plays. To make your evenings fun you must catch a show at this iconic open-air theatre. San Antonio's oldest and largest theatre, it was designed in 1929 and has a seating capacity of 2311. If you are looking for a chance to dress up or looking forward to spending a casual evening a visit here caters to both needs.
Have a wonderful time at Morgan's Wonderland:
Once a limestone quarry this park was renovated and rebuilt to offer over 25 attractions. A much-needed amusement for all regardless of age this place will lighten up your mood and add on a wonderful spark to your vacations. Comfortable and safe the presence of a courteous and kind staff makes your time there more easy and pleasant. Charging a nominal entrance fee for the general public the entrance for those with special needs is free. Laugh your day out while you make new memories. It is one of the cheap things to do in San Antonio for free that must be part of your itinerary.
Mexican taste at the San Antonio Market Square:
Stroll along the square's three-block outdoor plaza lined with eye-catching colorful shops and mood uplifting restaurants. Blasting with Mexican culture this place provides has specialty shops selling leather belts, hand embroidery dresses and other artistic materials. Treat yourself with delicious snacks and pick up a few souvenirs to take back while the lively atmosphere and Hispanic festivals taking place around raise your serotonin.
Explore the haunted with San Antonio Ghost Tour:
If you are looking for something thrilling while you are on your vacation, you must not miss being a part of this tour. The ghost tour covers San Antonio's most haunted and historical sites which is more of a historical and educational experience and can be enjoyed by all. The guides and their interesting costumes which include dressing up in historical dresses and carrying lanterns create the perfect ambiance. They will keep you thoroughly entertained by retelling fascinating stories of the past while you stroll along the quiet streets of Old San Antonio. If you are searching for some of the top things to do in San Antonio tonight then you must opt for this ghost tour.
Step back in time while you pay a visit to the History Shop:
A marvelous place for all the history buffs out there, this place makes you go back in time as soon as you step in. Having a fascinating collection of original antique books, maps, and even weapons this shop specializes in Texas history as well. They also offer restoration services where books, maps, photos and various other documents are painstakingly and lovingly restored. You must not miss the shop's audio and light show will you pay a visit there, and educational experience indeed!
What's next waiting for you?
While we understand no trips complete without satisfying your taste buds here's a list of dishes you should try while you move around visiting and exploring the above places and making new memories. San Antonio provides delicious food that's enough to make your taste buds tingling. While you take a stroll along the Riverwalk you should totally try chips and guacamole at Boudro's Texas Bistro that would serve as a perfect end to your fun outing at the Riverwalk. Now you know what to do in San Antonio, you can plan your journey with total enthusiasm.
A city that offers various cuisines and in its best quality, if you are in a mood to go Asian you must treat yourself Tonkotsu Ramen at Kimura. Seafood tower at the El Bucanero for that perfect gram shot and a Brisket grilled cheese at the Smoke Shack to rock your world are a few of the must try's when you are touring in this wonderful city. An enjoyable trip and camera loaded with pictures guaranteed when in San Antonio! If you are planning to visit some other cities near San Antonio then don't forget to check our USA travel guide.
About Author: Anwesha Ghosh