Where To Stay in Abu Dhabi: Best Places and Hotels
The best place to stay in Abu Dhabi can not be pointed to a single spot as similar to the touristic avant-gardism of this capital of Emirates tourism; its hospitality centers are also exemplary. On every junket, where to stay is a big question but when you are in Abu Dhabi then this question has so many answers. No doubt that your hotel room decides much of the how your tour is going to be as that is the place where you will shed all your exhaustion of the day and will get ready to bounce back to more fun. Whether you are looking for the best hotels in Abu Dhabi or luxury hotels in Abu Dhabi at an affordable price, the options are limitless.
There are a plethora of places to stay in Abu Dhabi UAE. So here are some of them to make your task of finding the best place to stay and hotels in Abu Dhabi airport easier: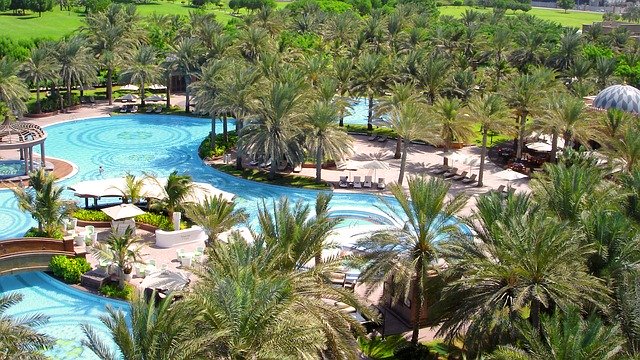 Saadiyat Beach
Abu Dhabi is known for its quiet and composed environment as compared to its glittery version, Dubai. But Saadiyat beach is a place where peace and serenity are redefined with a buttering of luxury. Lying between Abu Dhabi international airport and downtown Abu Dhabi, this royal zone is quite captivating. Decked up with eye numbing beautiful beaches and being the epitome of lavishness, Saadiyat Beach is streamlined by amazing hotels and resorts each offering a pallet full of royal facilities and unanticipated level of hospitality. The public beaches of Saadiyat brim of paradisaical beauty and make their spell on you. If you still want more, then many hotels even have their own private beaches with many activities available. If you want a nice honeymoon or a peaceful solo junket then Saadiyat Beach is one of the luxury Abu Dhabi hotels to stay for sure.
Stay Options in Saadiyat Beach
When we are claiming Saadiyat to be one of the best places to stay in Abu Dhabi hotels then for sure its wide range of hotels and resorts is exceptionally awesome. Saadiyat Beach houses some of the plushest accommodations in Abu Dhabi hotels luxury. Also, you can find a good range in pricing here.
St. Regis Saadiyat Island Resort
This is one of the ideal 5-star hotels in Abu Dhabi and a serene space which overlooks fascinating Saadiyat beach golf club. It is just a few-minute drive from downtown Abu Dhabi. This resort extends luxurious facilities like Iridium spa, indoor lap pool, outdoor pools, and a private beach, 6 destination restaurants and bars, and many more elements that are sure to fill your stay with ultimate leisure and ecstasy. The beautiful architecture of the rooms comes back from Mediterranean days with subtle yet romantic interior and each having an extended balcony. Though it is listed amongst one of the luxury hotels in Abu Dhabi, every penny is worth spending as the facilities and services are just impeccable.
Park Hyatt Hotels and Villas
Another luxurious hideaway in Abu Dhabi which boasts about pristine views, bountiful facilities, and compassionate services is Park Hyatt hotels and villas. The place is perfect for family stays as it is full of both beach and desert activities within the arena of the hotel which is no less than a mini-city. The rooms spill off modern facilities and a leisure suitable ambiance. The staff is welcoming and serves you like a king.
Al Maryah Island
This one is one of the latest developments of Abu Dhabi yet its charm splurged very fastly among the natives and tourists. A space with high-rise buildings and enticing panoramas, Al Maryah islands are all that someone looks for in the best place to stay in Abu Dhabi. The presence of the Galleria Mall makes it an even tempting zone to stay as you can have plenty of shopping opportunities here. Location of Al Maryah in the city center makes it a good choice for an easy trip to many attractions of Abu Dhabi and also, the landscapes here add sufficient support to your argument of staying here. Since it is moving towards being the next cultural and commercial hub of Abu Dhabi, so, it is accommodated with state-of-the-art hotels and resorts for a memorable stay.
A palatial and elevating accommodation, Rosewood is renowned all over Emirates as this classic hotel extends most high-class facilities and services to its visitors. Apart from the extravagant outlook and interior of the hotel, its tranquil spa, luscious food serving restaurant, sophisticated lounge, and suites with exceptional amenities make Rosewood pulling destination for Abu Dhabi travelers.
The pool terrace is something that exquisitely attracts many as it describes fun, entertainment, and luxury all at the same time. If you are also such an aficionado for pool terrace then Four Seasons hotel is one of the best Abu Dhabi hotels for you. The pool is not just the USP of this plush accommodation as it is embedded with all leisurely facilities expected in a hotel with so much fame around the globe.
Yas Island
Traveling with family? Yas Island is your destination featuring several luxurious and cheap Abu Dhabi hotels. This artificial huge complex contains many family fun zones like the Ferrari World, Yas Water world, etc. These can be good places for draining your adrenaline. Since the island is close to the airport so it is convenient for travelers as well. Yas link golf course, Yas Mall and Warner Bros themed park are other fascinations to attract families to this place.
Yas Viceroy Abu Dhabi Hotel
Stretching against the Yas Marina Circuit, the Yas Viceroy hotel serves for an ultra-modern accommodation which allows you to overlook the mighty track of formula one racing which can be used for jogging or strolling as well. Moreover, the hotel also extends sands for a private beach. The services and facilities at this Luxury Abhu Dhabi hotel are undefeated in all terms.
The Corniche
Spellbinding is the word that describes this 9 km stretch against the glistening Abu Dhabi skyline. The Corniche is amongst the most sought-after destination by tourists to unpack their bags as this place has something for everyone. Families, honeymoon couples, youngsters group, and even senior citizens seeking relaxation after retirement, it is a perfect destination for all. Along with beautiful landscapes for a picturesque background, the Corniche also hosts a wide range of recreational activities to keep your junket full of fun and entertainment.
Though Radisson Blue Hotel doesn't need any introduction, in the Corniche it is even better as it sways beautiful horizons of the Corniche through its intricate balconies for the guests to enjoy amazing views of the city. The services and facilities are beyond expectations and satisfying to brim.
Jumeirah At Etihad Towers
It is an iconic accommodation that can upscale your stay with lavishness and grandeur it instills in its facilities. The Jumeirah is known for its uniquely featured rooms and extremely friendly staff. They make sure that your stay is convenient and royal.
Tourist Club Area
To witness the real essence of energetic and fun-loving hotels in Abu Dhabi airport, book yourself a room in a hotel in the Tourist Club Area. As the name suggests, it is in fact a tourist favorable zone as it contains a sumptuous variety of malls, fashion stores, hotels, bars, restaurants, and many more features. Many traditional and local souks are also in the area. To support arguments in favor of this area is that it is comparatively low at staying cost to many other places with so many facilities.
If you cannot find yourself comfortable in small areas and want to settle into a spacious room then you must check in to Hawthorn Suites. From mini bar to microwave and coffee deck to HD LED, they provide every upscale amenity to make your stay comfortable and luxurious. The staff is quite welcoming and concerned about your need.
If you are in search of value for money place to stay then you can try Kings Gate as the hotel is embedded with every upscale feature in prices much lower than other hotels with similar facilities. Restaurant, bar, spa, pool, etc. all facilities are provided by a compassionate team of workers and they try to make your stay a memorable one.
South of the center
Sheikh Zayed Grand Mosque is the prime attraction of Abu Dhabi and it lies in the south of the center. It is a quiet, peaceful, and subtle residential area slowly developing into a modern tourist stop. There is not a series of hotels here but the available ones are enigmatic. They assure all luxurious facilities offered by any big-name hotel in downtown and with prices much lower. The proximity of the paradisiacal Khalifa Park and 'between the bridges' area makes it more convincing to book a room there.
Having a wide range of rooms, the Holiday Inn makes sure to delight you with their top-notch services and avant-garde facilities. You can book from a range of rooms in architecture, rates, and feature variants.
What's next waiting for you?
To find the best place to stay in Abu Dhabi may be like choosing better from the bests but it is for sure that the charm of Abu Dhabi will be instilled in each of these hand-picked locations. The above list covers everything from cheap hotels in Abu Dhabi to 5-star hotels in Abu Dhabi at a budget price. So, pack your bags and check in to your dreamland. Now you know where to stay in Abu Dhabi simply go through our Abu Dhabi travel guide to plan your itinerary judiciously.