Best Places To Visit in Mumbai
Mumbai is recognized as a financial capital of India and this amazing city brags about a lot of extraordinary destinations that you must add in your list of places to visit in Mumbai. Whether those are historical museums or fancy beaches, you will find everything in this amazing city mesmerizing. The local railway transportation makes Mumbai a pretty convenient and economical city to explore during any season of the year. If you are planning to visit Mumbai in coming time then here we have listed the best tourist places in Mumbai: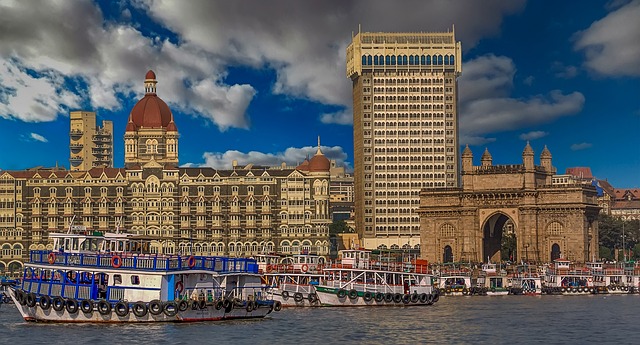 It is the first destination that you will be bound to see during your Mumbai trip. Tourists prefer to keep this destination as their first priority when they start exploring such a scintillating city of Mumbai. Nestled on the coast of the Arabian Sea, you will find these kinds of tourist attractions in Mumbai always crowded with visitors coming from different corners of the world. The locality around Gateway of India is also packed with a lot of luxurious hotels such as The Taj and The Oberoi. These elite places are an absolute treat to watch thereby making it one of the unique places to visit in Mumbai in night.
Whether you love beaches or not, this place will definitely make your voyage memorable. It is one of the best places to visit in Mumbai for couples. People come here to play in the water, enjoy the sunset and try some street food. Located in Ville Parle, this destination will help you to enjoy some quality time with your partner in the vicinity of nature. Without any doubt, Juhu beach is listed at the top of Mumbai tour places that you shouldn't miss visiting.
It is a most sought after destination in Mumbai tourism. Situated in Goregaon very next to Sanjay Gandhi National Park, Film city attracts several tourists every year to experience the joy of Bollywood movies. This place brags about several exciting things like fountains, gardens, fake villages, real movie sets and much more. If you are lucky then you may get a chance to watch the live shooting of Bollywood movie or TV serial in the Film City.
If you want to get a glimpse of the biggest slum in India then take a walk through Dharavi Slum in Mumbai for a few minutes. It definitely takes lot of courage to visit this place but once you are being here, it will teach you the most important lessons of life. The slum will also give you an opportunity to visit some of the thriving businesses of the city that is offering employment to massive people. There are some weird reasons that allow Dharavi Slum to get listed in the best places for visit in Mumbai.
If you want to experience a mix of adventure and fun then Essel World is calling you. It is rated as one of the most exciting amusement parks and tourist attractions in Mumbai with lots of wet rides. This park remains open for an entire year. There are several unique activities such as bowling, dancing and ice skating you can enjoy here. No matter what your age is this place will make sure you forget all the worries so you can enjoy every single moment spend here with ultimate zeal.
Situated on the island very near to Worli seashore, Haji Ali Dargah was constructed in the year 1431. It signifies Indo-Islamic architecture style and every month thousands of devotees come here to visit this place. On Thursdays and Fridays, you will find this Dargah crowded with lots of visitors. You can consider visiting this one of the most sacred Mumbai tourist places any time during the year except the period of high tides. If you are searching for places to visit in Mumbai for 2 days then you must add this incredible location in your journey.
If you are planning to visit The Gateway of India then you must also add Elephanta Caves in your final list of Mumbai tourist attractions. It is believed that the caves feature unique sculptures that belong to the 6th century. Though Maheshmurti is the key attraction at Elephanta Caves, 'Ardhanarishvara' and 'Shiva Nataraja' are also considered as important highlights here. It takes only an hour to reach this destination from The Gateway of India through Ferry that charges INR 200 for a return ticket.
Renamed as Chhatrapati Shivaji Maharaj Vastu Sangrahalaya, this museum was established in the 20th century. It covers an area of over 12,000 square.meter and surrounded by lots of flower beds & palm trees. The museum features different sections including Archaeological section, Art section, Natural History section and lots of renowned galleries. All these sections boast about more than 40,000 artifacts that cover coins and sculptures.
Sanjay Gandhi National Park:
If you are planning to visit the Film city of Mumbai then you should not skip Sanjay Gandhi National Park. Every year more than 2 million people visit this park to experience its extraordinary flora and fauna. The park also features Kanheri Caves which has a history of the 1st century. The green lush area of the park will help you to find out peace of mind away from the hustle-bustle and hectic life of the city. No wonder, it is one of the top places to visit in Mumbai with friends that you must add in your itinerary.
Every year, thousands of foreign tourists come to India for doing a meditation that helps them to find out peace of life. Global Vipassana Pagoda is one of the most sought after Mumbai tourist places by foreign as well as local tourists. The central dome of the architecture is considered as the largest dome of the world which is standing without any support from pillars. The sermons here teach several medication techniques to visitors which they can practice at any place of their choice when returning home.
It is considered as one of the exciting Mumbai tourist places where you will see tourists gathering in huge number. The history of this fort dates back to several old centuries which was constructed Portuguese. This amazing historical landmark has witnessed several wars over the years and now it has become a famous destination for a video shoot. Most part of the fort is transformed into ruins but few parts are still well intact where tourists love capturing some selfies.
It is one of the unknown tourist places at Mumbai which is worth adding in your itinerary. It is highly recognized for its ornamental structure which is named after a very famous Roman Goddess. It is one of the rich heritage places for visit in Mumbai that also boasts several sightseeing locations in the locality. It is highly recommended to visit this destination during the evening time to enjoy the best views that you can consider capturing in your camera.
If you want to dig into the history of typical tourist attractions of Mumbai then it is worth visiting Banganga Tank. It is recognized as the oldest inhabited destination which has been attracting tourists to unravel its mystery. The pristine water tank is surrounded by small temples and ancient homes. It is a memorable experience to simply sit on the steps for some time and watch pilgrims doing their rituals with total belief. Whether you are one of the occasional Mumbai travelers or you are a rare visitor, you will find this destination added in your list of best places to see in Mumbai without fail.
Your Mumbai trip is incomplete without exploring vibrant shopping destinations within the city. Colaba market is one of the most famous one but you can also consider visiting Hill Road, Linking Road and Fashion street. Chincholi Bunder market, Bandstand and Crawford market are also recognized for offering a diverse range of items at affordable prices. Here you can consider anything from fancy jewelry, electronics, clothes, artifacts and much more. Make sure you do sufficient bargaining with the sellers to get your favorite items at a budget price. Shopping is considered as a must-do activity in Mumbai tourism and no one can become an exception to it.
Without any doubt, you will find Marine Drive is listed in top Mumbai tourist places. It is one of the rare locations where you can experience the perfect blend of natural as well as city life. You will enjoy a walk through the amazing coastline of the Arabic sea at any time during the day. Though the weather here is a bit humid, you will love taking some sunlight on your body to try something unique in your life. Some nearby places to visit in Marine Drive, Mumbai include pubs and restaurants where you can try national as well as international cuisine.
Your visit to Mumbai is incomplete without visiting this most sacred tourist place at Mumbai. It is the temple of god Ganpati that attracts several tourists from different corners of the country. Every day thousands of devotees visit this temple as they believe that their wishes are fulfilled unconditionally. During morning and evening time, pilgrims gather in huge numbers for 'Aarti' which is one of the memorable occasions you shouldn't miss at any cost. You can reach the temple by taking 15 mins of walk from Dadar Railway station.
What's next waiting for you?
Apart from the list of places mentioned above, Mumbai offers plenty to its visitors to make their journey memorable. These destinations mainly include Bandra Worli Sea Link, Nehru Science Center, Babulnath Mandir, Mound Mary Church, Mahalakshmi Temple, Wankhede cricket stadium and much more.
No matter from what part of the world you are traveling, this city has definitely got something in its core to make you feel alive. If you haven't visited Mumbai yet, you have missed a lot in your life. So if you ever get an opportunity to visit this memorable city, you shouldn't miss the best places listed above. If you are planning to visit few more popular cities in India then check out our other travel guides.