A Handy Guide For Scuba Diving in Andaman
When it comes to diving, Andaman stands at the top of the list. This deep-sea adventure is quite popular among adventurers and thrill-seekers. Andaman is often called the paradise for scuba divers, offering around 40 diving sites for this activity. Catch a glimpse at the exotic marine life of Andaman, filled with magical marine animals, colourful corals, and whatnot. You should be choosing your diving sites depending on many factors. Explore and choose wisely for the best diving experience here in Andaman. Water depth, clarity of the water, safety, the population of corals, fish population, water current, and weather are some of the main points you should consider when deciding your diving day and location. Considering all these points, it can get a bit hectic for you to go through all the diving sites and choose from them then.
So, here we have made a handy guide for scuba diving in Andaman for you. Know about the top scuba diving sites in Andaman, best timings, prices and safety in this guide.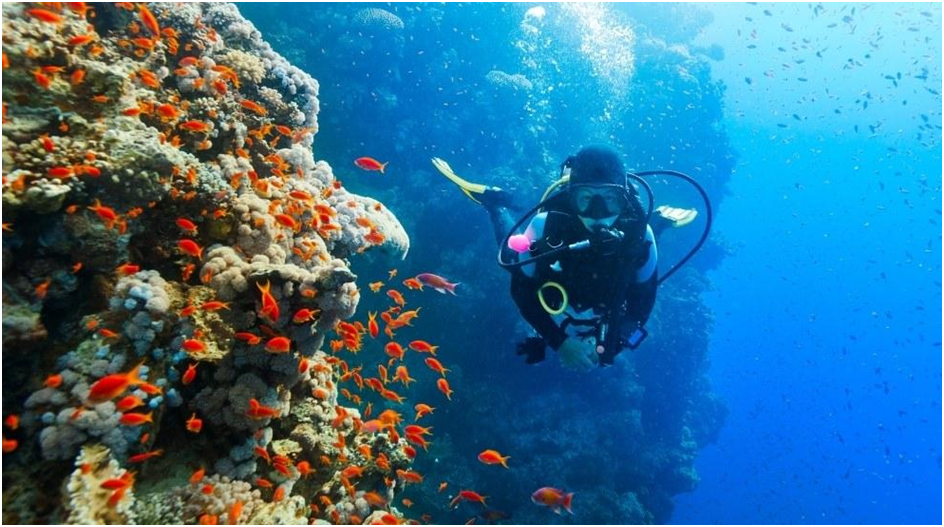 Best Timings
December to May serves as the best season for all the diving enthusiasts to perform this activity here. The sea is calm and clear, providing you with the best experience. You will experience that some sites face currents, and some stay calm during this season. The water temperature stays tropical between 27-29 degrees celsius. Enjoy the finest dives deep down in the waters, and catch a sight of the magnificent and colourful marine life of Andaman. You will be amazed at the view underwater and discover so much you cannot think of. Dive with your partner, family, or friends and enjoy a world-class diving experience here.
5 Best Places for Scuba diving in Andaman:
Havelock Island: One of the best places for Scuba diving in Andaman and Nicobar Islands. Havelock Island is known for its pristine water, amazing landscapes and enchanting marine life. Scuba diving in Havelock Island provides you with an amazing diving experience. The island hosts more than 9 diving sites where you can enjoy scuba diving including, Barracuda City, Seduction Point, Aquarium, Turtle Bay, Mac Point, LightHouse, The Wall, Pilot Reef, and Minerva Lodge.
North Bay Island: Visit the gorgeous North Bay Island and experience a thrilling diving time here. This is the second most popular diving site in Andaman among the divers. Filled with amazing landscapes, colourful corals, and crystal clear water, Andaman island makes the best diving spot. This is a small island where you can spend a day of your trip to perform diving here at a low price compared to Havelock Island.
Barren Island: If you want to dive into one of the most unique sites in India, then Barren Island it is. This is the only active volcano in all of Asia. The waters are completely untouched and unexplored, so you can definitely consider this an option. Being lucky, you can also look at the silver garden eels, white-tip reef sharks, and turtles when diving near Barren Island. This diving site is a bit expensive as compared to other sites. But if you want an exotic diving experience and have a nice budget, go for it.
Neil Island: The white sandy beaches and medium water current have made Neil Island an ideal destination to enjoy diving. In your scuba diving in Neil Island, explore the unexplored marine life and magical coral reefs that have been present for more than 100s of years on Neil Island. As per the prices, Scuba diving in Neil Island can be a bit expensive compared to Havelock. The top diving sites in Neil are Busy Burro, Rocky's, Margarita, Manta Point, Neil Garden, and more. You can book your Neil Island Scuba diving here!
Port Blair: Port Blair, the Andaman and Nicobar Islands capital, offers you an adventurous and thrilling diving experience. The Mahatma Gandhi Marine National Park, Wandoor, is Port Blair's most famous and popular diving spot. While diving in Port Blair, you will be looking at over 50 types of corals and sea flowers, including Butterflyfish, Whitetip Shark, and ClownFish. Carbyn's Cove Beach also serves as a great place for many underwater activities, including diving. Experience a good diving time here at an average cost.
Safety About Scuba diving in Andaman
The minimum age for scuba diving in Andaman is 10 Years, which means anybody above 10 years of age can participate in this enthralling underwater activity. Scuba diving is indeed an adventurous and thrilling water activity. But you should definitely gather some basic information before signing yourself for a dive. Get yourself educated by your trainers about what to do and what not underwater. Ensure you are provided with all the adequate safety equipment. And just don't stress yourselves, be free and have faith in your trainer who will accompany you underwater. They are trained, experienced, and professionals. Just go for this exciting experience and feel the adrenaline rushing through your body.