Best Places to Visit in Ireland
Ireland has maintained a reputation of one of the most versatile tourist attractions in the world. If we tried to explain the charm of this majestic country then we will definitely run out of adjectives. Though it covers a very small terrain, you can discover an abundance of sightseeing locations within the country. Go through some of the key tourist attractions of Ireland and you will come to know what separates this incredible country from the rest of the world. If you are planning an Ireland vacation in coming time then you shouldn't miss these highly recommended and best places to visit in Ireland: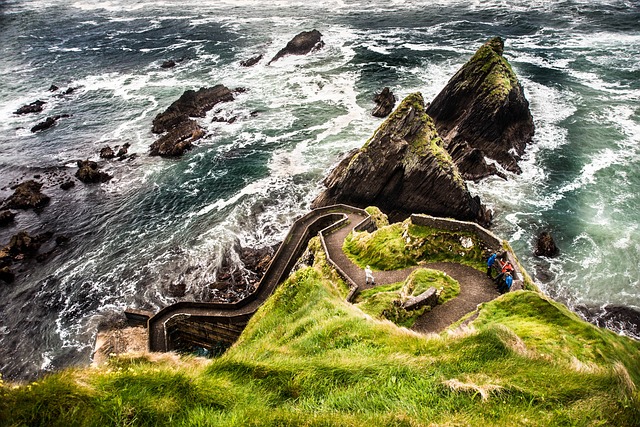 Top Tourist Attractions of Ireland
Downhill Beach
The Burren National Park
Blarney Castle
Ring of Kerry
Blackrock
Galway city
Cliffs of Moher
Sligo
Killarney National Park
Dingle Peninsula
The Aran Islands
Glendalough
Cork
The Old Jameson Distillery
Why you must-visit these travel destinations?
Located in Northern Ireland, this serene destination offers an abundance of opportunities to do water sports. While been here, don't forget to visit Mussenden Temple which is considered as one of the most beautiful places to visit in Northern Ireland. The unique beauty of Downhill Beach can also be seen in Game of Thrones and some other Hollywood movies. If you have picked Ireland for vacation then you must add this beach in your itinerary. With so much to discover here, the beach will serve the interest of people of all ages.
The Burren National Park:
Recognized for its serene landscape, the park is always crowded with several tourists from diverse corners of the world. Though it is the smallest national park in the country, it highlights several medieval structures and megalithic tombs from old centuries. Taking a simple walk on this park will even give you feel of walking on the moon. Check out any Ireland vacation package and you will find this park included in it. Ireland visiting places are recognized for its uniqueness and Burren national park is a great example of this fact.
While traveling in Ireland, you will definitely hear a lot about Blarney Castle. No wonder it is one of the most popular historic tourist attractions in Ireland tourism. Blarney Stone is considered as a most sought after masterpiece tourists kiss while capturing some epic moments in their camera. If you are opting for any Ireland travel guide then you will get an opportunity to get detailed information about the history and other stories about this offbeat travel destination in Ireland.
Without any doubt, you will find Ring of Kerry listed in the best places to visit in Ireland of every Ireland travel guide. There are several reasons that separate this tourist destination from other locations. Here you will enjoy lush landscapes and breathtaking scenery that will make you fall in love with its beauty. If you love photography then you will definitely love to spend maximum time here and capture some unique snaps. The beaches here are listed as one of the most popular tourist attractions of Ireland that appeal to tourists all across the year.
If you wish to enjoy sunbath at the beachside location then Blackrock provides a perfect holiday gateway. The breathtaking ambiance of beaches here persuades you to extend your journey for a longer duration. Whether you want to experience seaside activities or wish to enjoy amazing delicacies of Europe, you will come across a lot of opportunities here. People traveling to Ireland to explore its scenic beauty often add a short visit to Blackrock in their Ireland vacation package.
It is one of the vibrant places in Ireland that is known for featuring a young population. On the virtue of its ancient history, serene atmosphere, and extraordinary charm, this tourist destination is listed in most appealing places of Europe. Tourists planning a vacation to Ireland often wish to know more about Galway city and its charm. Here you can spot the largest young population of Ireland. Tourists from all corners of the world come to Galway city to enjoy Art Festival organized during July.
It is featured in the best places to visit in Ireland during the year 2018. The spectacular views of this destination separate it from all other tourist spots you come across in Europe. The top side of cliffs features green meadows while at the bottom you can spot pristine waters making creative musical sounds when they hit the cliffs. The more time you spend at this offbeat Ireland vacation destination the more you fall in love with its charm.
It is one of the most attractive tourist attractions in Ireland where you can spot stone bridges and medieval cores. It also features several ancient townhouses that date back to the 19th century. The Knocknarea Mountain of town enhances its beauty and this is the key reason why you will Sligo is added in every Ireland travel guide. If you are planning a romantic Ireland vacation then you should keep this destination as your top priority in the list.
It is one of the oldest and fascinating national parks you will see added in all Ireland travel packages. The park is known for its extraordinary biosphere reserve which is difficult to find anywhere else in the world. Here you can spot some of the rare wildlife species such as red deer. You will be mesmerized by the incredible man-made masterpieces such as the Castle of Ross. If you are traveling to Ireland with family then you shouldn't miss visiting this highly popular Ireland tourist attraction.
If you are traveling for Ireland to discover its untouched traveling gems then come to Dingle Peninsula. There are several reasons that make it one of the unique and beautiful places in Ireland to visit. Here you can spot everything from misty mountains, pristine beaches, high cliffs to lofty mountains. Even after spending a short time at this great tourist attraction of Ireland, you will fall in love with its beauty. Dingle Dolphin tour is considered as a key highlight here which is added in every Ireland travel package without fail.
In case you are planning to visit the western region of the country then a visit to the Aran Islands is a must. It is one of the three islands that attract tourists in huge number. Here you can spot an ancient fortress that has a history of more than 2000 years. If you are traveling to Ireland in search of peace then you will find it here. For food lovers, there are several restaurants and cafes in the vicinity where they can try out their favorite cuisine made from local ingredients.
Your tour to Ireland will be incomplete without visiting this most sought after Ireland tourist attraction. Here you can spot several monastic sites that are hard to find out in the entire country. If you have a sufficient amount of time in hand then you can also consider exploring few offbeat lakes here. They have their own stories and you can hear more details about the same from Ireland travel guide. Don't forget to capture some epic moments in your camera as the scenery is extremely breathtaking here.
It is rated as the most exciting tourist attraction in Ireland tourism for several reasons. Here you can spot a lot of restaurants that can serve you delicious food menus made from local ingredients. It is a place full of happenings as it houses several bars, cafes, and pubs where you can enjoy the nightlife. Moreover, Cork also features some other key highlights including museums and galleries. This destination offers you all the exposure to make your Ireland vacation an unforgettable experience.
The Old Jameson Distillery:
If you are a wine lover and always crave tasting wines from different parts of the world then it is worth visiting this destination. It has worldwide recognition and no wonder it is listed in one of the top places to visit in Ireland. Here you will get an opportunity to try different kinds of whiskey and also get familiar with locals. The more time you spend here, the more you will end up exploring this place.
What's next waiting for you?
Even after visiting the above tourist attractions of Ireland, you will feel the glass half empty. This is because of limitless sightseeing locations that this country is blessed with. Go ahead and cover all the above-mentioned best places to visit in Ireland and make your vacation truly memorable. Once you finish the tour of this scintillating country, you will even wish to recommend it to others. If you are planning to visit a few more popular countries in Europe then check out our other travel guides.