Top Things To Do in Nepal
Nepal, squeezed between India and Tibet is a small landlocked country with natural and cultural diversity found only in few places on earth. The land stretches from a rich subtropical forest in the south to soaring Himalayan peaks with lush sub-tropical forests, green hills, and valleys in between – within a distance of a mere 200 km. The country with the great and beautiful Himalayan range which stretches from east to west has mystified the entire world for centuries with its unique landscape, fascinating beauty, and gateways to endless adventure. Whether you are looking for fun things to do in Kathmandu Nepal or the best things to do in Nepal with your family, the country never disappoints you.
This diversity in geography offers visitors plenty of opportunity in terms of a wide variety of cultural experiences, sightseeing tours, and adventurous activities. Here we have listed some of the top things to do in Nepal that you must add in your itinerary: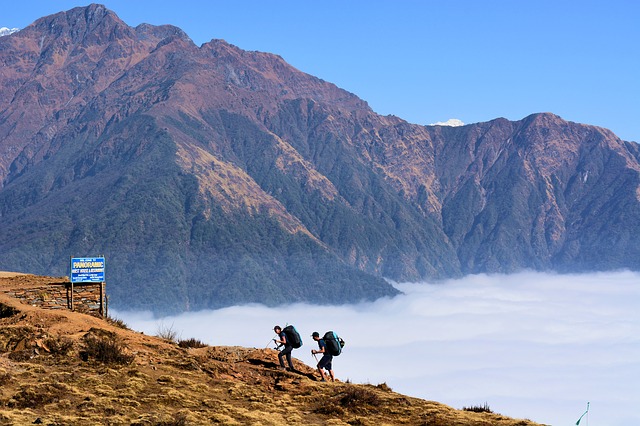 1. Everest Experience Flight
Nepal has a near-monopoly over this activity. Nowhere else on the planet you can experience this flight. If you are in Nepal for a short period of time, or trekking is not your cup of tea Everest Experience Flight is the perfect alternative for experiencing an unparalleled view of the world's highest mountains including Mount Everest. Once you come here you will surely get to know why it is added in the best places to visit in Nepal. This 50-minutes scenic mountain flight takes off every early morning from the domestic airport in Kathmandu. All passengers are guaranteed a window seat. Further, whichever side of the plane you sit in, you will have an equal opportunity to view the mountains. Eight-thousander peaks that you will see during this flight include Mt. Shishapangma (8027m), Mt. Makalu(8479m), Mt. Lhotse (8501m), Mt. Everest (8848m) and Mt. Cho Oyu (8153m).
2. Challenge yourself for Trekking
No-doubt Nepal is one of the best trekking destinations on the planet thereby offering several opportunities to experience some of the unique things to do in Nepal. The best way to experience Nepal's culture and nature is through trekking. This is no question trekking in the mountains of Nepal offers some of the most spectacular and beautiful scenery in the world. Anybody with a spirit of adventure and mental preparedness can take up a trekking trip to Nepal. Trekking is the perfect way to escape from the hustle-bustle of the city and no wonder it is added in things to do at Nepal. The snowcapped mountains are the most obvious highlights during the trek, however, there are plenty of treats for the eye.
Typical trekking starts from the subtropical lowlands following the whistling rhododendron forest, finally emerging into tress less tundra region at the foot of mighty peaks. You walk from one village to another on a well- established trail, through rhododendron forest, waterfall, hot spring and wooden bridges. In a long trek, sometimes you have to cross high passes to go on the other side of the mountain.
3. Enjoy the Hiking
Kathmandu is the best destination for hiking in every Nepal trip. Hiking around the encompassing slopes of Kathmandu valley is a unique experience you will get in Nepal things to do. It gives you a chance to watch spectacular landscapes. Besides, it gives a chance to enjoy the lifestyle and culture of the individuals living in the hills encompassing the Kathmandu Valley.
When you think about hiking, you are well on the way to think about flawless nature, scenes, streams. Strolling there to welcome nature is the thing that hiking is about. Hiking in Nepal is a mind-blowing choice to withdraw into nature and an approach to overlook the problems and crowd of the city life.
These hiking trips are generally famous in Kathmandu that perfectly answers questions like what to dod in Nepal. It offers an incredible aerial view of on bowl-shaped Kathmandu valley. Moreover, if the climate is great, the view is enhanced by the Himalayan range in the setting. 
Most of these hiking trips spots around Kathmandu valley start after an hour's drive from the city. In addition, if you are here in Nepal for trekking, this will be a perfect warm-up before your trekking in the mountains of Nepal.
4. Everest Base Camp Helicopter Tour
Everest Base Camp Helicopter Tour also called Everest helicopter tour, where you are flown to see Mt. Everest, gives you a quick a gander at the Everest region. Furthermore, at last lands on Everest Base Camp (EBC) or Kalapathar. This Helicopter tour to Everest is so far the best areal Nepal tour on the planet.
This luxury helicopter visit begins from Kathmandu. The helicopter will fly east from Kathmandu towards the beautiful Sherpa town and the section to Everest, Lukla. The helicopter will land in Lukla for refueling. Then after, the helicopter starts flying towards Everest Base Camp/Kalapathar. The flight goes over the Tengboche, Dingboche, Gorakshep and Khumbu glacier. After that, it shows up the Base Camp of Mount Everest. This helicopter ride gives you likely the best view of the world's most noteworthy mountains including Mount Everest. The Helicopter will land for only 5 – 10 minutes at base camp. You may use time by taking brilliant pictures of Mount Everest.
Then you will fly back to Lukla and continue to Kathmandu.
5. Day Cooking Tour
The Nepal Cooking Tour has a remarkable perspective with respect to it. Subsequently, the objective of this tour is to amaze you with Nepal's unique flavor mixes.
This half-day tour in Kathmandu incorporates a titillating blend of Nepali and Tibetan food. The people who taste Nepali cooking are in a surprise of the extraordinary aromas and flavors.
Moreover, in this cooking tour, you get the chance to pick up bits of knowledge of mouth-watering Nepali dishes. This is a four-hour program in Kathmandu. This day's visit in Nepal will take you from the commercial center till the completed item. Hands-on cooking is under the heading of a skilled Nepali cook.
6. Authentic Nepali Dinner With Cultural Shows
Make an effort not to miss appreciating authentic Nepali dinner with cultural shows during your Nepal tour. This is one of the extraordinary opportunities to taste national Nepali food called "Dal – Baht -Tarkari". It is basically rice with lentils and various curries. It is stunning seeing and tasting the variety of Nepalese dishes that will keep coming. The server with a fragile smile in their face will name you everything in Nepali similarly as in the English language before serving you.
Close by the dinner exhibitions will draw in with regular cultural shows performed by various ethnic groups of Nepal. It is highly recommended to add this activity to your list of things do in Nepal,
7. Evening Rickshaw Safari
Explore like a local on an evening rickshaw tour in Kathmandu. Your ride begins in the inside, tourist center of Thamel, going through murmuring bazaars and market squares as you head to Kathmandu Durbar Square.
Sit back, loosen up and feel like a local as your driver expertly explores through the narrow paths of Thamel. Moreover, go through close by business sectors and shops selling everything from heated merchandise to Pashminas. Your rickshaw seat gives the perfect stage to finish a bit of window-shopping. Ride past Asan, a notable vegetable and flavor grandstand and the most prepared in Kathmandu, and land at Durbar Square, stacked up with several years of age havens, regal habitations, and spots of love that are sure to spellbind you.
8. Don't miss a Kathmandu Trip
The biggest metropolitan capital of the country Kathmandu is a cultural hub of the country. It houses 7 among the 10 UNESCO World Heritage sites of the country. Kathmandu is hence sometimes referred to as "Open Air Cultural Museum". If you are interested in cultural tours, Kathmandu is the place.
Stroll around Kathmandu medieval-like old town decorated with beautiful courtyards and medieval architecture which dates backs merely to the 14th and 15th centuries. Sacred Hindu temple of Pashupatinath is one of the famous attractions. Observe the cremation ceremony from the bank of the Bagmati river. Visit the sister cities Patan and Bhaktapur and appreciate the man-made architectures. If you wish to escape from the hustle-bustle of the city, visit the hill station of Nagarkot which offers peerless views of the Himalayan range.
9. Take a Glimpse of Pokhara
Pokhara is the second most visited destination after Kathmandu and is a natural paradise in Nepal. This city is famous for its emerald lakes and for the close proximity of mountains. If you love nature, then a trip to Pokhara is a must during your Nepal tour. This destination is also the starting point of world-famous Annapurna treks. Furthermore, Pokhara is the number one adventure hub in the country. Pokhara offers a range of adventurous sports such as paragliding, Zip-Flyer, Ultralight flight, Bungee jump. Sarangkot and World Peace Stupa re the famous viewpoints in Pokhara which draws a large number of tourists during the peak season which is from October till May.
10. Jungle Safari Inside Chitwan National Park
Visitors often overlook the southern part of the country. However, for wildlife lovers, this part of the country offers one of the unique wildlife experiences in Asia. The main highlight is riding an elephant on a safari through the beautiful park in a hope of spotting an elusive Bengal tiger or leopards. However, views of one-horned rhinoceros, various species of deer and birds are common during the jungle safari. Other activities include jungle walks, canoe ride, visit of crocodile and elephant breeding center, and an excursion to Tharu tribal village.
What's next waiting for you?
If you are planning to travel Nepal then you must have a proper plan ready. These are among the top things to do in Nepal that you may include in your upcoming Nepal tour package. If you are booking a tour through a local travel agent in Nepal, you may ask them to customize your Nepal tour package by including some of the above activities that interest you. Now you know what to do in Nepal and how to plan. If you want to know the list of best places to visit in Nepal then simply click here.