Top Things To Do in Spain
"When in Spain, be like the Spaniards" keep this motto alive when booking Spain tour packages from Dubai. There is nothing more beautiful than experiencing Spain as the locals. You will get to see places that you probably won't experience as a tourist, and you get to see these famous monuments as you would, if you were a local or a traveler and not a tourist. It is important to live each moment you are in Spain to the fullest and have an experience of all the top activities that happen here. We will take you through some of the famous places and activities that you simply cannot miss while in Spain. The top things do in Spain mentioned below cover everything that you expect from an ideal Spain tour: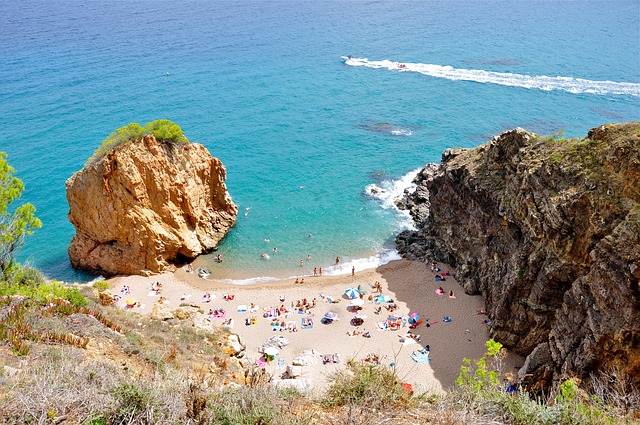 1. Start your tour from The La Sagrada Familia
This cathedral that belongs to a holy family is still being constructed, and it began way back in 1882. This is Gaudi's masterpiece, and the end of the construction of this place will be the end of the world. It is an impressive place, which you simply cannot miss out on during your visit to this country.
You can visit the cathedral throughout the day, except for the mass times. There is an obvious dress code, which goes without saying, for the cathedral that you cannot ignore. You should ideally choose an appropriate dress for this visit during your plan to visit the country.
It is possible for you to buy tickets for the visit in advance. The minimum price for the ticket is $19. In case you want to buy audio guide options, then you need to pay slightly more. By paying a little more, you can even visit the top of the cathedral.
You should ideally visit the cathedral in the early hours before the sun is way high in the sky. In order to skip the line and make sure you get a good place to view, make sure to book your tickets a good 3 days in advance. It is one of the top things to do in Barcelona, Spain that you shouldn't miss at all.
2. El Caminito Del Rey for adventure
If you are an adventure seeker, then you cannot miss hiking along this route when you book Spain tour packages from Dubai. You will need to have one day on your trip planned for this hike. Before we move on to explain how this walkway works and what it leads to, you need to understand that this hike is not for someone who is fainthearted.
This is known as the King's little pathway, and you can walk along the El Chorro gorge near Ardales. This place is located in Malanga province.
This 3 km walk from 100 meters high is really thrilling and gives you an adrenaline rush. The walkway was built to offer a route that can take the workers of the nearby hydroelectric power plant to and from this place. This is one of the most thrilling places in the world.
Like the cathedral, you can book tickets for this visit online. It costs $12. You can even opt for the guided walks along with this place. You should ideally go early in the morning for this walk, which is why you should book the slot early on.
3. Discover the magic of Granada, Alhambra
The first Nasrid king El Ahmarchose this place to host his court. This location was thereby enhanced by the various other rulers, which led to the complex to grow impressive. Even today, there are very few complexes that can mirror the image of this complex.
The Colossal chambers host grandeur and have some amazing things within, which you cannot miss if you love looking at art and architecture. Among the various things, the ceiling, halls and even the marble fountains happen to be a sight that you cannot miss. Intimate royal baths are a scene that will remain stuck on your mind. You can take a guided tour to see some of the spectacular and secret places in this complex. Some people believe that this could be rated as the eighth wonder of the world.
You can book tickets to this spectacular complex online. It costs somewhere around $19 to see this complex. The months between March and October are when the entire complex is open for view. You should ideally avoid the hot months of July and August if you don't want to be scarred by the heat here. The list of things to do in Granada, Spain is limitless and you definitely need a sufficient amount of time to cover maximum in limited time.
4. Fall in love with the beauty of La Tomatina
If you are planning a trip to Spain, make sure you do so during this festival. The last Wednesday of August is when this festival takes place, and it is indeed a large party that you cannot miss.
This festival is all about a food fight which involves tomato. So, you will find people in Bunol near Valencia throwing tomatoes at each other, and fighting it dirty. It is all about throwing tomatoes at strangers. If you are planning a calm vacation, then you should probably avoid this place. However, if you are in for some fun time involving a food fight, then Bunol should be added to your itinerary.
To enjoy the festival, make sure you have made bookings in Bunol itself. The bookings get full months before the festival. It is one of the top things to do in Valencia, Spain that must be an integral part of your itinerary. So, make your plans accordingly.
5. Experience the extreme thrill at Picos De Europa
When you book Spain tour packages from Dubai, make sure to include the hike along Picos De Europa to your plan. It is the best outdoor activity for those who love walking and peace. Hiking along the mountains, which is about 20km, and exploring some of the deepest caves is definitely on the plate here. There are tours that operate along this region. You can book one of the walking tours for Picos De Europa. You can even take a guided exploration into the caves, which will make the whole experience pleasant and interesting.
If you are done with the exploring part, it is time to taste some cabrales cheese, famous in here.
6. Take the Camino Trail
It is time to take the famous Camino pilgrimage trail. You should not miss out on this while on your visit to Spain. These are all ancient routes, and a lot of pilgrims have actually walked this path. You can walk a few trails, like a normal hike, and experience this amazing route or, travel through this for weeks and cross every part of the trail, experienced by the pilgrims. The route has been marked by white shells, and you need to follow the route. It is not a religious experience; it is more of an adventurous moment.
Among the various trails along this route, the most famous one happens to be Camino Frances. It starts at St. Jean Pied de Port. In case you are planning a hike along this route for the first-ever time, then make sure to hike along this route. You should ideally add this to your route plan when you book Spain tour packages from Dubai.
Before you travel to Spain, and as soon as your planning is done, train as much as possible. Walk every day, over half a marathon. This way you will be able to achieve this trail with ease. You need to just practice to be able to walk this path with no difficulty. At the end of the day, it is just another hike and not some race that you need to compete with. You can even opt for the guided tour along this region, as it gives some ways to get the trail done right.
7. Don't miss the serene beaches of Malaga
Malaga is the name given to Spain, as well as a city in Costa del Sol. This is the part of Spain that has been popularized by many travel brochures. You will find that the beaches here have been used to sell Spain tourism. The best part of this city happens to be the sea and the sun. You will find a huge crowd on these beaches during summers, as everyone wants to beat the heat by soaking in the sea. However, if you want some peaceful time, you ought to visit the place during the winter. Anytime between December and February should be good for some peaceful and alone time on these beaches. You can even visit the Malaga cathedral and the Picasso museum while you are here. Staying at beaches is one of the things to do in Malaga, Spain that will add an element of excitement to your Spain trip.
8. Exploring Hidden Tourist Attractions of Madrid
Your trip to Spain remains incomplete if you have not visited Madrid, the capital of this country. With so many art museums, that has an amazing collection of Spanish and European art, this is the art-house of the country. It actually gives out the culture and essence of Spain. You will obviously need a few days to cover the entire place and soak into the culture it offers. You need to adopt the Spanish schedule, which begins at 8 in the morning and goes on till 2. You take a break between 2 and 6, before starting your tour along the streets at 6 in the evening. With so many things to do in Madrid, Spain, you will definitely run out of time.
9. A highly recommended Tour of Ronda
You should certainly explore this part of the country. It is located in the Malaga province, atop a hill, and brings to the table exclusive Spanish culture. This town is connected by three bridges. If you are interested in the history and culture of Spain, then you cannot miss out on this tour. You should walk on this bridge, just to look down and feel the height. If you want a relaxing vacation, this place promises that.
Last, but certainly not the least, you should try the authentic Spanish Tapas. Make sure you have a glass of Sangria to accompany this dish and savor it completely.
What's next waiting for you?
These are just a few highlights that you cannot miss while on a trip to Spain. However, this list is still incomplete, as there is just so much to enjoy in Spain.
So, check out how you want to roll out your time in Spain, and book your packages now. You can even customize the route to meet your desired kind of vacation.