Top 5 Best Places to Visit in Kashmir
Kashmir places to visit are not only known for a few extensively explored travel spots like Pahalgam, Gulmarg, Yusmarg, or Sonmarg but also the places which are not known to the tourists and to the world till a few decades back.
The real magic is in the enchanted tiny hamlets of Kashmir where tourists breathe a degree of renovating warmth as it is untouched by the evil effects of population burst and pollution.
It is a world where skies are not cut into the lanes and slices by overhead power lines. Trip to Kashmir offers real magic which makes sightseeing more interesting and blissful for tourists all over the world. Here we have listed some of the top tourist attractions, unique things to do and best places to visit in Kashmir: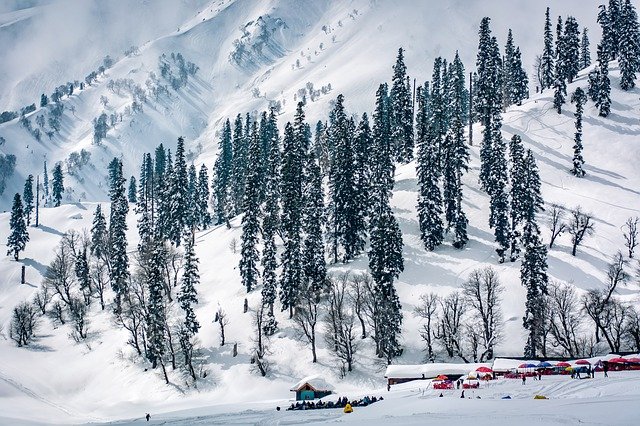 1- Chatpal- The land of Sublime Ecstasy
You might know about the beautiful sceneries of Srinagar, Pahalgam, Gulmarg or Yusmarg but none have described the equal beauties of the Chatpal Village in Kashmir. It is one of the most beautiful offbeat tourist destinations in Kashmir. It is located in the Anantnag district of Jammu and Kashmir.
Screened by dense forests, deep green mountains; beautiful stretches of turf ringed, round with forests; shepherds and Graziers brimming with innocence; the energetic and sometimes lazy river with the absence of roads is a joyful sight. It is the treasure of solitude and serenity.
The channel of the river is narrowed by the stone embankments and the flow is further arrested by the picturesque and magnificent mountains. This forms a beautiful contrast to the gentle beauty of the river.
Scenes of fresh green tints of the trees are one of unequaled loveliness. It is one of the best places to spend some quality time with family and friends in the lap of nature away from the hustle-bustle of city life. Also, a short trek in the woods around Chatpal will be a delightful experience to adventure lovers.
Perhaps in the whole world, there is no spot as pleasant as Chatpal.
2- Bangus/ Reshwari – "The Thing of Beauty is a Joy Forever"
Lost in the mists of obscurity Bangus is one of the most unexplored tourist spots and places to visit in Kashmir. Bangus Valley is located in the scenic Kupwara District. If one looks at Bangus valley, the sight and sounds of this heaven are wonderful in their boldness. Cradled high in rich and exquisite flora and fauna, it is perhaps one of the most beautiful spots in the world.
The pine trees in the forests are breath-taking; the mountain ridges reflected in blissful streams of Tilwan Kul, Douda Kul, and Roshan Kul as in a mirror are grand and exquisite.
Call it a home to many animal species like antelope, Brown bear, musk deer, mighty snow leopard and beautiful migratory birds like Tragopan, Pheasants, Monal pheasants bush quail and many more.
This valley is surrounded by Howkibal Mountains on the northern side and Qazinag and Shamsbery Mountains on the western side.
3- Daksum – Bucket Full of Joy and Adventure
Daksum valley is located in Bhringi River which is ahead of the Mughal Gardens of Achabal. Daksum has something to offer to everyone- Scenic beauty for the artist; Mountains for adventure lovers; bliss and fun of picnic for family and friends and an ideal romantic setting for the couples.
Coniferous forests; hidden grassy meadows and snowy mountains are never monotonous. Every mile in Daksum Valley reveals its exquisite beauty.
Where the great dark coniferous forests cease, the brighter grassy meadows begin. It is quite difficult to describe the colours and contrasts which are seen in the Daksum valley without visiting it once.
Tourists here see the beauty of natural springs and embrace the lifestyle of traditional villages.
It is a perfect place for camping and trekking. The path that leads to the Sinthan Pass is decked with exquisite beauty. It's a combination of thrill and serenity in itself. The wooden slopes on either side of Daksum are covered with grass coating making the view picturesque.
It is also home to Trout as the Bringhi River is full of Trout thereby making it one of the most popular places to visit in Kashmir. Tourists can enjoy fishing by taking permission from the J & K forest department.
4- Karnah – Beautiful and Sublime Nature
Located in the Kupwara district of Jammu and Kashmir, Karnah is a small, beautiful valley with dense green meadows and undulating mountain peaks. Many small traditional villages add to the charm of Karnah Valley. Karnah village reveals the memories of the past through its forts, palaces, statues, weapons and utensils found hereafter excavation.
Forested slopes decked with Deodar forests present a picture-perfect look. The ambiance and scenic beauty of various villages like Tangdar, Teetwal, Gundi Gujran, Amrohi, and Saidpura will land you in a different world of bliss.
Snowy Mountainous ranges of Qazi Nag and Nanga Parvat add to the scenic beauty of Karnah. The natives here represent distinct ancient civilizations of five thousand years old.
It is a great place for adventure lovers as they can enjoy the thrill in activities like skiing, rock climbing, and snow skiing. Lush meadows, scenic landscapes are ideal settings to enjoy the bliss of camping.
From Kishtwar, Karnah is around 86km. As Karnah is located at the furthest corner of Kashmir, and LOC is not much far from this region, you have to be prepared to face queries from the Indian Army.
It is a wide delta of fertile soil, lofty cliffs, everlasting snows, clear water which makes it a perfect destination for tourists to be lost in the Infinite thing of joy forever – Karnah.
5- Warwan Valley – Electric Vibes and Thrill Paradise
Warwan Valley is one of the blissful tourist attractions in Kashmir to tune into the rhythm of Mother Nature away from the hustle and bustle of city life. It lies 150 km from Srinagar, the capital of Jammu and Kashmir. It is 3 hours' drive from Anantnag District.
The charm of Warwan valley consists in its deep clear water coming from splendid waterfalls, huge Cedar trees which look sombre in this scenic atmosphere, and mysterious thickly wooded forests.
The beautiful and melodious gushing of the Warwan River, the source of which is the mighty Kanital Glacier provides a whole new experience of bliss and tranquillity to the tourists. The villages of Warwan Valley give a picture-perfect setting.
What's next waiting for you?
This quaint tourist spot is untouched by the evil effects of the modern world and thus experiences unpolluted weather. If you are looking forward to explore best places to visit near Kashmir then check out our other travel guides.