Top Things To Do in Vietnam
Vietnam is recognized as one of the best tourist destinations in the world with the advantage of budget prices. Along with a relatively mild climate and many beautiful scenes, Vietnam is an ideal destination for those who love bush tourism and want to learn about the intersection of cultures through architectural works, impressive architecture and fantastic cuisine. Most of the tourists ponder over what to do in Vietnam and what is the best time to visit Vietnam? Here in this travel guide, we have answered all these questions to make your tour comfortable. If you ever get a chance to travel Vietnam for vacation, do not miss out on these top things to do in Vietnam. Take your time and explore each different charms of Vietnam tourism: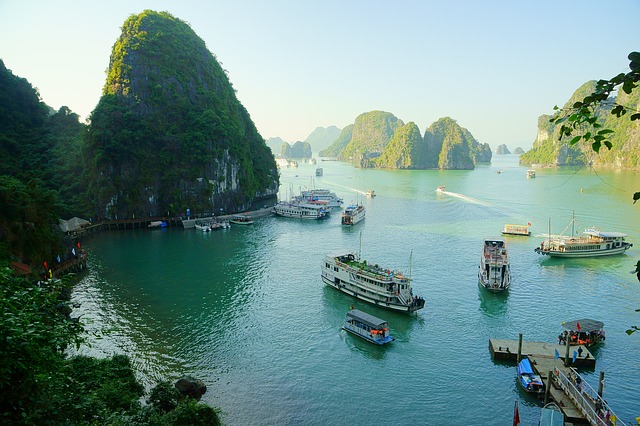 1. Visiting Ha Long Bay
Spending a night sleeping on a traditional Vietnamese junk boat is an interesting and attractive experience that visitors should do at first when coming to Vietnam. The boats will take you around Ha Long Bay to explore the natural beauty of one of the UNESCO world natural heritage sites. Hidden in the majestic rocky cliffs in Ha Long are many fantastic beaches and caves waiting for visitors to explore.
Activities that tourists usually enjoy in Ha Long are kayaking, scuba diving, swimming and relaxing in the turquoise water. One thing to note, when choosing a boat tour, you should carefully check the quality of service before taking it. It can help you to spend the right amount paid to enjoy that service. No wonder it is listed in one of the top things to do in Vietnam with your entire family.
2. Going to Floating markets
This is one of the most beautiful ways to get an overview of the lives of people in the Mekong Delta region. The largest floating market, as well as the most famous, is Cai Rang floating market in Can Tho. The market operates from early morning till noon. Therefore, visitors need to get up early to get more time to experience this exciting place. If you are searching for fun things to do in Vietnam then you will find out all those here.
For foreign tourists, going to floating markets is an exciting activity that can gain you many new experiences. In the boat around the floating market, visitors just need to sit still and let the boat driver lead you to other boats on the market until you see something eye-catching and want to buy. Various items are sold on the floating market, such as vegetables, bulbs, fruits, eggs, meat, and groceries. Going to a floating market is a travel experience not to be missed to explore. If you are traveling to Vietnam for the first time then you will get stunned by the beauty of this place.
3. Tasting the famous BánhMỳ – Vietnamese Sandwich
Vietnamese Sandwich, BánhMỳ is a delicious combination of Vietnam French cuisine. A crispy loaf of bread filled with various kinds of fresh ingredients such as Vietnamese ham, grilled pork and veggies will surely make every visitor love. The most famous BánhMỳ stall in Hoi An is Phượng bread. Anthony Bourdain – the top American chef – has praised Phuong bread in his cuisine program. While traveling in Vietnam, it is worth tasting unique delicacies offered at local restaurants.
Loaves of BánhMỳ are not only the best "remedy" in times of hunger but also very cheap. Just 1 USD (more than 22,300 VND), visitors can have one and enjoy. Anthony Bourdain also suggested that you should order BánhMỳ with a glass of ice beer. It will be the best delicious meal for just about 2 USD (about 45,000 VND). For foodies, it is one of the memorable things to do in Vietnam and they are ready to pay any amount to experience it.
4. Touring around the War Remnants Museum
Along with President Ho Chi Minh's Mausoleum, the Vietnam War Remnants Museum is one of the worth-to-go places in Vietnam. Visiting this museum is a great chance to learn more about the Vietnamese people and their tenacious anti-American resistance war. History can be painful, but it shows the excellent strength of the country and the Vietnamese people. If you are a history lover then you should add the War Remnants Museum in your Vietnam vacation tour.
The museum's outer space is decorated with many military vehicles like planes, helicopters, tanks, and artillery cover the whole yard. Their sizes are also staggering. When visiting the indoor display space, visitors will see stories of people who were affected by the war. The journey photos are not sharp, but they help people understand more about Vietnam's long history.
5. Trying Vietnamese Snails
Snail is a popular and easy to find in Vietnam. Just wondering on a few streets, visitors will see many street food stalls. The fragrant scent from the dishes of stir-fried snails, boiled snails or grilled snails will attract and prompt us to visit the store to taste it for yourself. Vietnamese people have many interesting ways of processing snails. From river snails to sea snails can create delicious and attractive dishes. You definitely should try this if you are traveling to Vietnam for a holiday to your upcoming vacation. No wonder, most of the Vietnam travel guides recommend this activity in their package. It is one of the offbeat things to do in Vietnam that thrill lovers should try.
6. Watching the Water Puppet show
Water puppetry is a unique form of culture and entertainment art for Vietnamese people. The place is suitable for both the elderly and the young. It is one of the fun things to do in Vietnam with kids. In Hanoi, the most famous place for this culture art is the Thang Long water puppet theatre. Traditional Vietnamese music is cleverly mingled to create effects for the water puppet show. Wooden puppets come alive, flexible and lovely when floating and dance on the water to tell many Vietnamese history stories to the audience. Each water puppet show usually lasts about 1 hour. This will surely be one of the most unique things you will experience on the trip. No wonder, The Water puppet show is added in every Vietnam holiday package.
7. Discovering Cu Chi Tunnels
During the war, the Vietnamese created an "underground world" of small spaces deep underground. This was an effective defense system that the Vietnamese used in wartime. Cu Chi Tunnels are over 250km long, formed in the years 1946 – 1948 with many tunnels intermingled underground. The tunnel system is like the "underground world" of the Vietnamese revolutionary soldiers, with functional spaces such as infirmary, accommodation, maternity room, kitchen, storage, office. By experiencing this underground world, visitors will understand all the difficulties and struggles that the war brought to people.
8. Relaxing in Hoi An
Hoi An – another UNESCO heritage site of Vietnam – is located on the banks of the Thu Bon River. A unique feature in the ancient town of Hoi An is no car horn, no cars at all, no motorcycles, there are only a few bicycles, cyclo back and forth on the road. Therefore, space here is tranquil, peaceful and fresh. Hoi An has ancient alleyways, charming, very suitable for wandering tourists to explore.
On the evening of the 14th lunar month each month, Hoi An will not use electric lights, only fanciful lanterns. This event makes visitors feel like going back in time to the previous centuries. For foreigners, the 14th day of the lunar calendar is like a lantern festival. Visitors can participate in that "festival" by dropping lanterns on the river and watching the sparkling water surface with hundreds of floating colorful lights. Besides, visitors can also take a boat, go along the Thu Bon River and admire the old city, the locals in a stranger view.
Not only that, but Hoi An is also a paradise for foodies, where visitors have the opportunity to test their skills at a Vietnamese cooking school. Cau Do Restaurant and the Cooking School are the most popular places for foreigners because they can both enjoy Vietnamese cuisine and have the opportunity to show their talents in cooking.
9. Getting up early to visit Sword Lake and having breakfast with PhởBò Hanoi
The best time in Hanoi is in the morning when the streets are just tranquil with less traffic. Tourists coming to Hanoi, especially in the cool autumn wind, cannot miss Ho Guom in the early morning. Only in the early morning, you can feel all the peaceful beauty, pure, familiar and respectable simplicity of this land. For those who love the sincerity, simplicity, walking around HoanKiem Lake, watching the clear blue water, The Huc Bridge, the ancient Ngoc Son temple is a wonderful choice.
You should wake up around 5:30 am then go to the center of the city – HoanKiem Lake – to see the elderly practicing nourishment and yoga. Then let's start a new day in Vietnamese breakfast style with Hanoi's most famous PhởBò. This iconic dish is made from fresh flat noodles, beef and sweet broth. Having a steamy, savory and sweet beef flat noodles soup – PhởBò, is an excellent treat to yourself after walking around and admire the beauty of Hanoi in the early morning. Such a fantastic experience you cannot miss.
10. Diving in the beach of PhuQuoc
PhuQuoc, the "Ngoc" island or Gems island, is the largest island of Vietnam has a pristine, gentle beauty with smooth white sand embracing the clear crystal blue water. An interesting point that you definitely need to experience when coming here is diving into the sea to watch the beautiful coral reef.
Most resorts in PhuQuoc offer swimming and diving packages around the south or north of the island. A half-day diving trip will probably include visiting the island's pearl farms, floating fishing villages, and a few hours of snorkeling. Join the scuba diving when traveling to PhuQuoc, you will have the opportunity to explore immense underwater landscapes with beautiful fish and coral reefs.
The island has a coral area of up to 360ha, tourist will have the chance to feel the eyes to see the brilliant beauty of the coral reefs, to touch the colorful fish hovering next to you while diving in the cool, clear water. This will definitely give you many impressions that will never fade. The best time to go to PhuQuoc is from December to March of the next year.
What's next waiting for you?
On the whole, Vietnam is one of the most wonderful destinations that you cannot miss to explore during your upcoming tour to Asia. Make sure that you try at least one of these interesting activities when coming for vacation in Vietnam. Let's have lots of fun and get exciting experiences in this land full of charms. Now you got a whole list of top things to do in Vietnam ready, you can plan your journey with total enthusiasm. Choose such a magical country of Vietnam for tourism and you will not regret your decision at all. If you are planning to visit few more countries in Southeast Asia then check out our other interesting travel guides.