Best Places to Visit in Belgium
Belgium is recognized as one of the fascinating countries in Europe and there are reasons for it. Though it looks quite small, this buzzing nation is packed with everything from modern architecture, churches, museums, mansions, vintage castles, amusement parks to shopping arcades. It is home for some of the scintillating destinations for tourists and you will definitely be stunned by the number of choices available. Here we have made your job easy by offering you a perfect list of places to visit in Belgium that are worth exploring: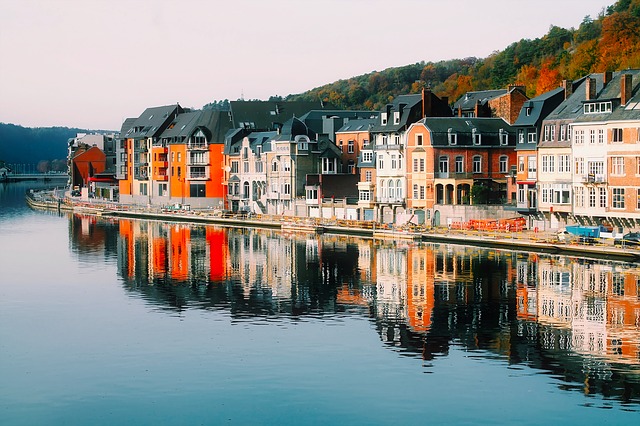 Top Tourist Attractions of Belgium
Dinant
Eifel Nature Park
Bruges
La Roche-en-Ardenne
Mechelen
De Haan
Ardennes
Brussels
Antwerp
Leuven
Ghent
Hoge Kempen National Park
Why you must-visit these travel destinations?
Nestled at the Meuse River, Dinant is a highly recognized tourist destination in Belgium. Here you will come across several historical sites such as Grotto of Dinant and caves of Han. It is well known for the opulent wildlife reserves that boast about biodiversity you will hardly find anywhere. It is situated only 40 miles away from Brussels and you can cover several famous churches on the way. It is always advisable to keep Dinnt on your priority list to start your Belgium tour with total enthusiasm.
It is one of the dream places to visit in Belgium for nature lovers. It is home to some of the unique species of flora and fauna. Here you can spot starling sized dipper and butterfly in weird colors. Moreover, you can explore some hidden gems such as mountain slides and deep valleys in the vicinity. Belgium tourist attractions are no short of natural sightseeing and you will realize it once you visit Eifel Nature Park.
It is one of the highly recommended and top places to visit in Belgium which is also featured in several movies. From mansions to museums and galleries to palaces, you will find everything to explore here. Some of the key things to do in Belgium such as boating and bicycle ride can be done here. It is truly an epic experience when your boat cruises through the waters and you get to see some breathtaking masterpieces within such a close distance. Some of the famous restaurants and hotels of the country are also located here thereby making it an ideal tourist place in Belgium for accommodation. Don't forget to visit – Gruuthuse Mansion and Grote Market Square during your stay at Bruges.
Situated only few kilometers away from River Ourthe, Belgium places to visit like this one is packed with plenty of sightseeing. During your tour, make sure you visit local museums and the Pottery gallery to discover more about the history and regional culture. Moreover, La Roche-en-Ardenne is famous for amazing wildlife that features wolves, wild sheep, pheasants, wild boar and red deer. If there is any destination in Belgium tourism where you can feel nature from such a close distance then it is La Roche-en-Ardenne.
It is another extraordinary Belgium vacation spot you will come across in Mechelen. It is very famous for its brewery and boat tours. While been here, you can enjoy some of the tempting views from Antwerp port that you can capture in your camera. Don't forget to visit a very popular Carillion School which is known for teaching lessons on bells. Your Belgium tour is incomplete without visiting Mechelen and this is the reason why it is part of all Belgium travel packages.
It will be unfair if you don't add De Haan to your itinerary during your tour to Belgium. It is one of the most exciting villages that boast about elongated beach featuring several bars, cafés and restaurants. The spectacular grand town hall and Belle Epoque architecture are the sites that you shouldn't miss during your tour. Adventure lovers will experience several thrilling moments here while trying biking and hiking. No wonder, De Haan is always crowded with an influx of thrill lovers who gather from different parts of the word.
If you are searching for most tranquil Belgium tourist attractions then Ardennes is a place to be. Whether you are an extreme thrill lover or you love spending a peaceful time in the lap of nature, you will get all the settings here. It is one of the best places to visit in Belgium if you love biking, camping and trekking. Some of the key tourist places of Belgium such as Labyrinth of Barvaux, Han-sur-Lesse and Castle of Bouillon can be found here. No matter what interests you, there is something or other to discover here.
Brussels is considered as a vital part of Belgium tourism and the credit goes to its versatile locations. Whether those are historical mansions, majestic palaces, extraordinary museums or ancient chapels, you will find everything here within a very close distance. Most of the famous shopping streets, pubs, cafes and restaurants of the country are also located here that will keep you busy throughout a day. If you want to add an element of spice to your Belgium trip to you shouldn't miss Brussels.
As the name suggests, it is one of the most offbeat visiting places in Belgium. If you want to get a glimpse of typical art, culture and traditions of Europe then Antwerp is a place to be. Within this compact town, you can find several art museums, galleries and conference halls where events are organized on a regular basis. If you are planning a short trip to Belgium then you can definitely consider spending few hours here. It is totally worth exploring Antwerp Zoo, Museum aan de Stroom and Rubenshius.
Leuven is one of the most famous tourist attractions in Belgium where you can consider spending some quality time. It is a perfect blend of natural sightseeing locations and cultural landmarks that make sure you never run out of enthusiasm during your Belgium holiday. Here you can spot several galleries, churches, cafes, pubs and shopping malls that will pamper you with its unique offerings. The city features one of the most popular Catholic Universities thereby becoming a hub of education. No wonder you will find several students traveling to Leuven to take a big leap in their career.
Though the name of this one of the greatest places to see in Belgium is very short, it features a plethora of vacation destinations. This cultural town is blessed with several artistic structures, old churches and historical landmarks that are difficult to find anywhere else in the world. Most of the artists come here to take inspiration from works of other famous legends. Some of the key tourist attractions of Belgium you can spot here include Saint Nicholas Church, Gravensteen and St Bavo's Cathedral. Even after taking a small tour of these ideal places to visit in Belgium, you will fall in love with their beauty.
Hoge Kempen National Park:
Once you are done exploring historical landmarks and ancient tourist attractions of Belgium it's a time to feel some fresh air at famous parks of the country. Hoge Kempen National Park is one of the well-reputed national parks in the country that is recognized for its large territory of more than 5,000 acres. The park features pine woods, big lakes and several flowering landscapes which is an absolute treat to watch. Besides this, you can discover several rare animal species here ranging from the swallowtail butterfly, slippery snake and roe deer.
What's next waiting for you?
When planning your visit to Belgium, make sure you choose places according to the time in hand so as to make your tour well organized. If you are a real nature lover then you can spend more time at parks but if city life excites you then you can keep dedicated time for the city tour. Now you have an entire list of best places to visit in Belgium in hand, it is worth planning your upcoming vacation in this mesmerizing country in Europe. If you have made plans to discover some other European tourist countries then go through our other travel guides.