Best Places to Visit in Norway
Settled in northern Europe, lies a country flanked by mountains, coastline and islands providing a lush green landscape and picturesque views on every corner, its proximity to Finland and Russia on the northeastern side, Denmark on the other and a shared border with Sweden on the eastern border has resulted in Norway being influenced by many cultures. Its long-drawn history regarding territory with Denmark and Sweden results in influences that can be noticed while exploring Norway places to visit.
It caters to each and every person, having a warmer climate during summer from June to August, not forgetting fjords during summer, which can go up to 27 degrees Celsius leading to pleasant but not scorching heat and temperatures going below as -13 degrees in inland areas. Catering to all your needs lies this gem, providing a comprehensive guide as to the best places to visit in Norway.
If you have always had an inkling for the adrenaline rush that surges in addition to art and history, then this might be the best place for you.
Norway is one of the magical countries in Europe that boasts about its rich territory. Whether it is abundant of lighthouses, scintillating mountains or historic churches, it is packed with diverse sightseeing destinations. Northern Lights is considered as one of the must-see highlights of the country and tourists from different corners of the world come here to take a glimpse of this spectacular sight. If you want to discover more such top tourist attractions in Norway then here is a complete list given in this Norway travel guide: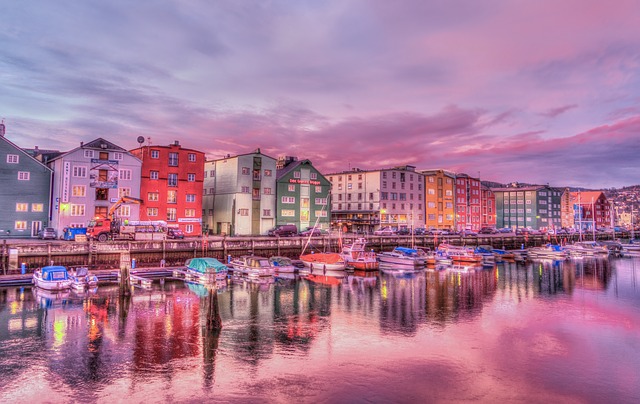 This is the capital city of Norway sitting on the southernmost coast. OSLO is known for its green spaces and museums. It is also the most populous city of Norway being the economic hub of banking, industry and shipping. Oslo boasts of many museums, which you can visit them being, FramMuseum, HolmenkollenSkiMuseum, NorwegianMuseum ofScienceandTechnology, TheNorwegianMuseumofCulturalHistory, OsloOpera House, The Vigeland Park which has more than 200 sculptures in brown granite by Vigeland Gustave.
Tusenfryd Amusement Park– Norway's largest amusement park having more than 30 tourist attractions and Akershus Fortress which provides great insights into Oslo's history while you enjoy a lazy day sipping various varieties of craft beer due to the sheer number of breweries present around.
This is a cultural hub of Norway. One of the major tourist attractions of Norway that draw the crowd to Tromsø is the northern lights; the phenomenon which lights the skies in arrays of blue and green, a spectacle that is so magnificent making it a spot that one shouldn't miss. Tromsø has a population of about only 80,000 and its picturesque area is further enhanced by the old world charm of being lined by wooden houses; some even centuries old. It also has the Arctic Cathedral, a parish church that is triangular in its construction, having roofs made up of aluminum-coated panels.
This is known as the, "street capital" of the country, situated on the southernmost coast of Norway surrounded by mountains and fjords. Sognefjord in Bergen is also known as the, " Kingoffjords being the longest and deepest fjords of Norway, thus also rightly called as the "HeartofFjords"; which are long narrow inlets of sea between high cliffs. There are some of the top things to do in Norway that will make your tour a memorable experience. Besides these, fjords including museums, churches with StaveChurch, one of the oldest churches in Norway, declared as a UNESCO world heritage site.
Nærøyfjord is also one of the top 10 places to visit in Norway if you have the thrill for the drama, which boasts of a boat service running all year round. As an international culinary city and "city of gastronomy" you definitely can't miss the food with Norway majorly relying on seafood, it offers delicacies that can be had at the local fish market. You can also go white water rafting, fishing, skiing, hiking since it has Norway's best terrains. Colorful wooden houses line the old wharf that makes you feel like you're inside a fairy tale.
This is a tiny fishing village located on the island of Moskenesøya. One of the best places if you want to explore Lofoten islands. Red and white fisherman's huts dot the shoreline and the surrounding peaks of granite has earned the village the reputation as, one of the best places to visit in Norway. Kayaking, Skiing are the top things one must do, especially during the winter months. The A° village situated at the turnoff at E10 which is literally the end of the road, you can see a panoramic view of the island with its mountainous background having multiple cafes and key attractions being the Reinebringen Mountain. An amazing trail and multiple fishing trails are a part of this tiny village.
It is known as the UNESCO city of literature and one of the best tourist attractions of Norway. It is a ski resort town located in southern Norway. One of the key attractions in Lillehammer is its Mailhaugen Open Air Museum that displays buildings dated from as back as 1200 to the current day in addition to the NorwegianOlympicMuseum situated nearby. Lysgårdsbakkene Ski jumping arena includes an airlift providing a stunning view over the park. A must-visit place is the Hunderfossen AdventureP ark, a fairy tale park inside this fairy tale country, boasting of many activities and the Norwegian Olympic Museum, where you travel through time and be witness to the 1994 Winter Olympics. It is also known for meat or LEFSE– a traditional Norwegian flatbread.
Also, known as the "Home of the Giants." This is a mountainous area with 29 of the highest mountains of Norway located here. Hiking up the mountains to visiting the Jotunheimen National Park it has various trails that you can opt for thus making it pleasant even for a beginner. Strind farm is a well-known sheep farm offering cabins if you plan on staying the night. The river Sjoa is one of the best, so you don't want to give that a miss besides climbing, cycling and horseback riding. It also has Lom National Park village which has Lom state church and the Norwegian mountain center. True actual freedom can be felt by climbing the Galdhøpiggen National Park, a guided glacial park or go cave walking in the caves of Dumma valley. Do not forget Lom Bakery as it's known worldwide for its fluffy cinnamon buns.
Pulpit rock or Preikestolen is a steep cliff with a flat top. It is a two-hour trek one way, which is regarded as one of the best hiking points to view the sunrise, so if you plan on visiting make sure you start early. Guided tours run daily from April to October which can be combined with cruises. This lies in the Stavanger area which offers multiple adventure activities like canoeing, kayaking, fishing, salmon safari, rappelling, zip-lining, boating, skiing or paragliding, Stavanger has one of the best surfing places to visit in Norway.
This is a Norwegian archipelago between Norway and the North pole. This is one of the "world's northernmost inhabited" places, also known for glaciers, tundra, polar bears, reindeers and arctic foxes. The most famous attraction that draws people is the Northern Lights, but also the MidnightSun– a phenomenon where it's daytime, 24hours of the day.
It has mainly 3 seasons namely, Polar Summer (17th May to 30th September), Northern Lights Winter and (1st October-28th February), Sunny Winter (1st March to 16th May)
Svalbard is a relaxed town, where you get to have a nice time, relaxing and soaking in some alone time with pubs and cafes providing great food. The ghost town of Pyramiden is a place worth visiting with only 4 people living here in the winter and eight in the summer, it has various abandoned buildings at the foot of the fjord.
Dog sledding, snow mobile tours, skiing and hiking are many other activities that can be done.
This is a mere formation that adventure enthusiasts around the world know Norway for and it deserves its rightful attention as this is a cliff that juts off of a mountain horizontally above the lake Ringedalsvatnet. It is a challenging route but worth every second. Expect some time before you get to take a picture at its cliff but once you've done it you can't help but feel victorious as nothing feels better than adrenaline rushing through your veins, with timing being important as most people start to descend by 4 pm. It has a round trip of 28 km so one must have a day at one's disposal between June and September, wherein there are guided as well as non guided tours, but guided ones's becoming a must between October to may wherein you need to start early.
A small addition to your list could be Kjostosejon falls– A waterfall which is a famous tourist destination due to the fact that this waterfall powers the railway station and LOVATNET which is so pretty and breathtaking as it glows during the summer months.
Tromso University Museum:
If you want to explore some of the most exciting facts about Norway places to visit and its cities then you must tour this amazing museum. It is a place where you will also get an opportunity to see Northern Lights. It remains open from 10 AM to 4:30 PM which means you can plan your evening time to cover some other sightseeing in the vicinity.
Tromsø Arctic-Alpine Botanic Garden:
Get an opportunity to see some of the unique collections of flora at this fantastic botanical garden. It is highly recommended to visit these kinds of Norway tourist attractions from the month of May to October when the flowering season is at its peak. Some of the top places to see in Norway you can spot here include pasque flowers, cushion plants, flowering bulbs and purple saxifrage.
Tusenfryd Amusement Park:
If you are done with natural sightseeing of Norway and wish to enjoy some thrill then Tusenfryd Amusement Park is one of the top places to visit in Norway. It is a destination where you can spot more than 15 different adventurous rides that will take an entire day. The summer season attracts a lot of crowds here as they can feel a bit of cold in the water park here.
It will give you an opportunity to experience a blend of classic as well as modern architecture of Norway. It is one of the highly recognized churches in a country where people gather in huge numbers. Arctic Cathedral features spectacular glass windows that give a perfect depiction of Jesus Christ renaissance which is an unforgettable moment to watch.
It is one of the offbeat sites you will come across in Norway which is known for its vibrant and colorful appearance. Here you can spot several workshops, studios, eateries and wood houses that give a perfect demonstration of Norway culture. Moreover, you can explore the Bryggen Museum in the vicinity where you can spot several unique artifacts of old centuries.
What's next waiting for you?
Apart from the key places to visit in Norway mentioned above you can consider visiting The Norwegian National Opera & Ballet, Akershus Fortress, The Science Center of Northern Norway, The Bergenhus Fortress and Bergen's Royal Residence. Whether you are looking for fun things to do in Norway Bergen or unique things to do in Norway Tromso, the above travel guide covers everything.
Whether you are traveling with family, friends or as a couple, Norway will become an ideal travel destination for you. If you are planning a short tour to Europe then you can consider visiting Norway for a couple of days. But if you have an extended holiday vacation in your mind then it is worth spending a whole week in this buzzing country. Now you know what to do in Norway, you can plan your itinerary with utmost enthusiasm.
About Author: Payal Pal, a doctor and a writer residing in "City of Dreams" trying to live hers to its full potential, as she engrosses herself within the pages of books, hot chocolate in hand while appreciating the value of little things in life and strongly believing in giving back in her own little way and unlearning ways as she continues to learn every moment of the day.